Todays Christmas outfit is a sneak preview of what I might wear on Christmas Day. Which means Christmas Days outfit will then be something I'm not wearing. Er, I'm sure I'll work this all out!
Wearing something special on Christmas Day has always been a big thing in my family. We always had something nice to wear even if we'd changed out of it and back into pyjamas straight after dinner.
My Christmas Day this year is going to involve taking the dogs for a walk and then a stop off in the pub. So I wanted something a bit glam, that isn't out of place for dog walking, because what's the point of a fancy Christmas outfit if I can't wear it when I actually leave the house?
I spotted these bronze geometric trousers in Wallis (They're in the sale!) and thought they'd be ideal. I conducted a very scientific poll on Instagram stories with a pretty unflattering changing room video, and the results were 50/50. Half of you thought the trousers were horrible, and the other half thought I should totally buy them.
Trousers with hip pockets make my hips look wide, and the unflattering changing room video wasn't really a fair representation. So I bought them and kept the receipt in case I decided they were hideous after all.
As it turns out I quite like them with the right top.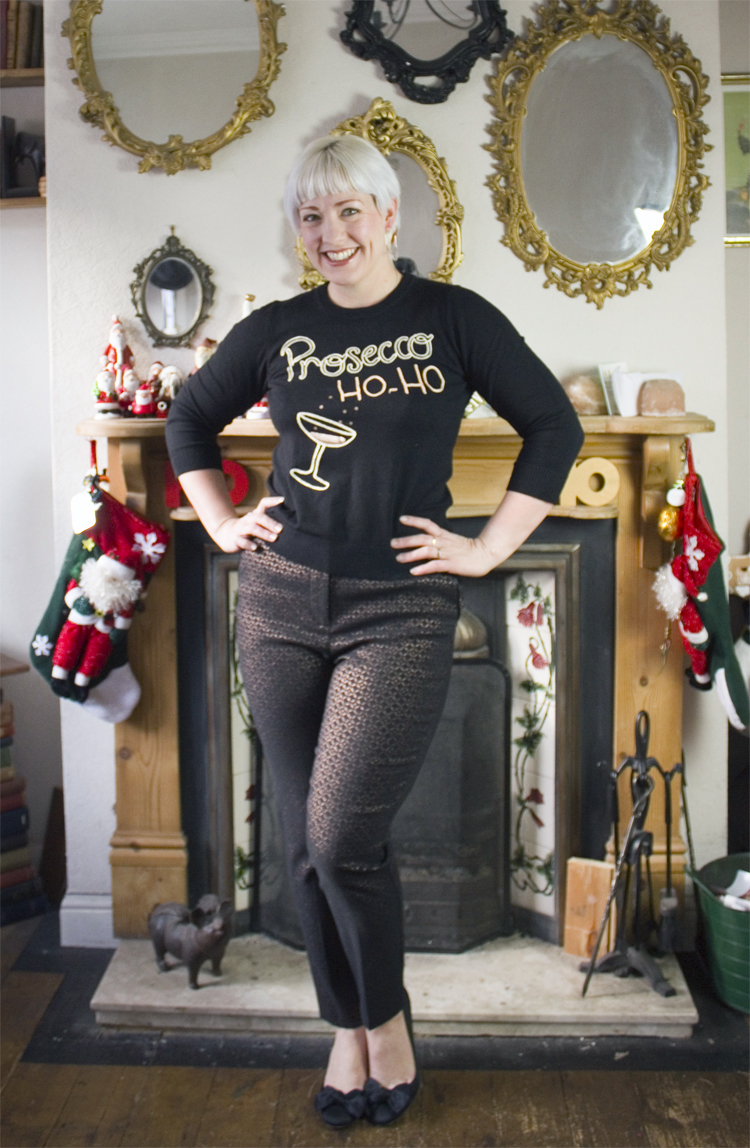 The bronze goes perfectly with my Joanie Clothing Prosecco Ho Ho jumper, and the geometric rose gold earrings I bought from Lisa Angel but you can't really see in the pictures.
It's comfy, with a bit of glam, and pretty much perfect for this years Christmas Day plans. I'm not planning on walking the dogs in 4″ satin stilletos, but I might sneak them into a bag for the pub trip afterwards. It is Christmas after all.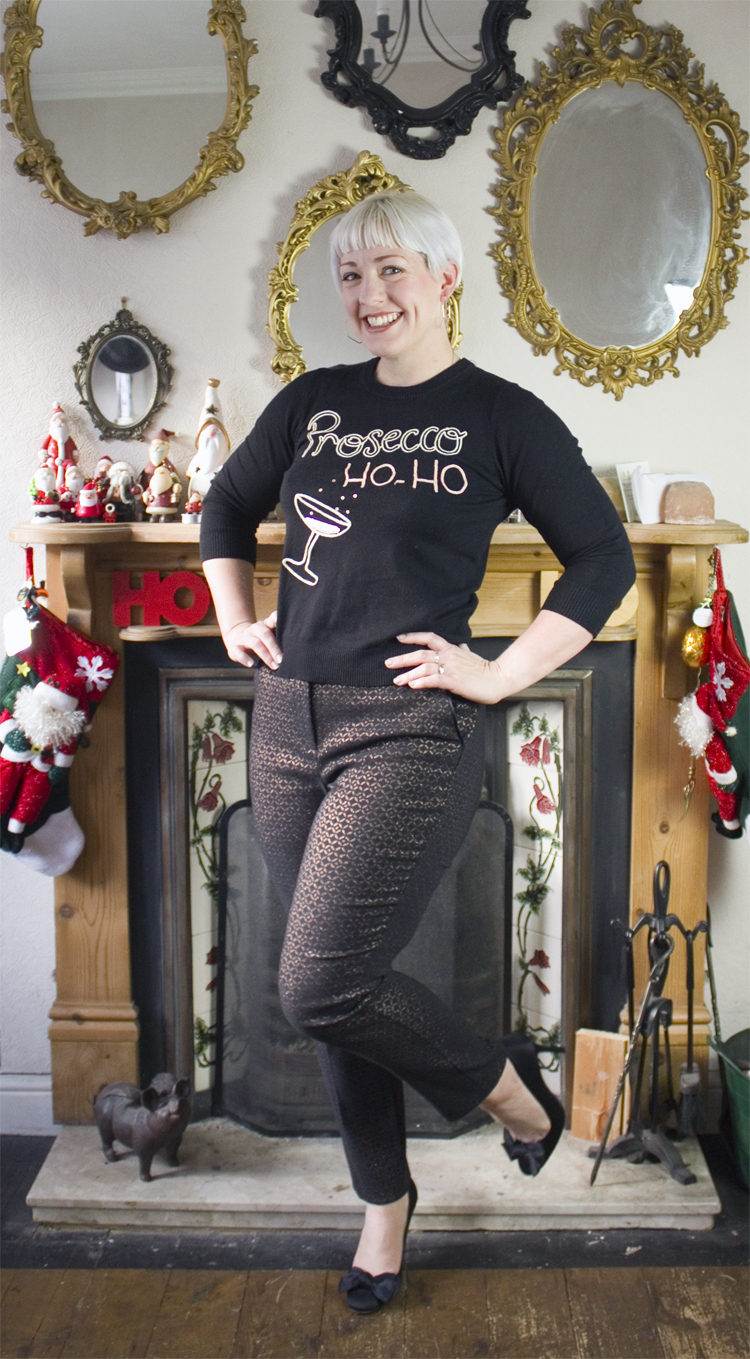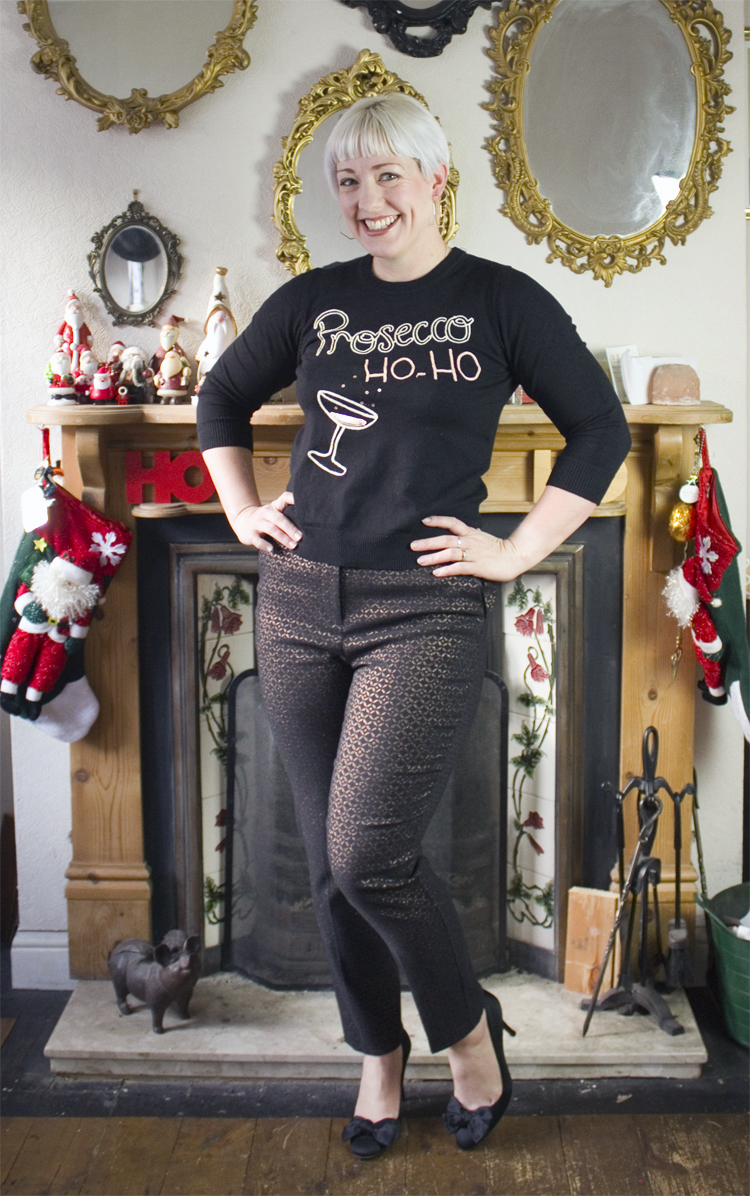 I do, however, still hate those hip pockets. They are fine when they stay smooth, but pooch out and look hideous when I stand in the wrong way. It did occur to me I might be able to sew them closed. Any sewing experts know of any reason why that wouldn't work?
Why changing rooms always have to be the most unflattering and hideous place to try things on I don't really know. But I think I'm glad I bought these home to give them another try with a proper top and a better mirror.
What do you think, are they a keeper? Have I found this years Christmas Day attire?
♥ Bronze Geometric Trousers – Wallis ♥ Prosecco Ho Ho Jumper – Joanie Clothing*
♥ Geometric Rose Gold Earrings – Lisa Angel ♥ Satin Pumps – LK Bennett (similar) ♥
Related