Those of you who follow me on Instagram may have noticed that, before the return of the freezing weather, I spent a glorious couple of springlike days in Oxfordshire last week.
We were the guests of the Manor Weston, a gorgeous country house hotel. Who invited us to stay for the night to try out their pet-friendly facilities, and delicious food!
We don't normally opt to spend random Tuesday nights in swanky country house hotels, but in the past, it's the kind of thing we've chosen to do for birthday and anniversary celebrations, so we nominated last Tuesday a "special day", loaded the Pugs into the car and set off to Oxfordshire.
We arrived mid-afternoon and as we pulled into the gravel driveway I immediately felt like I was arriving for a pleasant overnight stay at Bertie Woosters country estate. Which is basically why I like staying at country house hotels.
The reception felt less like a hotel reception and more like a living room that just happened to have a desk in the corner.
And we were promptly booked into our room and given all the information we needed about our stay.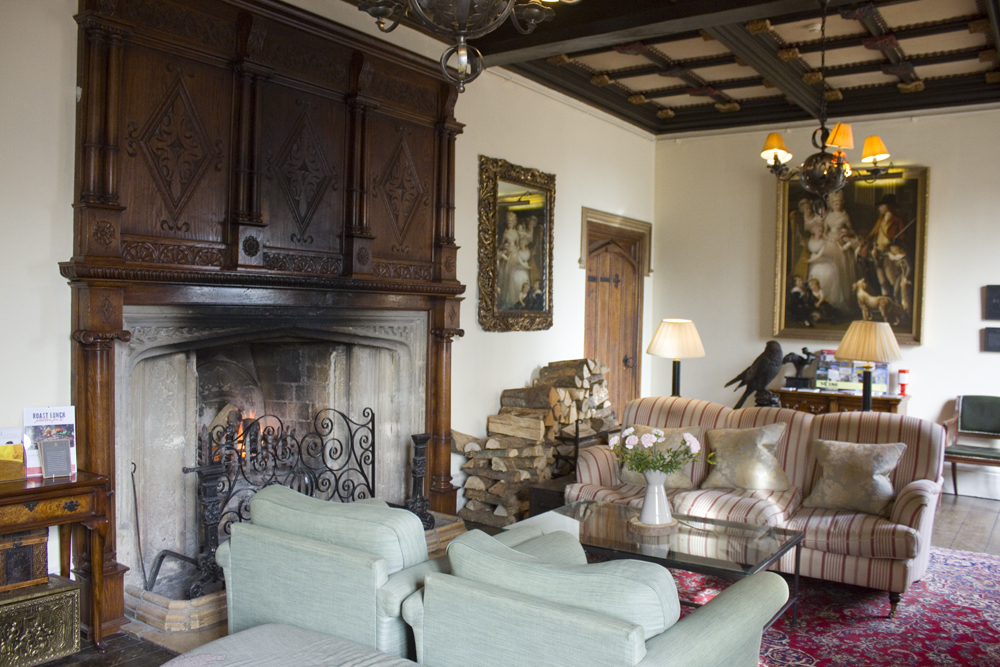 The Rooms
If you book a room at the Manor you will get a spot either in the main Manor House, or a few steps away in the Coach House. As the dog friendly rooms are in the Coach House, that was where our room was.
We'd been booked into a Junior Suite, which was on the top floor of the Coach House. Unsurprisingly there is no lift in the 15th Century building, which was fine, except it did mean that we had to carry not only our bags (though we were offered help with these!) but also Peppa up 3 flights of stairs as she's too tiny/wussy to do stairs.
The room was gorgeous, up in the eaves with a sloping ceiling. It featured a comfy bed, a small seating area with a TV, a dressing table, and 2 dog beds with bowls and food for Peppa & Waldo. I was really touched by the dog beds and food. We've stayed in hotels with the Pugs before (see Snowmageddon) but this is the first time we've felt like they were really welcome, rather than just tolerated.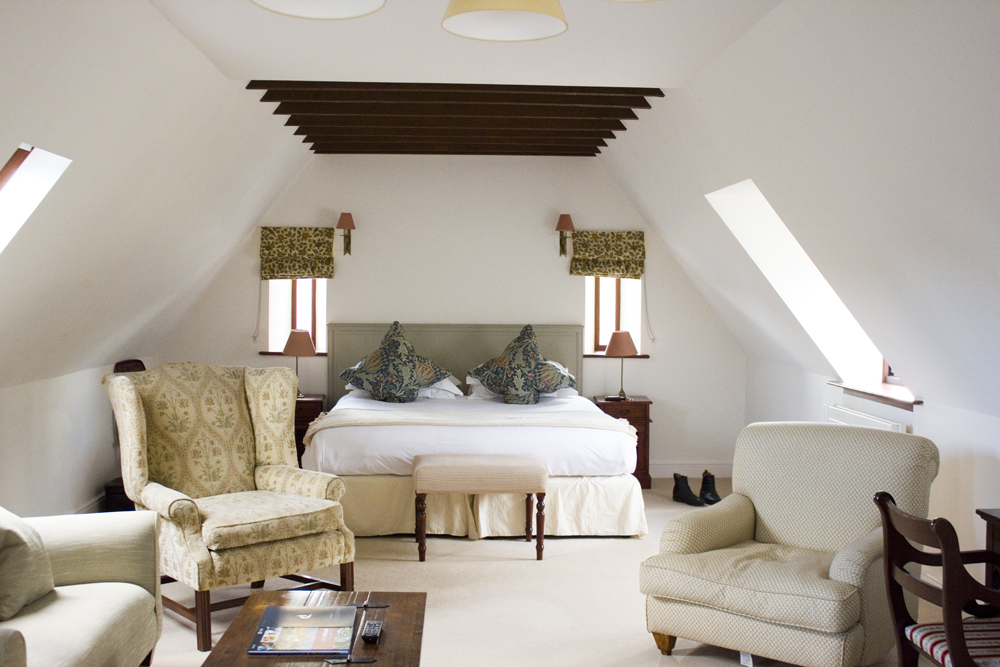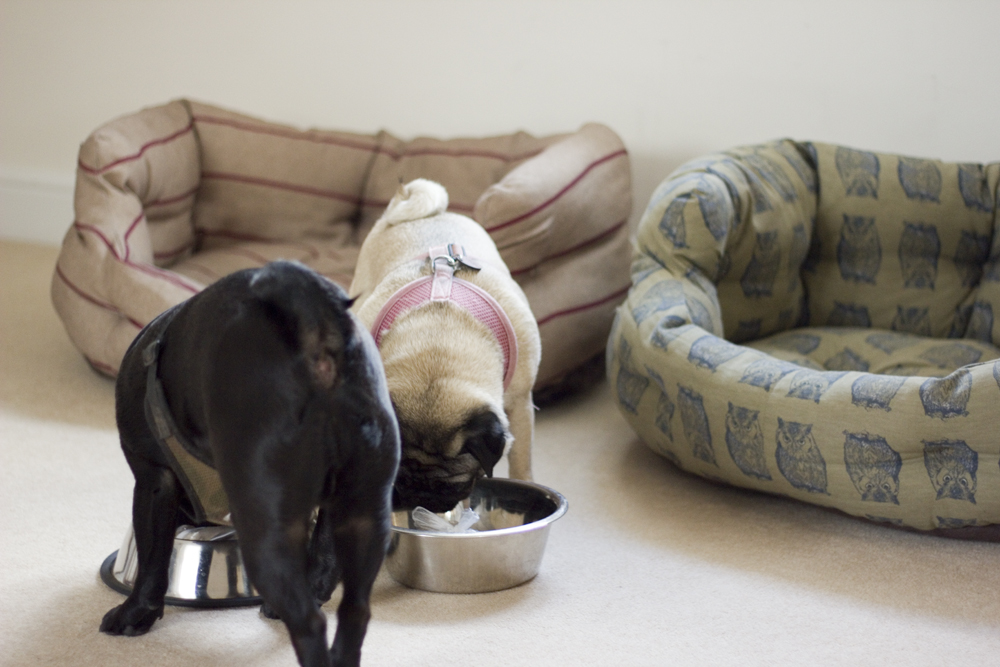 I thought the decor of the room was fresh and clean and bright, whilst still in keeping with the old building.
The room had tea and coffee making facilities, including biscuits, slippers and bathrobes and some swanky toiletries.
We spent some time putting the blinds up and down, opening all the casement windows, sitting on all the chairs and unpacking our suitcases before settling down for a cup of coffee.
Despite being provided with lovely dog beds, the dogs still felt they needed to try all the furniture out to be sure of where exactly was the best place to sleep.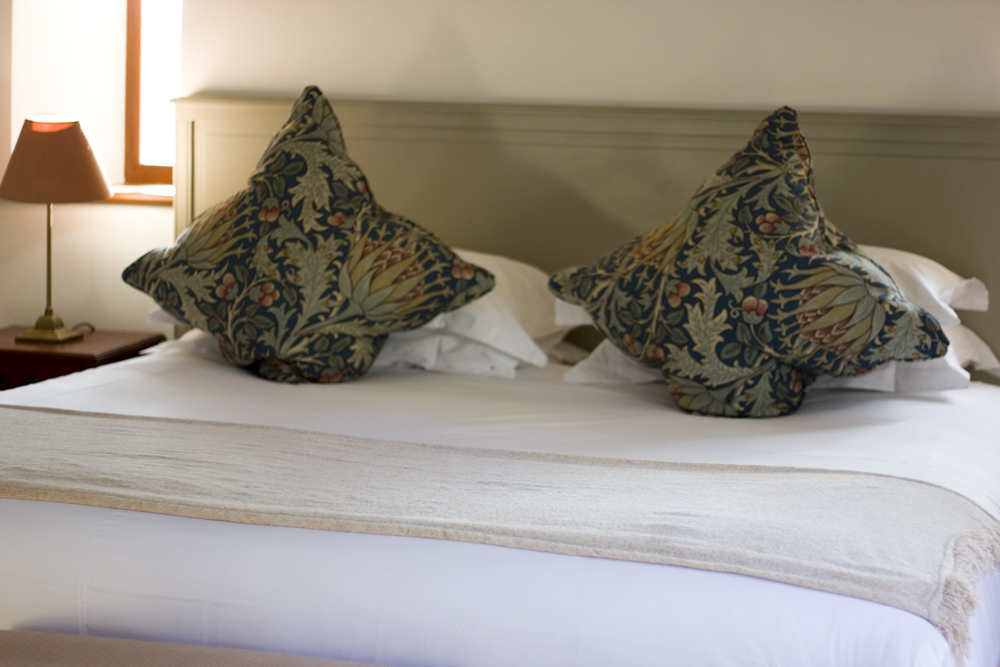 I had 2 minor complaints with the room, which I will mention to balance out all the gushing that is about to come. The first was plug sockets. Hotels never get plug sockets right, and there was only 1 free socket in the room that wasn't being used for TVs or lamps. There was no table near the socket, which meant that to use the kettle we had to put it on the floor to boil, still, better that than no kettle!
The second would be that the shower wasn't great. It was plugged into a mixer tap, and at a fixed height on the wall, which made it hard to have a shower without getting your hair wet if you're 5'4″ like me, and also hard to adjust the temperature while you're in the shower.
Still, these are hardly the things that make or break this kind of stay, and somehow I soldiered on!
The Hotel
Once we were settled in we took the Pugs for a walk around the grounds. Peppa had a row with a topiary lamb that she thought was trying to start a fight.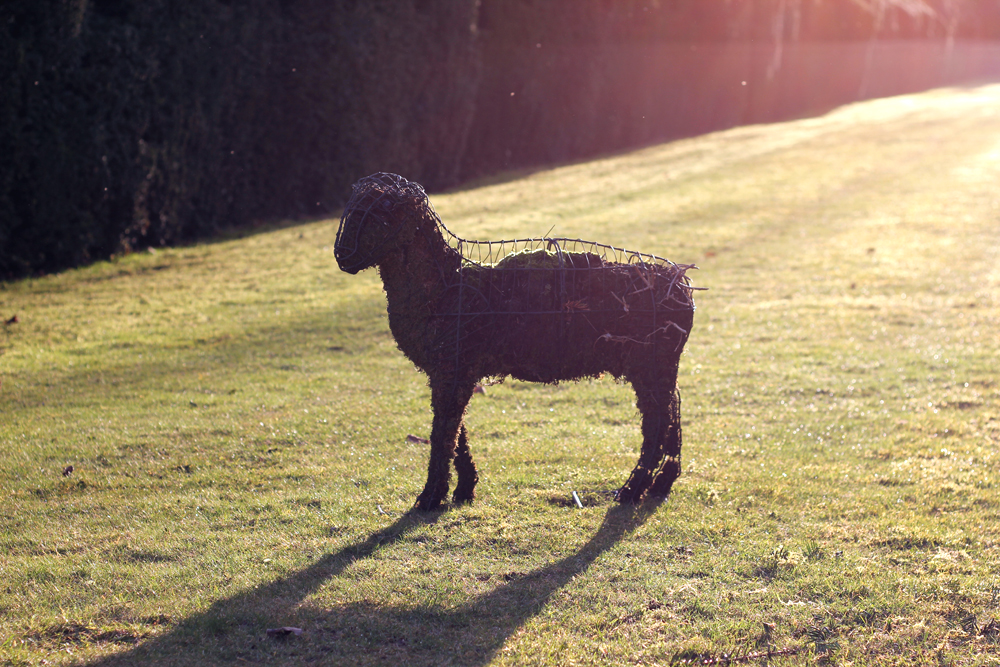 I can imagine that the grounds are really something special in Summer when all the greenery is out, and even in early March they were lovely.
There were wide open spaces for the dogs to run around, a sunken garden, tennis courts and a swimming pool that you accessed through an overgrown door in a hedge from a walled garden that really gave me the full feeling that I might be whisked back in time to the 1930s, having hi jinks in the pool with my rich pals.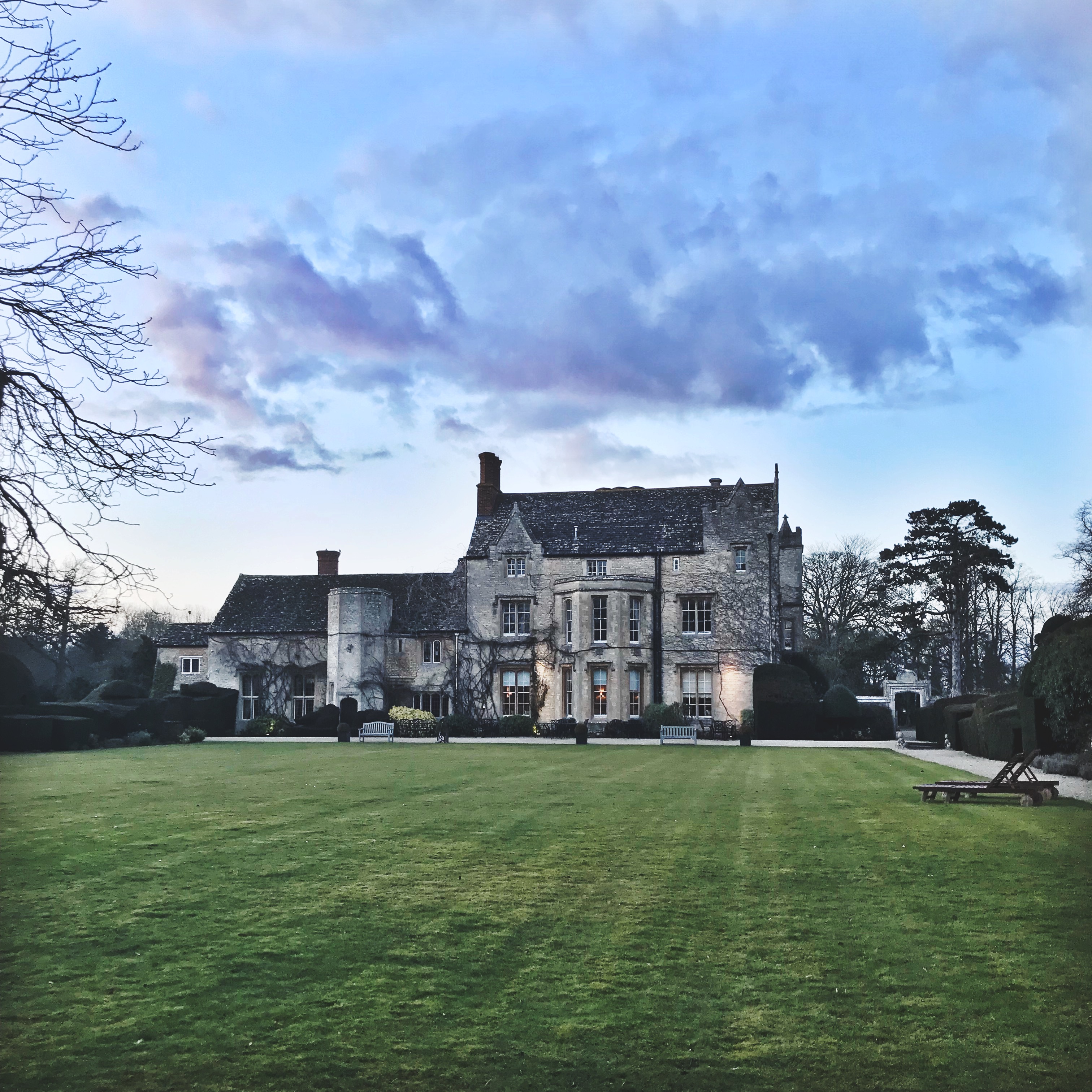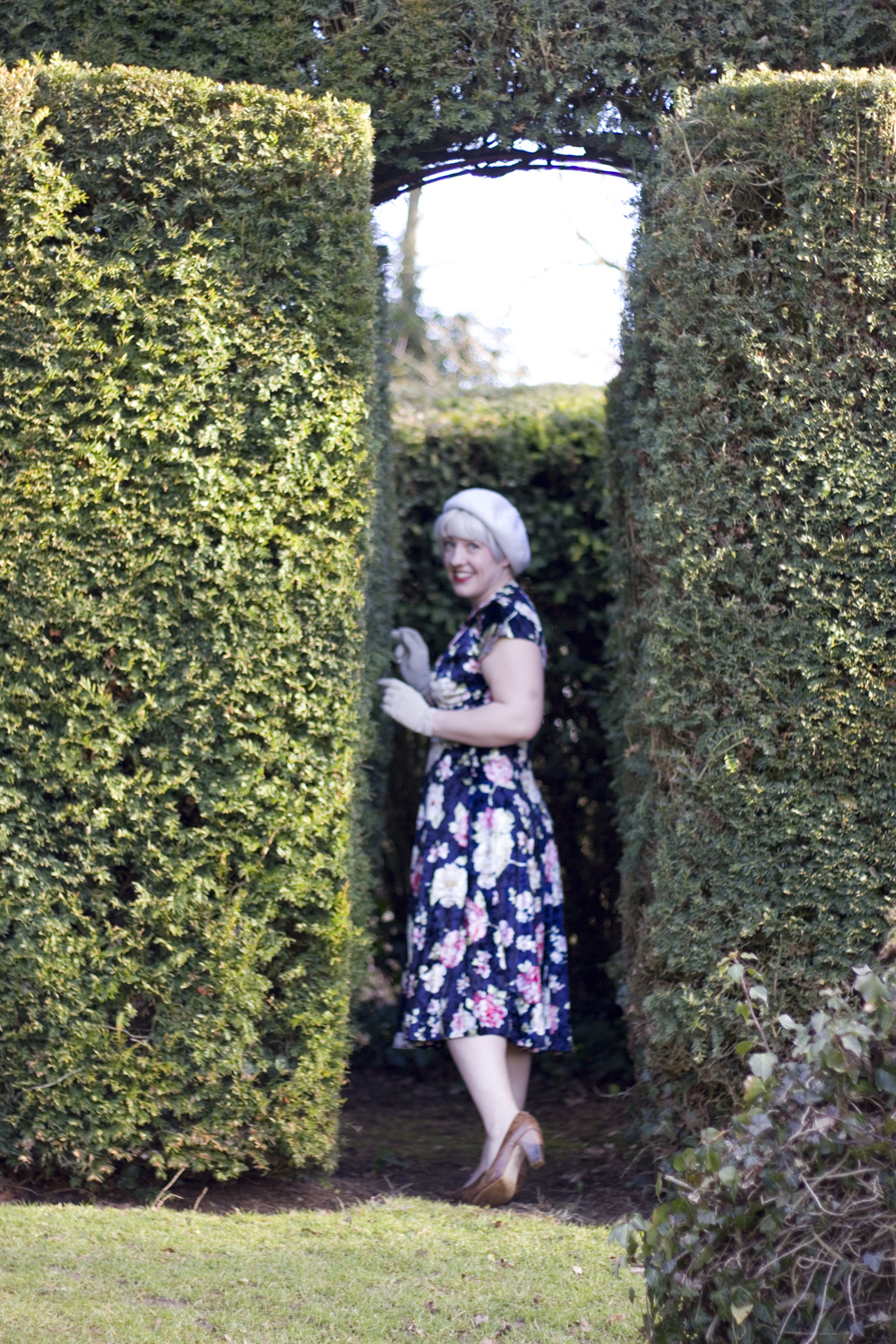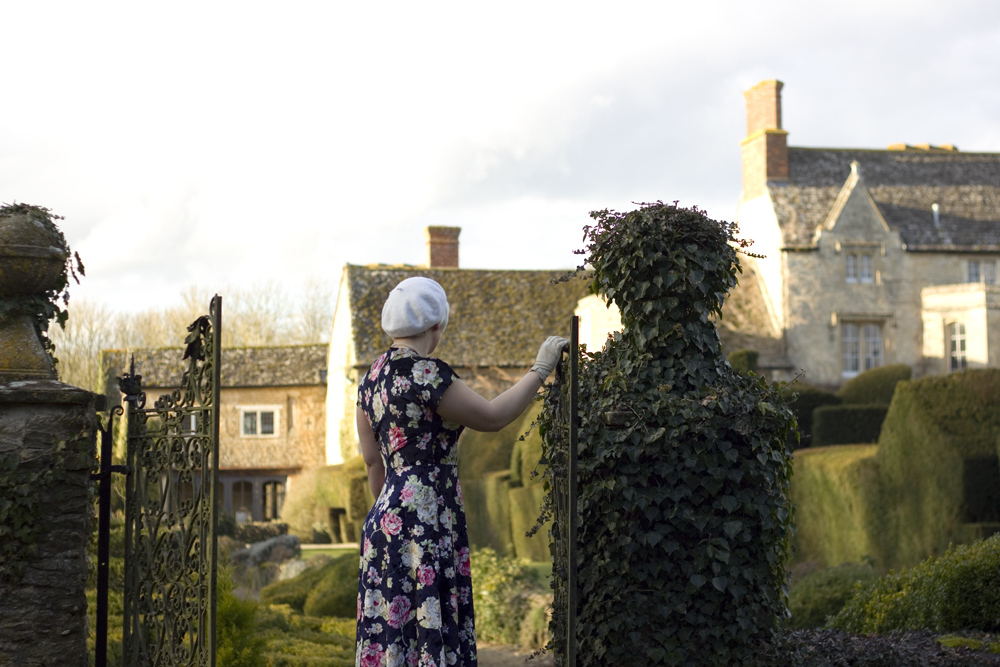 After our evening stroll around the grounds we stopped off in the main house for a drink (srsly, I was really getting the full Bertie Wooster feeling right now).
It took us a while to find a member of staff in the bar because it was quiet, but once located they bought our drinks to our table, and all the staff made a huge fuss of the Pugs, which obviously they hated.
We sat on squishy sofas in front of a roaring fire and felt completely relaxed.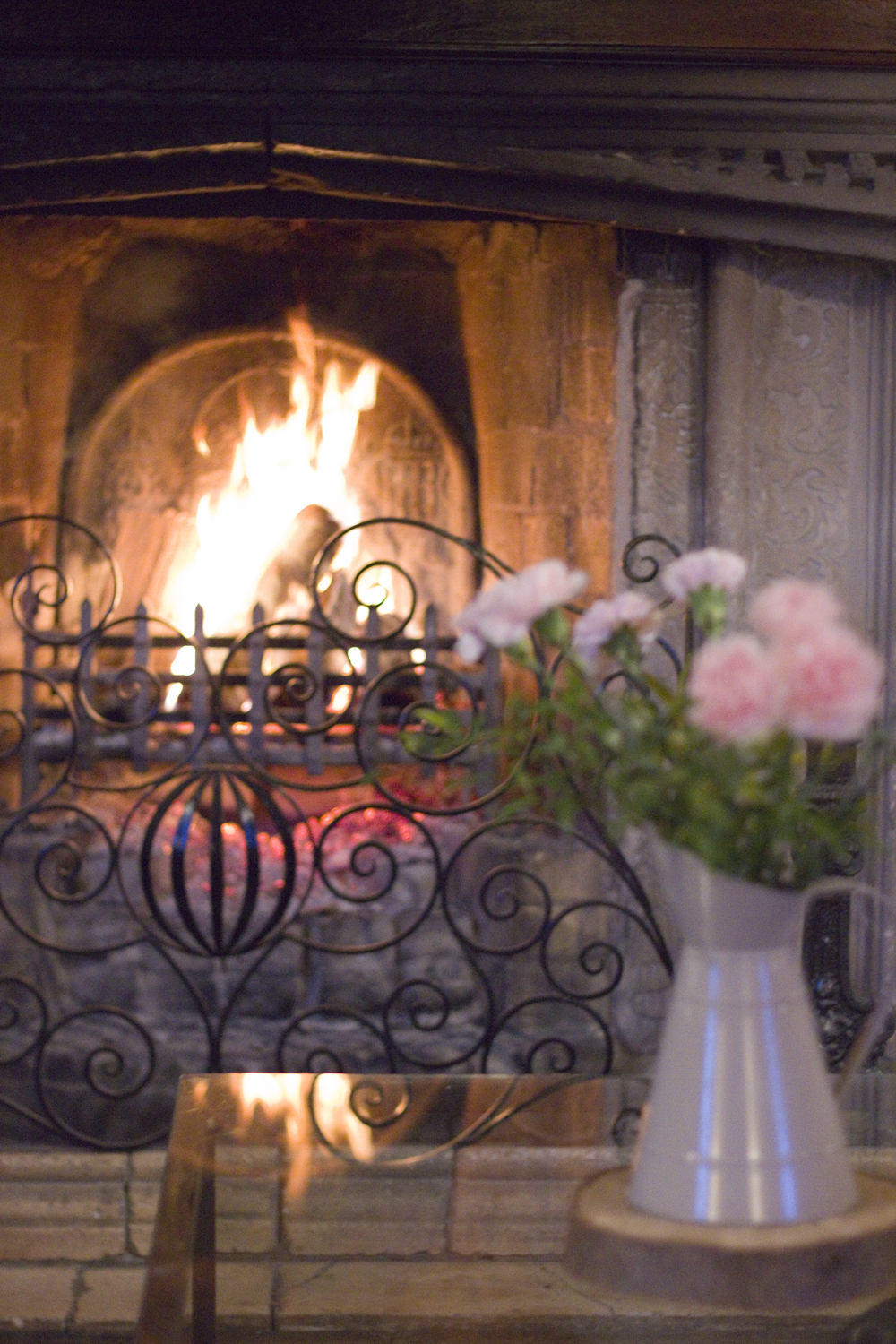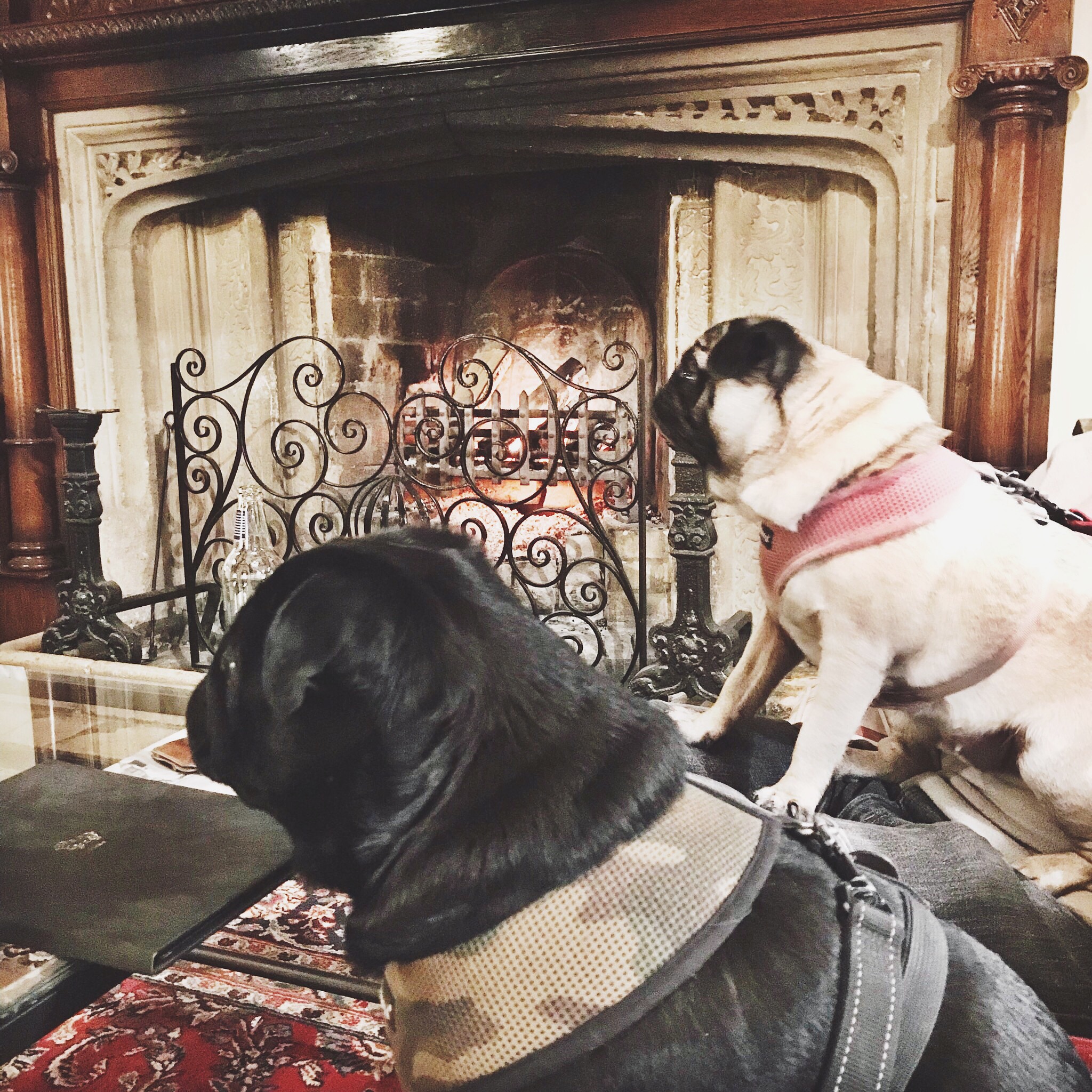 Pet-Friendly
The Manor Weston describes itself as pet-friendly, and they really mean it.
As well as providing dog beds and food and bowls in the rooms, lots of outdoor space to run around, and having dogs welcome in the communal areas (though not the dining room), they also offer a dog nanny service. You can leave your dogs in their crates with reception while you go out for the night so you know that they'll be looked after and have company.
You can read the hotels pet policy here.
Dinner
We decided to leave the dogs to sleep in the room as we were only going for dinner in the hotel, rather than out for the night.
A 3-course meal was included in our room rate, or we were told we could eat in the bar with a £30 allowance. We opted for the full meal, and treated ourselves to a bottle of pink fizz, seeing as we had designated today a "special day"
The service at dinner was attentive (though I always feel weird when people fill my wine glass for me!) and the food was delicious.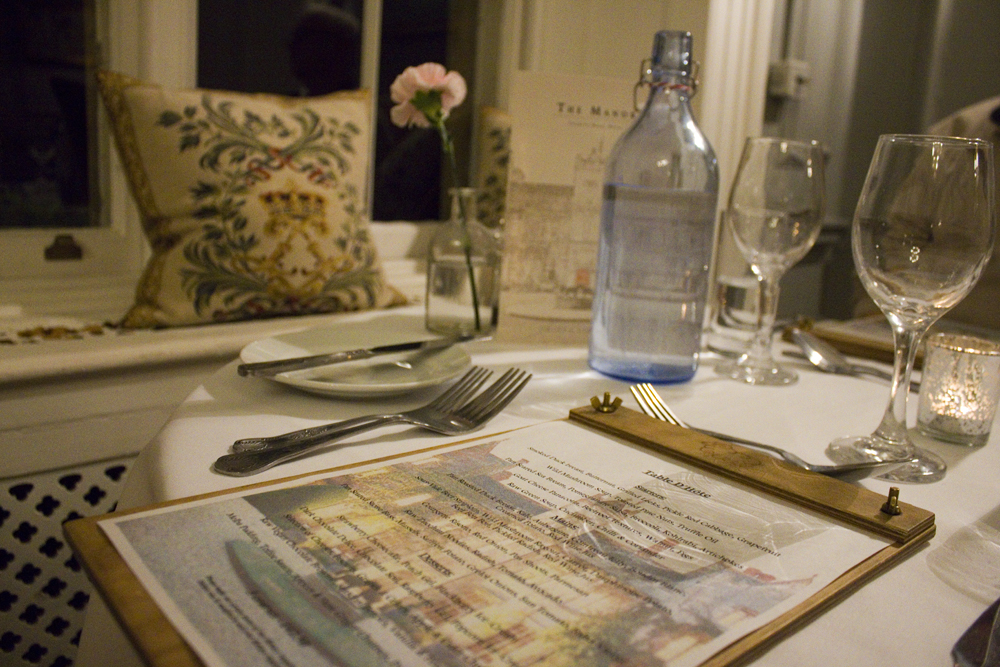 I actually can't remember what I chose from the menu now as I forgot to write it down (oops!) But it was all just the right combination of fancy presentation while still being filling and hearty food.
Definitely 10 out of 10 for dinner!
We returned to our room to find Peppa barking at another dog on TV (note to self: Turn off TV in hotel rooms) and settled down to wrap ourselves in complimentary bathrobes before retiring for a cosy nights sleep in the huge squishy bed.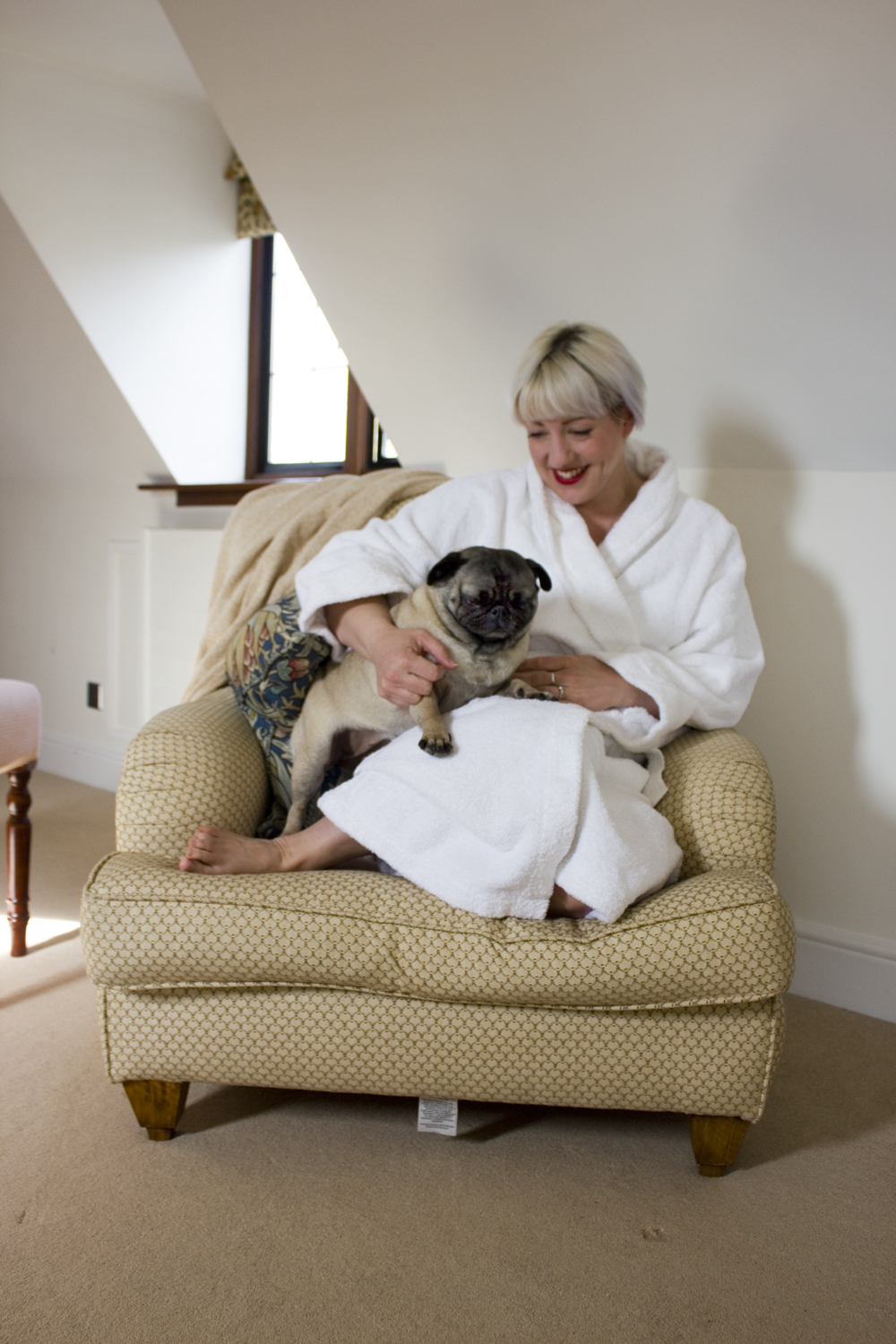 Breakfast
Breakfast is the most important meal of the day, right?
I love a hotel breakfast, so I was really looking forward to this.
After a morning stroll in the grounds we left the Pugs (no TV this time!) and headed over to the main house for breakfast.
The fire was still roaring in reception and in daylight it was easier to see more of the house. The walls are thick stone, and there is a tartan carpet running through the hotel that has made me want tartan carpet in my house.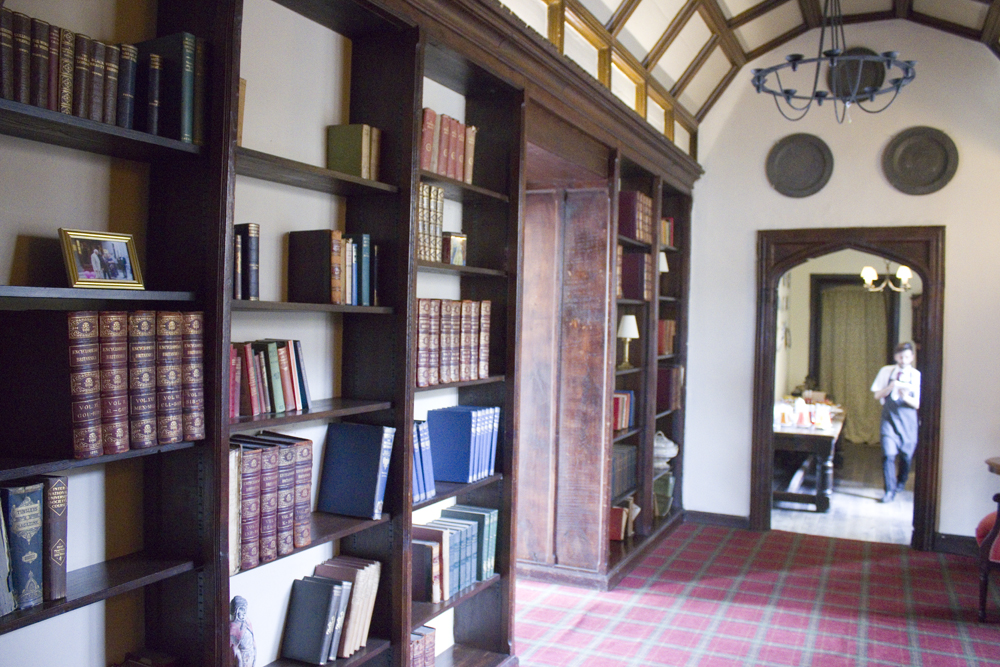 It seems they change the rooms they serve meals in, depending on how busy it is. With only 2 tables the night before we'd been in a smaller side room, but for breakfast we got to eat in the grand hall with oak panelled walls and a gallery that was truly impressive.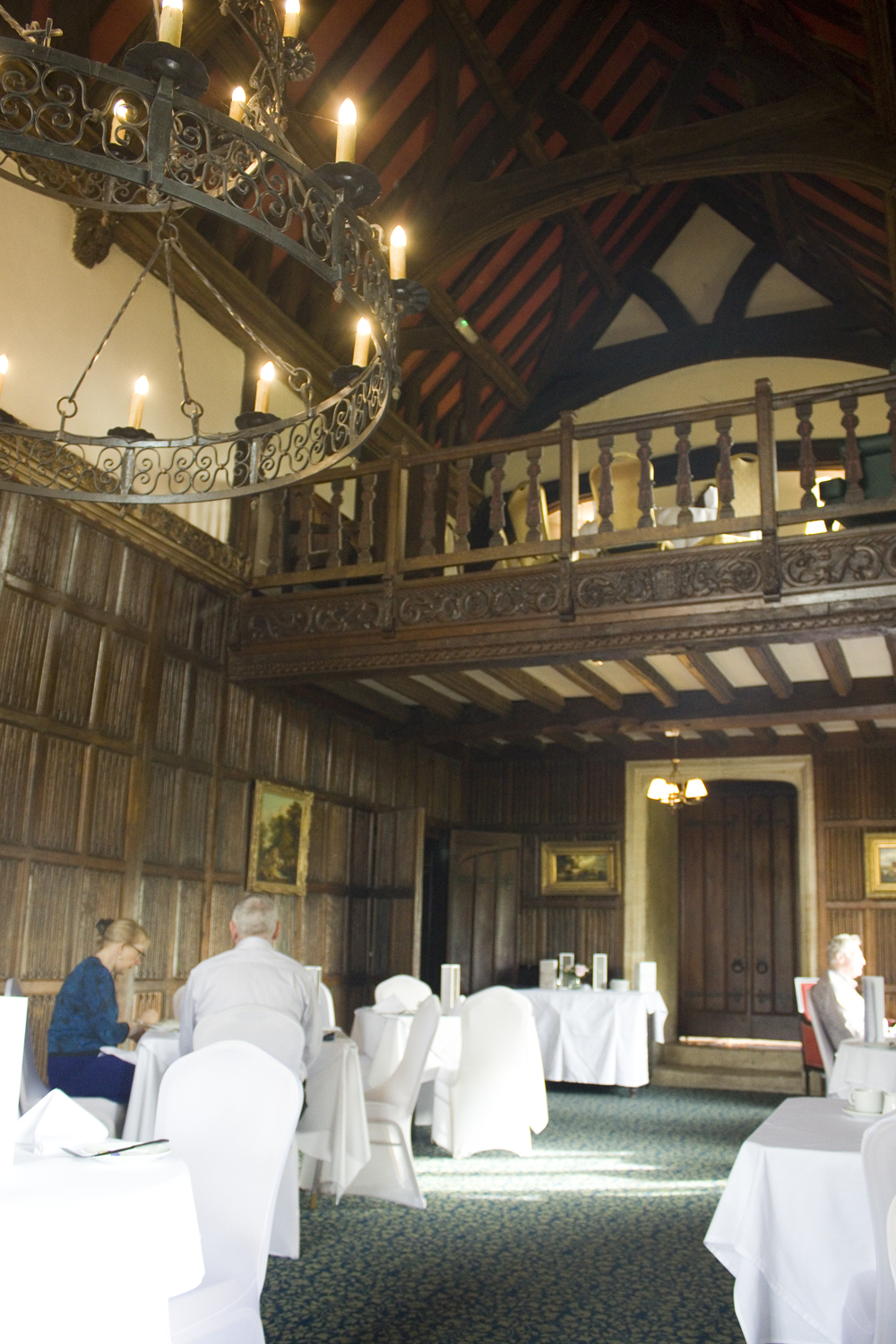 Hot breakfasts were chosen from a menu and served fresh to the table. I opted for Eggs Benedict while Mr LLL chose the Manor Breakfast.
In the corridor outside the room was a buffet with a good selection of pastries, cereal, fruit, nuts and cheeses to keep you going while you wait for your hot food!
I was really impressed with the cold buffet and opted for pastries and cherries with yoghurt and hazelnuts.
The hot food was tasty and well cooked. I'm told the sausages were good, which is always the test of a good breakfast!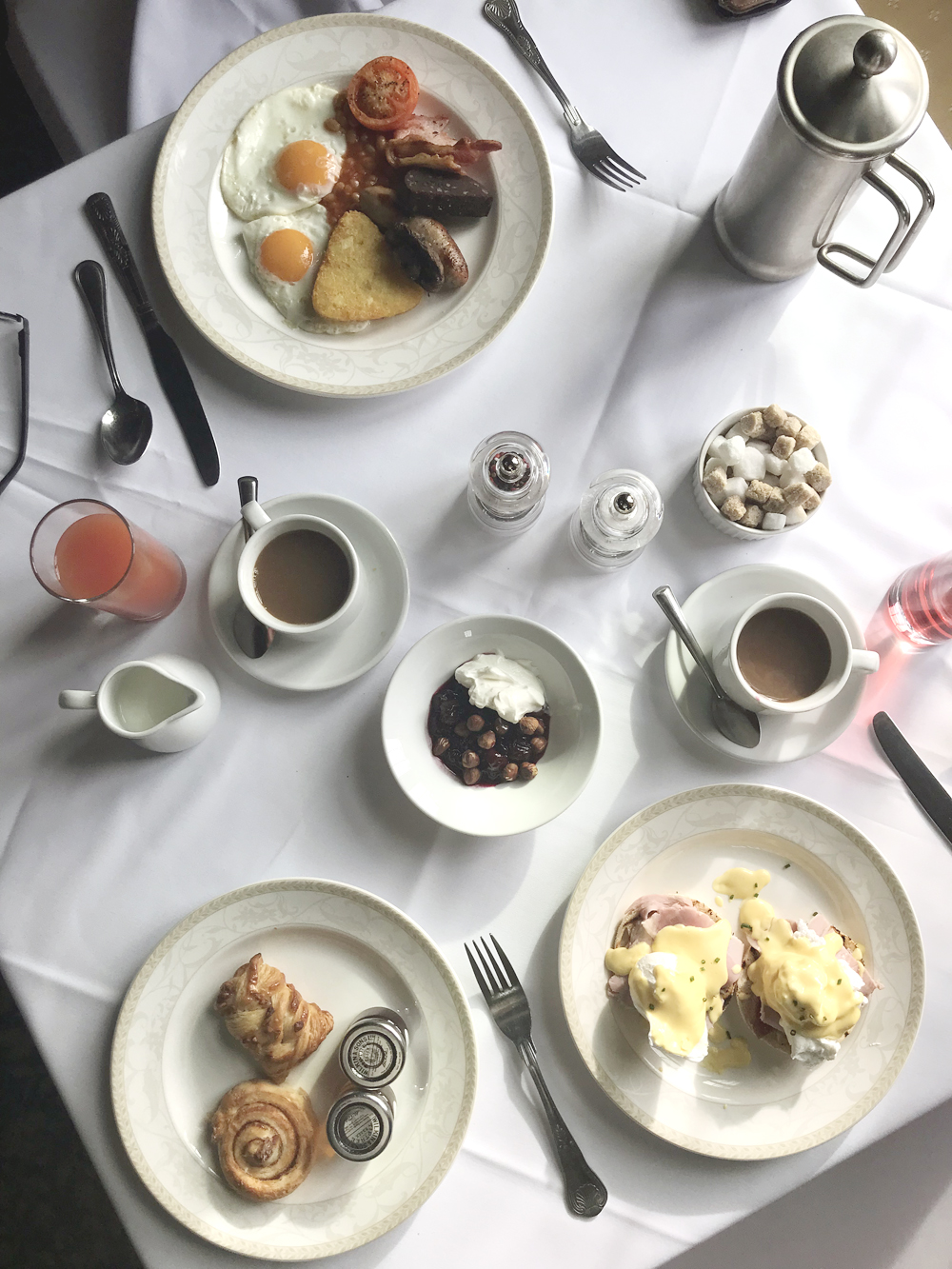 The Verdict
I love staying in country hotels. There's something about being able to spend a pleasant evening strolling the grounds, followed by dinner and drinks, a big comfy bed and breakfast all in one location that feels like a real treat.
This kind of hotel really relies on the staff, as well as the hotel buildings and grounds, to make the stay perfect, and The Manor Weston came up top on all counts.
If you're looking for an overnight stay for a special birthday or anniversary, I wouldn't hesitate to recommend the Manor Weston, based on the experience of our stay. Plus, the added bonus, that if you have pets you don't need to leave them at home, as doggies really are welcome at the Manor.
I would love to go back and stay on a warm Summers day, spend some time lounging by the pool with a cocktail, or play tennis or croquet on the lawn (not that I know how to play croquet!)
The Manor Weston
The low down
The Manor Weston is located in Oxfordshire, not far from Bicester village if you fancy some designer shopping.
Looking at the website rooms start from £99 for a standard room with breakfast. A Junior Suite, like we stayed in, starts from £159, depending on the dates you book.
The Manor Weston provided us with an overnight stay and dinner. 
All opinions are, as ever, my own.
(Srsly hotels, PLUG SOCKETS)