Hi there, happy Sunday afternoon!
This post is a bit late today, because I promised myself I would write it before I had lunch. Then promptly procrastinated for an hour before realising I was starving, so now I'm writing it so I can make myself a cheese and cucumber sandwich.
After the sandwich I have another exciting day of cake and Netflix planned.
But first, this week I…..
Had a Lovely Sunny Sunday
I feel the need to specify sunny because today is such a drizzly, grey, overcast one and last Sunday wouldn't have been the same without the sunshine.
It was Norwich Car Free day, so I thought it was a good opportunity to ride my Pushing Ahead Norfolk loan bike into the city and have a nice poke around.
I went to a couple of craft fairs, drank a coffee cocktail (just the one and it was about 2 hours before I got back on the bike!), had a look around a medieval church that was open for Norwich Heritage Open Weekend had lunch and a little wander around the shops. It was lovely.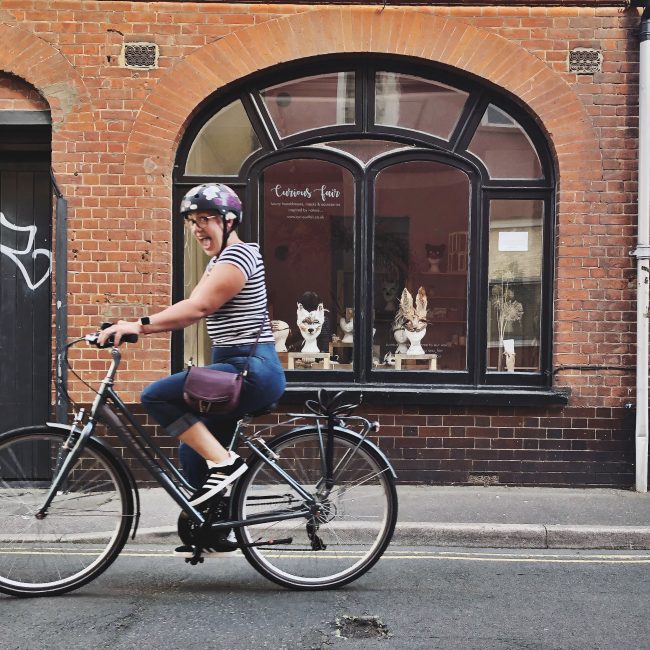 Went on a Weird Walk
On Sunday night as part of the Heritage Open Weekend we went on a walking tour of the city organised by the Weird Norfolk crew.
We took the Pugs and had a fun walk around the city listening to historical tales of gruesome murders, ghosts and ghouls, before finishing up with a visit to the 12th Century undercroft at The Assembly House, which is currently in the process of getting planning permission to be turned into a swanky bar and dining area, so seeing it "raw" was a bit of a treat (as was the fizzy wine and biscuits!)
We couldn't take the Pugs into the cellar because a) stairs and b) rat poison, so a friend of ours stood outside with them while we had a look around.
Suddenly there was a huge clattering noise which scared the hell out of everyone in the room as Waldo heard our voices and started running down the stairs trailing his lead behind him.
Deciding it was time to go home we took him back upstairs and headed back, at which point the heavens decided it was time for an almighty downpour and we all got drenched, which has pretty much set the tone for the rest of the week if I'm honest.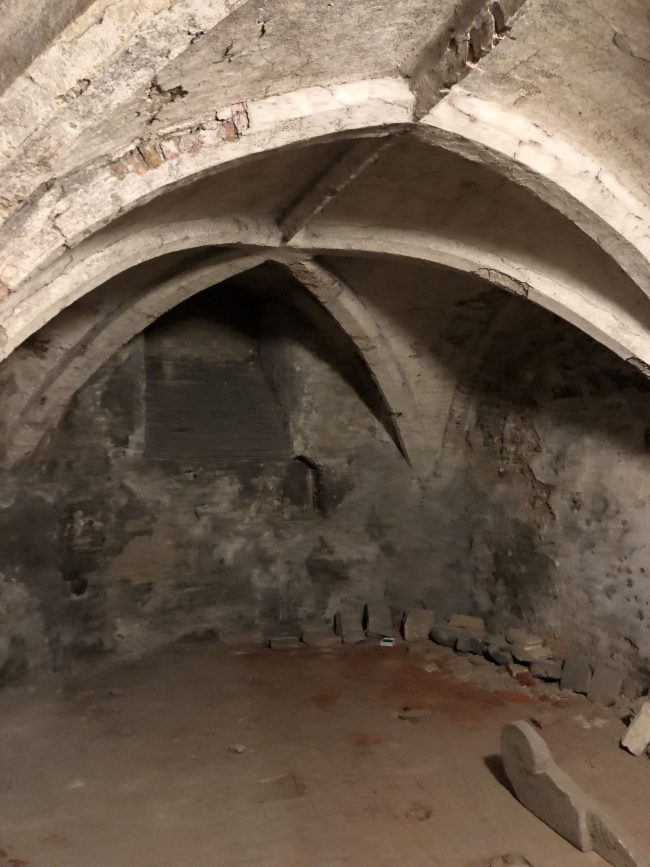 Had my First Autumn Pumpkin Spice Latte
Yes, I'm really sorry to be so cliche, but I love the arrival of the Pumpkin Spice Latte to herald the arrival of Autumn as much as I love the arrival of the red cups heralding Christmas, so ner.
I had one of their new Pumpkin Spice cold foam thingys, but it wasn't the same, so this week I had my first PSL of the year, complete with whipped cream because I'm worth it.
Then I went and bought a pair of jeans, they were cheap jeans for dog walking, so don't expect photos. Have one of my shiny face drinking a PSL instead.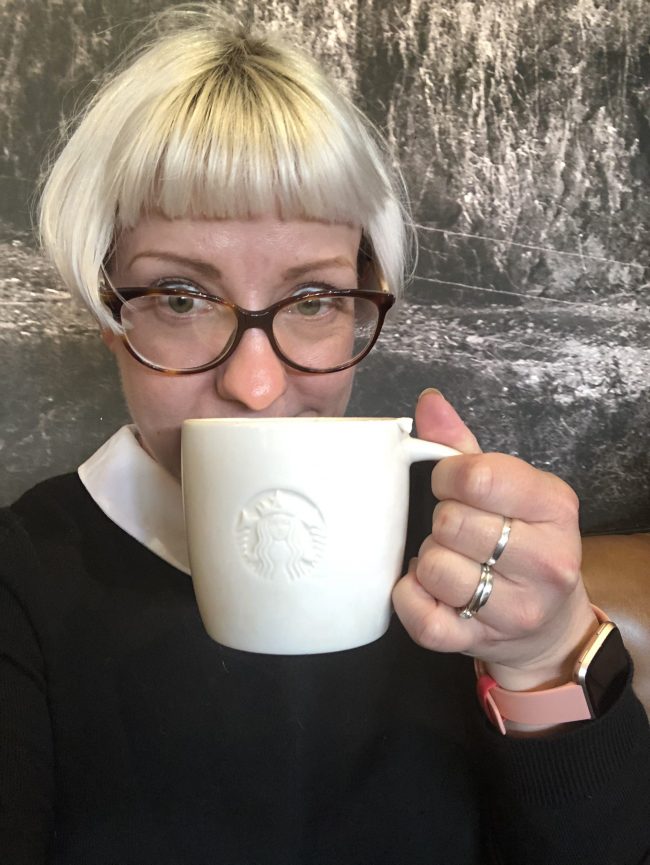 Got Rained on, again…..
Another exciting event that happened this week was a trip to the vets. Poor Peppa has been really itchy, over the Summer a course of steroids sorted it out, and we thought it was seasonal and had resolved itself, then suddenly this week it started up again. I can't stand seeing her poor sorry for herself face, so we took her up to the vet who this time prescribed Apoquel, a far more expensive drug than steroids that made my credit card cry.
To ease the pain we decided to take them for a walk around the common. It was a grey day, but dry, and we had a nice run around the woods. On the way back to the car it started drizzling slightly. Mr LLL offered me his jacket with a hood, which I refused as it was only a light drizzle.
Then there was a huge and dramatic peal of thunder. "Maybe we should walk a little quicker though…" I suggested.
About 100 yards from the car the heavens opened. I started running, but this was BIBLICAL rain and by the time I got there I was already drenched, while I was trying to get the dogs in the back of the car it felt like someone was pouring buckets of water down my neck.
I told you, this is basically the theme for this week.
Saw a Rainbow.
The upside of getting very, very wet, was that when the sun inevitably came out again 3 minutes later, we got to see this lovely double rainbow.
Drank a Lot of Beer
To finish off the week I had a night out, of which I totally failed to take any photos at all as I was having such a jolly time drinking a lot of beer.
Last weeks Oktoberfest had not fully quenched my urge to pretend I was in Munich again, so last night we headed down to a beer stall on the Market, Sir Toby's Beers, wehich had got in some genuine Oktoberfest beers and was having a little "Oktobyfest" of it's very own.
We had a lovely couple of beers, then headed to a Belgian themed pub nearby to drink some Belgian beer, then off to a third pub for yet more beer, before we headed home to watch TV and fall asleep.
Surprisingly I feel far better today than I deserve to, frankly, but still, I must head off and eat a sandwich now as I'm STARVING.
How was your week?