Well hello! Welcome to the final Sunday of "Birthday week" because when your birthday occurs in lockdown and you have to cancel all your plans you get a whole week instead of just a day.
Long term readers might know that Mr LLL and I share a birthday. This year is a big milestone birthday for him, so I don't get a birthday this year while we make extra celebrations for him. Our plans had been to take an epic walking holiday along the Pilgrims Way. We had some glorious Airbnb's to stay in. Cabins in the wood with fairy lights and hot tubs. Plus a walking route that took in every country pub possible.
Sadly, this was not to be. There will be time for hiking and glamping again in future, but to try and make it special I pulled out as many stops as I could to plan a weeks worth of treats.
So instead, this week I…..
Didn't get 10000 steps
On Sunday, to prepare for an epic week I barely sat down all day. I cleaned the house from top to bottom, dyed my hair, painted my nails and was generally exhausted.
You'd think with all this moving around I'd have hit my 10k steps daily goal no problem. But I didn't and I forgot to check before I feel into bed exhausted and actually only got 9800 steps. Breaking a 20 day streak.
I woke up about 3am and suddenly remembered and I was genuinely sad. All it would have taken was about 3 minutes of jogging on the spot. I was heartbroken.
I'm now on another 6 day streak and I plan to smash my last streak. Ok!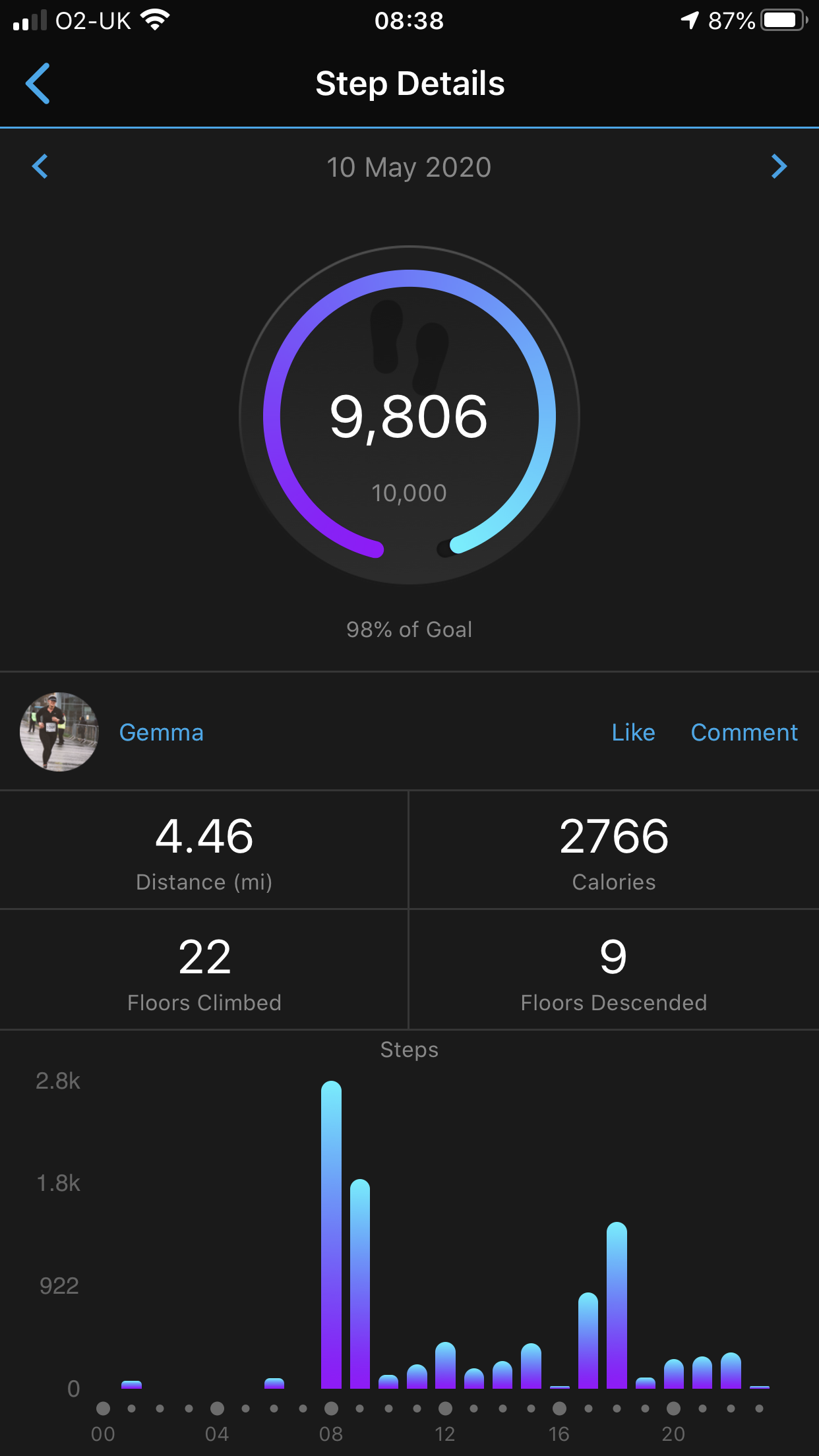 Braved the City Centre
On Monday I needed to go into the City to collect some food for birthday celebrations.
I think the last time I went into the city centre was around the 4th March when I had a lovely day wandering round the shops and took myself off for lunch before meeting Mr LLL to go to the cinema blissfully unaware of the impending apocalypse.
This time was very different. There were a few people, but it was very quiet, and the shuttered shops with their COVID-19 signs in the window were very melancholy. These really are unprecedented times.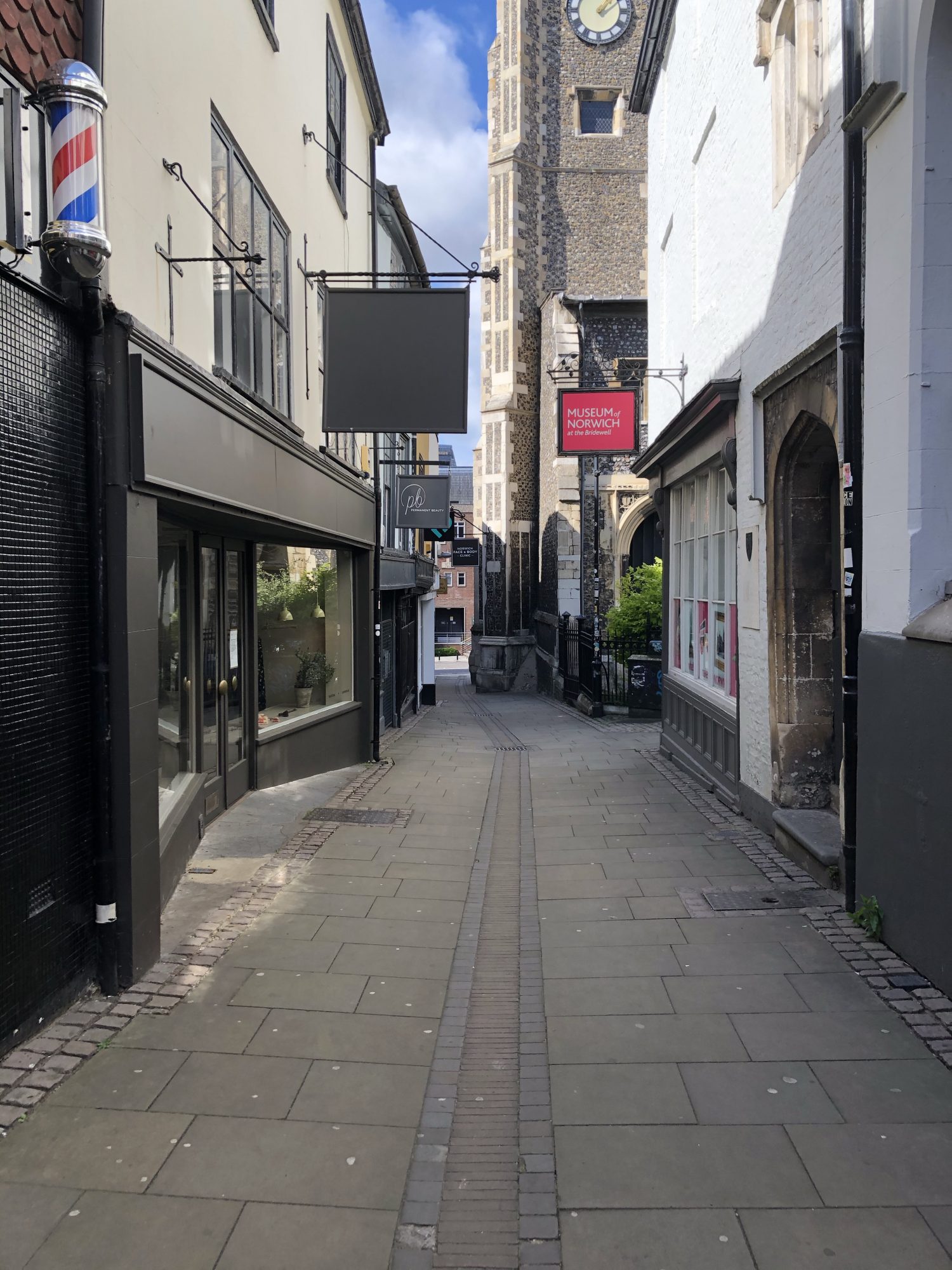 Took a European Tour
The weeks birthday plans involved me putting up lots of flags in the middle of the night so we could go on a European Tour.
On Tuesday we woke up in virtual Italy where we took a trip to the Colloseum thanks to a virtual You Tube tour, ate fresh pasta thanks to my collection from local restaurant Al Dente (they sell fantastic "make it yourself" kits), drank Aperol Spritz and finished the day with a games night and antipasti courtesy of our friends.
On Wednesday, which was actual birthday day. We woke up in virtual France, mysteriously decked in birthday banners.
We took a trip up the Eiffel Tower (thanks You Tube) ate Macarons, courtesy of my sister, and I organised a surprise Zoom call with friends and family to sing Happy Birthday.
Then I made French Onion soup, we drank Champagne, watched Moulin Rouge and fell asleep.
There were many presents and we had a lovely day and felt all a bit emotional about our lovely friends and family that helped make it so great even though times are weird.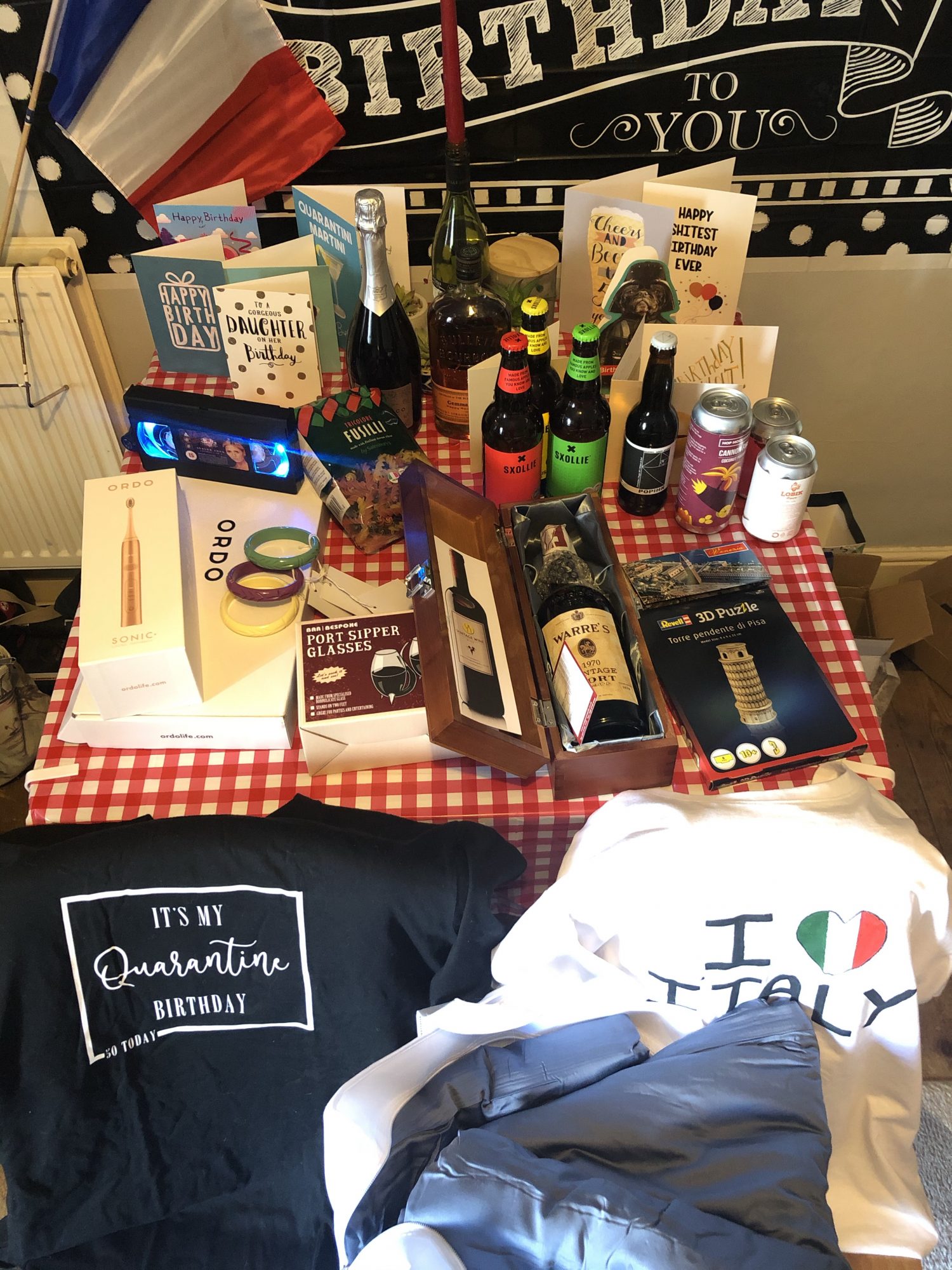 On Thursday we had planned to go to virtual Belgium, but by now we were a bit tired to be honest so we stopped off just for breakfast waffles, then went home and decided to go back later on to tour the Atomium, eat mussels and drink beer. The advantage of a virtual holiday is you can do it in bits.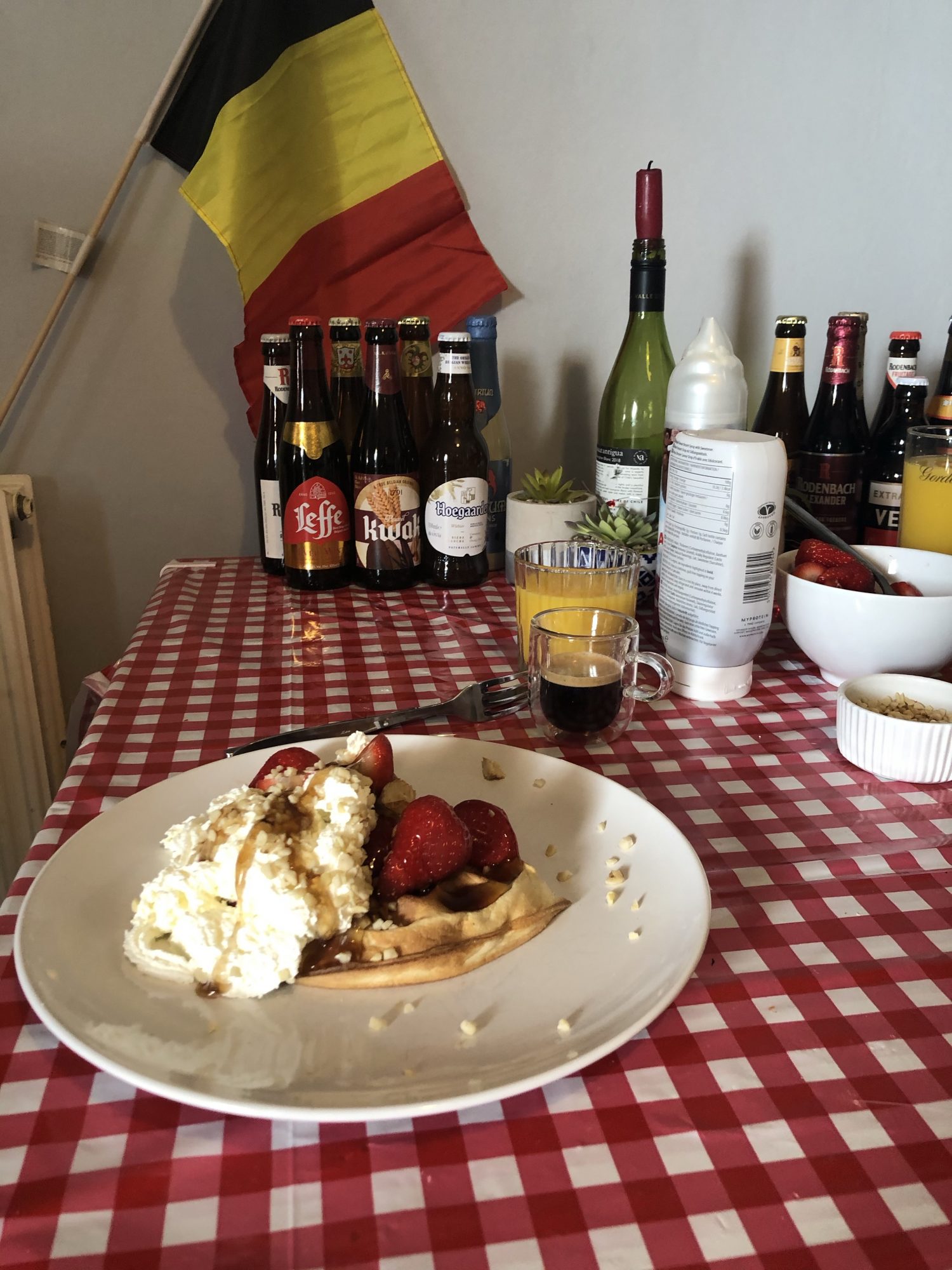 Invented a coxktail
Each week we have a regular zoom call with some friends to take part in Jays Virtual Pub Quiz. Last week somehow we ended up inventing a cocktail called the Silky Tart. Based loosely on the Aperol Spritz it's made from Prosecco and Iron Bru over ice. It's the same colour as Aperol so it's basically identical.
This week we actually bought the ingredients and tried it. It didn't taste as bad as I expected. I may not have it again though……
Ate a lot of takeaways
So many amazing local places are doing takeaways right now, so we decided birthday week was the time to treat ourselves and try a few out.
On Monday my Dad treated us to a Thai meal from Take Thai. Which was delicious with big portions.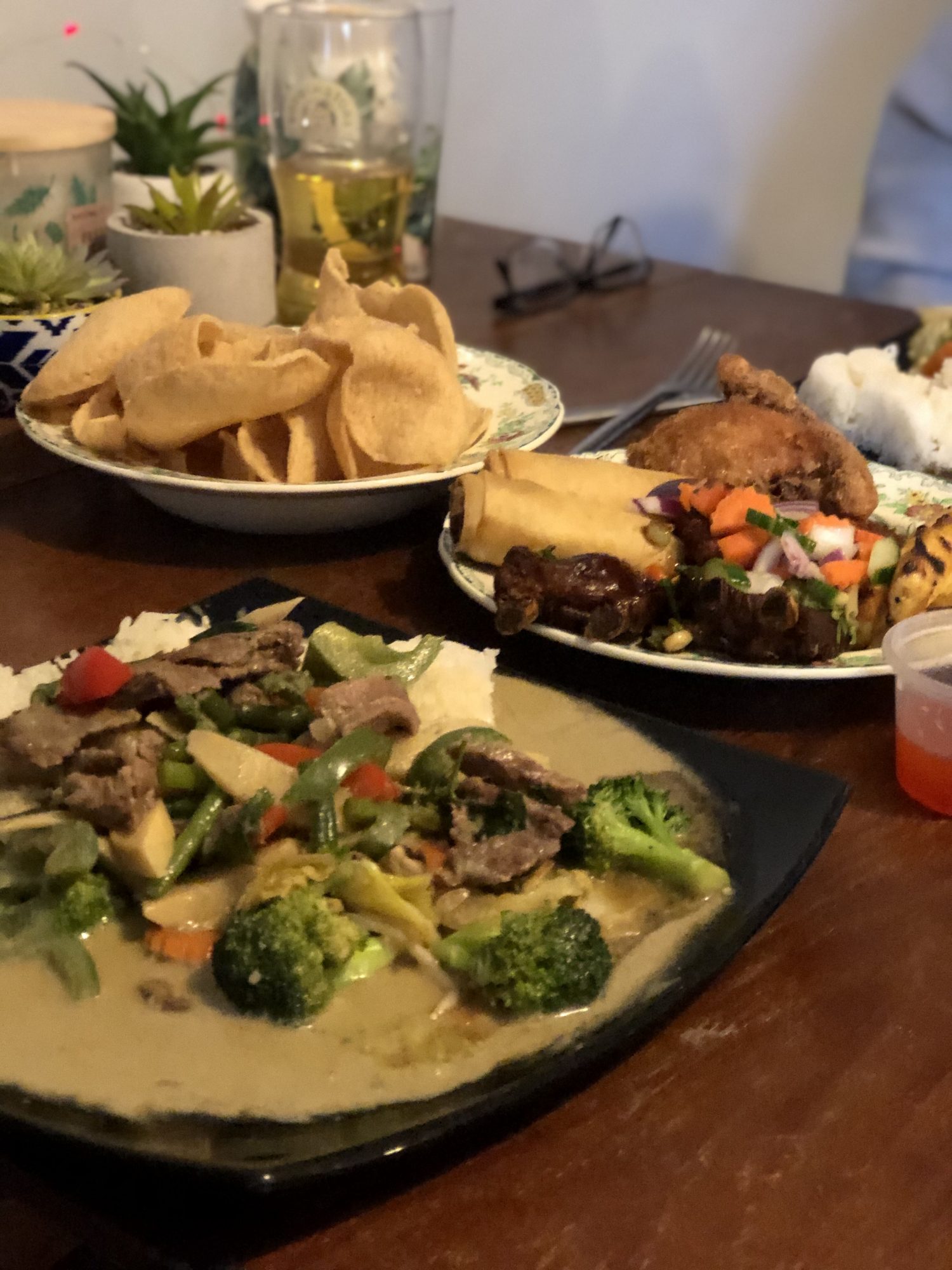 On Thursday night local Mexican place Gringos offered to send us a meal for free. We worked with Gringos since the very first Cocktail Week and we absolutely love them. The food part of the business is a relatively recent addition and its as good as their cocktails!
They sent us Tacos, Mexican beans, nachos and churros, plus 2 bonus birthday mini wine bottles which was sweet. Although we didn't pay for this one, having priced it up it was by FAR the most reasonably priced takeaway of the week at under £30 for all that food, and absolutely delicious. So I really recommend it!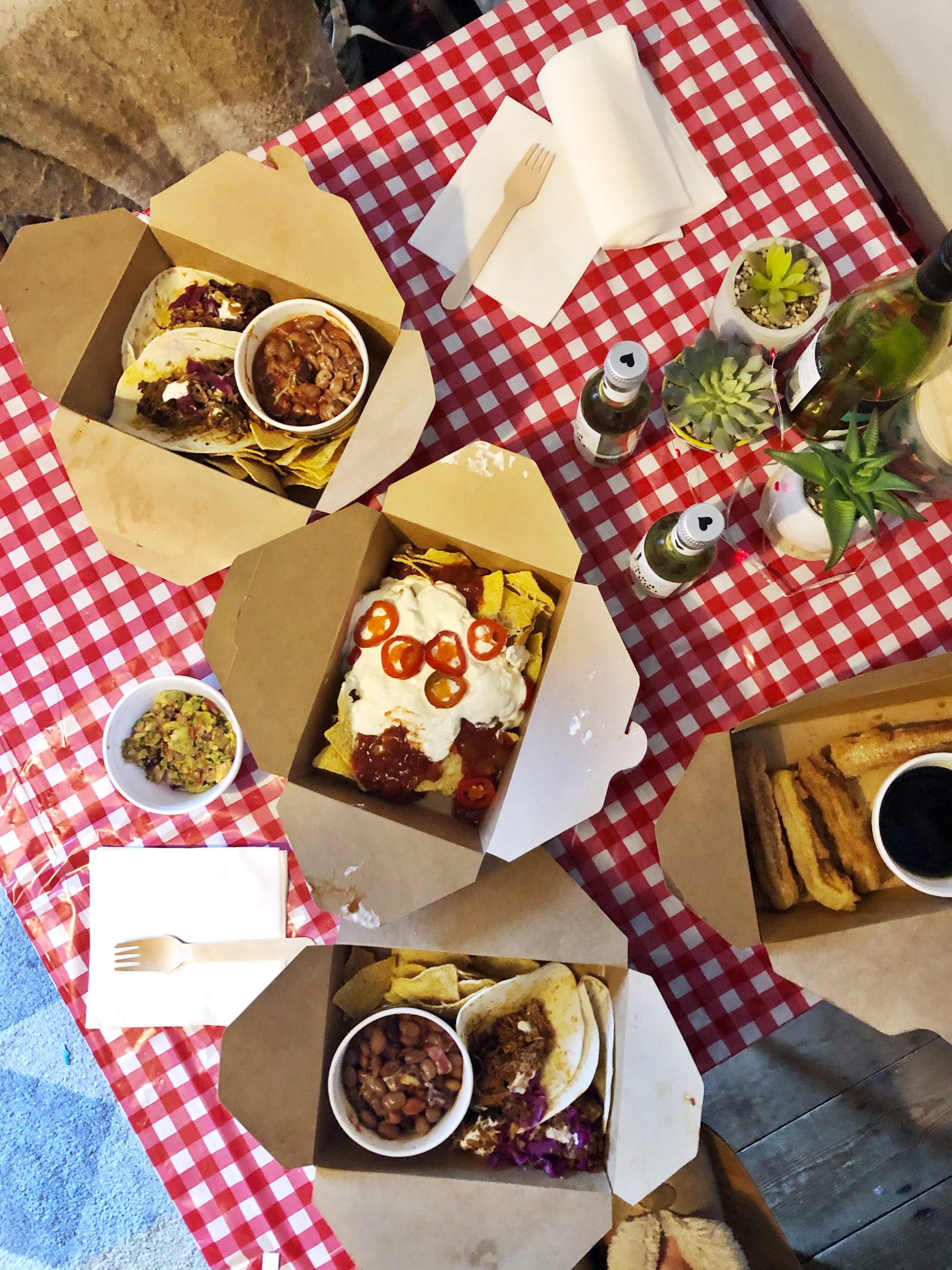 Friday nights takeaway came from Gonzos tea room. We had burgers and wings. This was pricy, but they do very good burgers and it is Birthday week after all.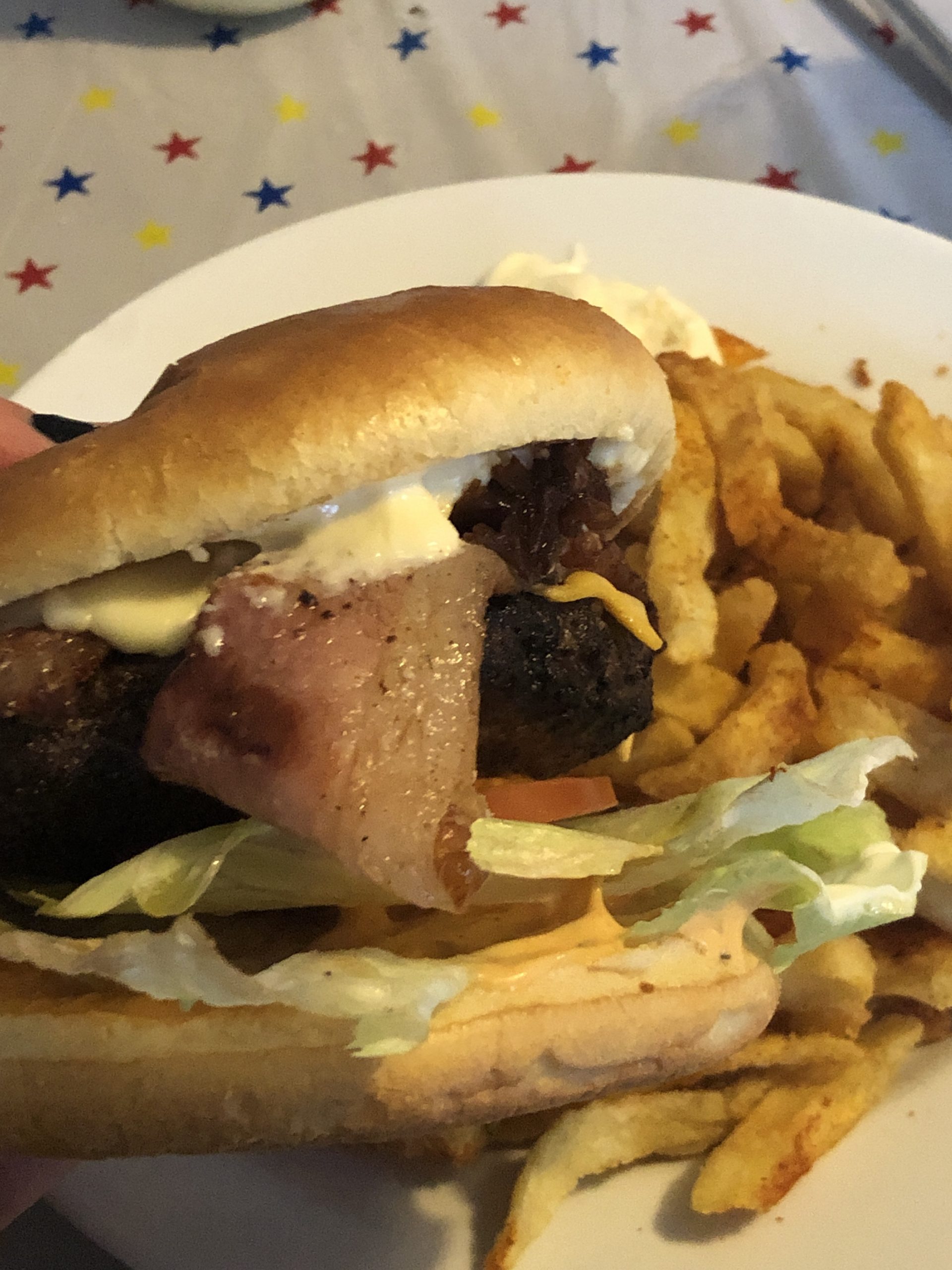 To finish the week of takeaways (apart from the on coming today, I haven't tried that yet) we opted for an afternoon tea/mezze selection from Salt. This one was a treat from my Mum and a treat it was! It was the perfect grazing dinner for a Saturday night. Every single thing in it tasted better than I expected, which is good as I expected it to taste good! Their selection changes each week. Next week appears to be cake based. Ours came with a bulgur wheat and feta salad and butter bean dip. It was awesome.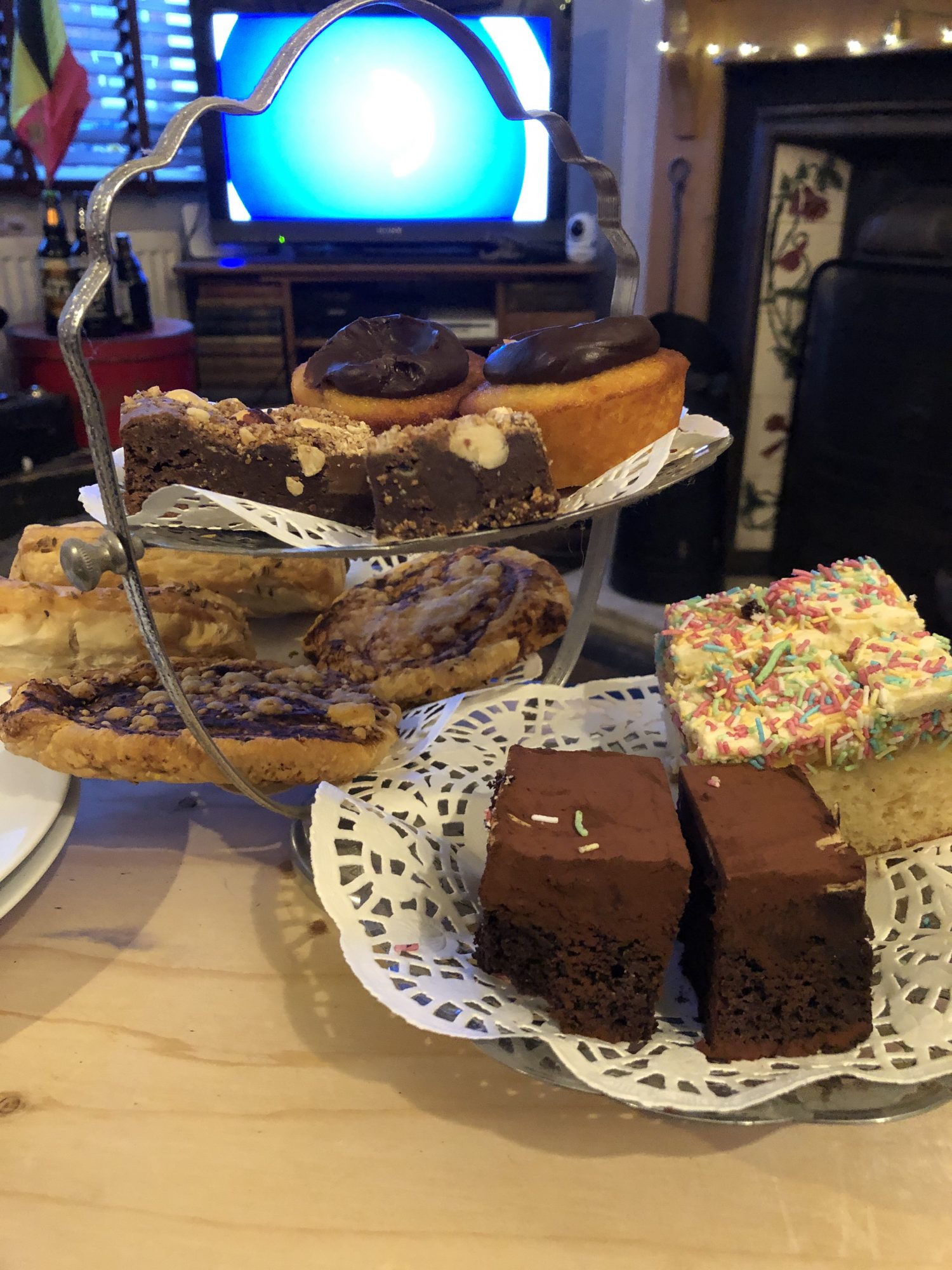 Did not watch Eurovision
Ah, Eurovision night. One of the highlights of my year. I love predicting the political voting, and it's even more exciting now the public votes are done separately and can throw an unexpected spanner in the works at the last minute.
I am very sad at the lack of voting this year, but the hastily thrown together replacement show was really rather good. Let's face it, 30 seconds of most of the songs is all you need, apart from Russia and Iceland that I'm off to watch the full video of. The interviews and retrospectives were quite emotional and reminded me of what I love about Eurovision and watching Graham Norton getting a bit choked up during a slightly awkward satellite interview was sweet.
I hope it's back next year.
And that was another (birthday) week in my lockdown life. Next week is going to be tough. Mostly because we're going to have to cook for ourselves again.
How was your week?
Related