Good morning, welcome to a predictably rainy bank holiday weekend.
I'm quite enjoying the change of weather. A little drier might be nice but I'm certainly enjoying the change of temperature. I'm also looking forward to August being over, because apart from a lovely visit with my family at the start of the month it's been a bit of a stress to be honest.
Today I'm off to work, and this afternoon I have a whole load of nothing planned to celebrate 4 years since Mr LLL became self-employed, but first, this week I….
Went for a Run
In July I ran 70 miles, in August, 13. I was on holiday, then it was hotter than the sun and I couldn't go later in the day, then I was sick, and frankly the whole month was going to pot running wise.
So at the start of this week I decided it was time to go for a run, I had a painful shoulder from last weeks dramatic floor dive, but you don't need shoulders for running.
I went, it was slow, but I felt good and motivated to get back into it (just wait for Wednesday)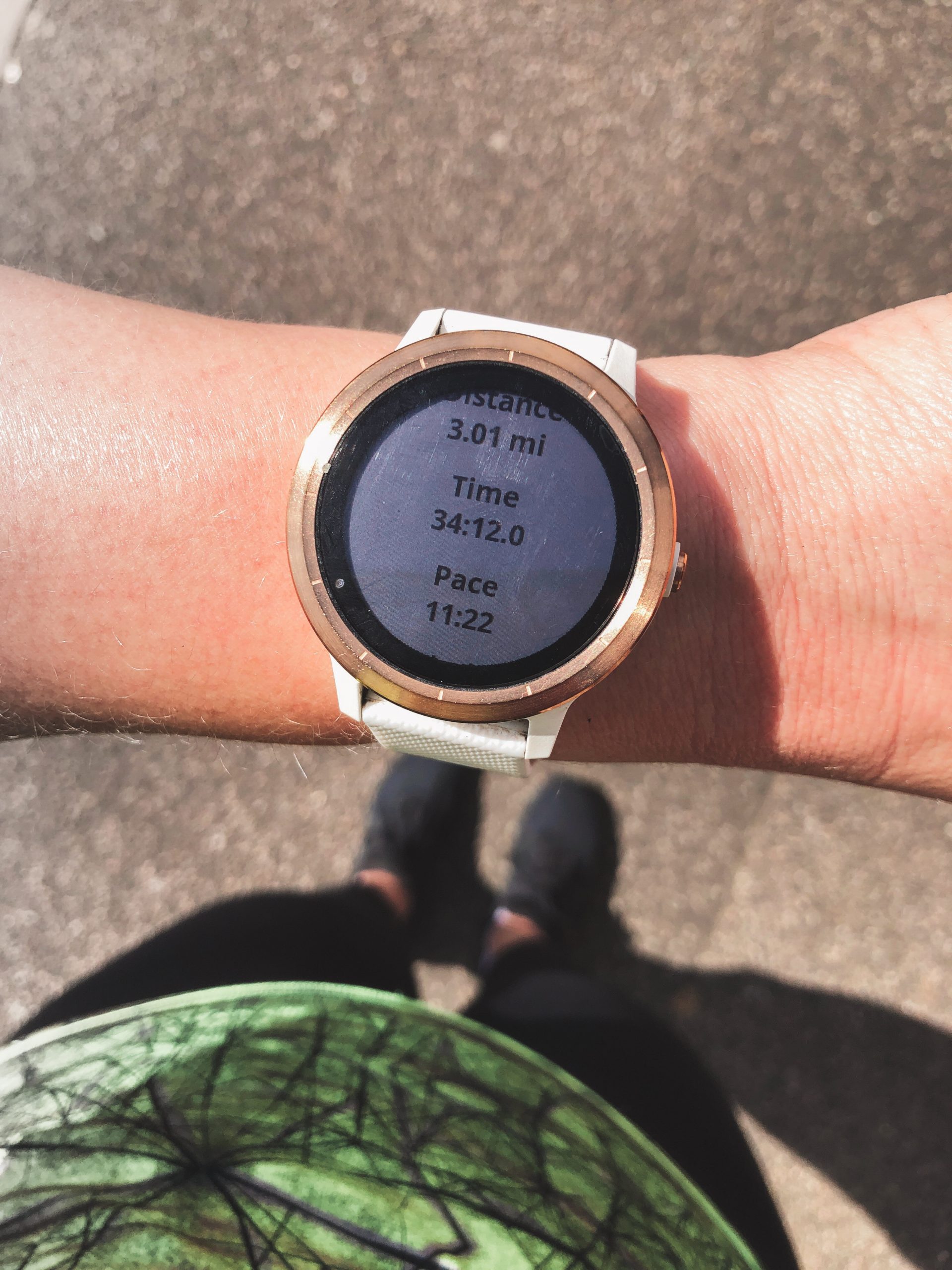 Drank wine under a blanket
Yes, that's right, cooler temperatures meant that on Monday night I finally got to do what I've been wanting to do on my new garden bench ever since Mr LLL built it.
Sit on it under a blanket and snuggle up with a glass of wine.
I have cushion covers coming for those back cushions, but I'm really pleased with how lovely it is to spend time out there.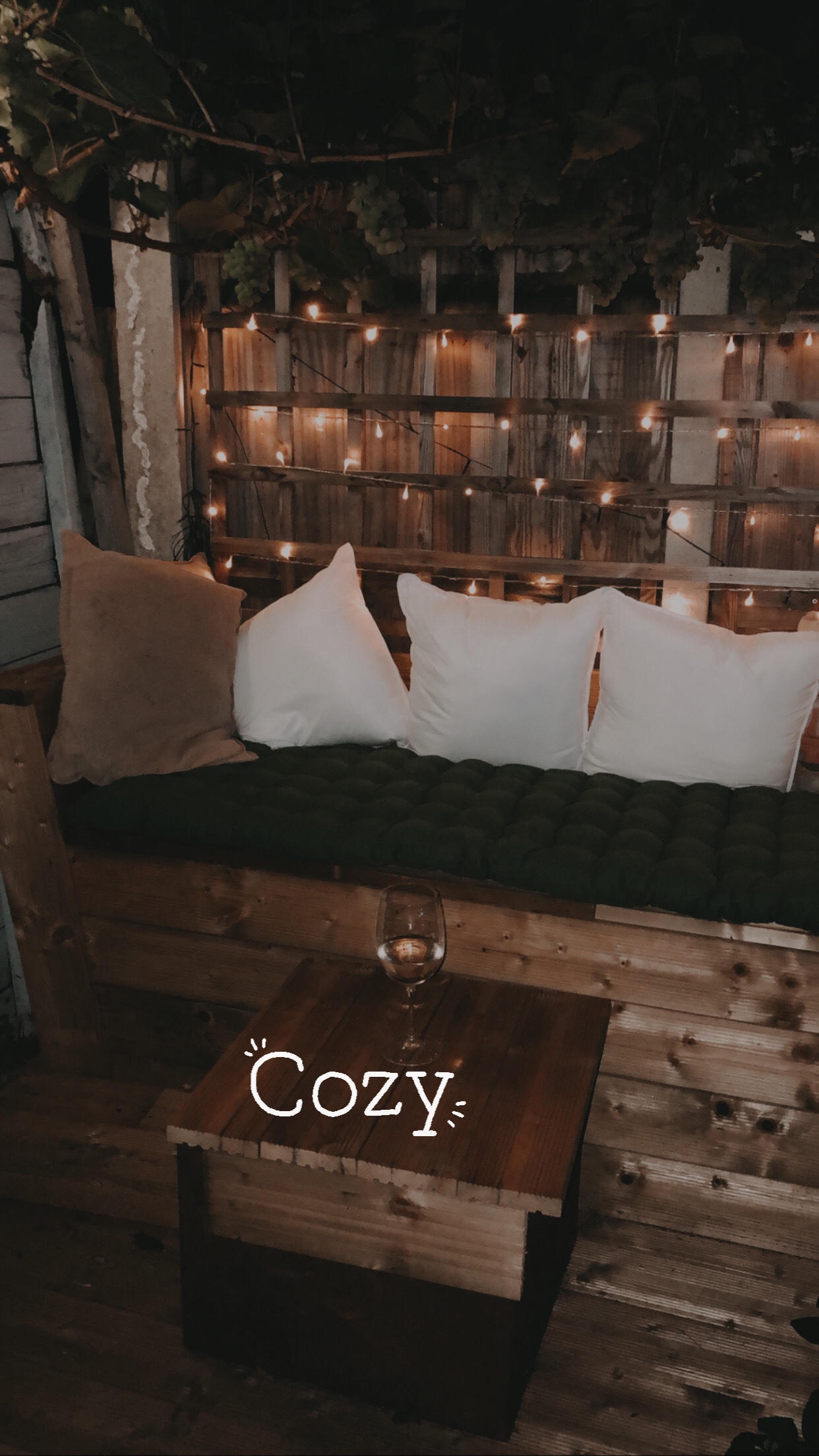 Hurt my Back
Yep, I thought my bad back days were over, but on Wednesday I decided to try my weights out.
I picked up the same weight dumbbells as I used for squats last week and thought "hmm, these feel really heavy today" but instead of thinking "hey, I'm tired" and going down a weight I decided to push on anyway.
I was literally 4 squats into my first set of 8 when I slightly lost balance with one of the dumbbells and twisted my back.
It's improved slightly but still very painful. I can't make dynamic movements and it's surprising how often you twist your back to do things like catch a pill box that slips slightly (Omega 3 tablets all over the floor).
I was very angry with myself for pushing on.
Ate a lot of cheese
Still, nothing makes you feel better like eating a massive cheeseboard containing far too much cheese for 2 people.
We also watched a film called the Great Cheese Race.
It was a very cheesy evening.
Witnessed the New Normal
I actually went into my GPs surgery for the first time since March this week. It looks very different.
6 months ago this space was all built in benches with plush velvet covers. Now it's plastic chairs boxed into their little yellow and black Covid proof squares.
Saw some Art
If you're Norwich based and fancy seeing some socially distanced art, then pop into 29 St Augustines Street today or tomorrow.
Rachel Collier-Wilson and Safi Butler have an exhibition and sale, a lot of their work has a slightly gothic style that I love.
As well as original art work there's smaller bits like mugs and post cards to pick up, so go take a look!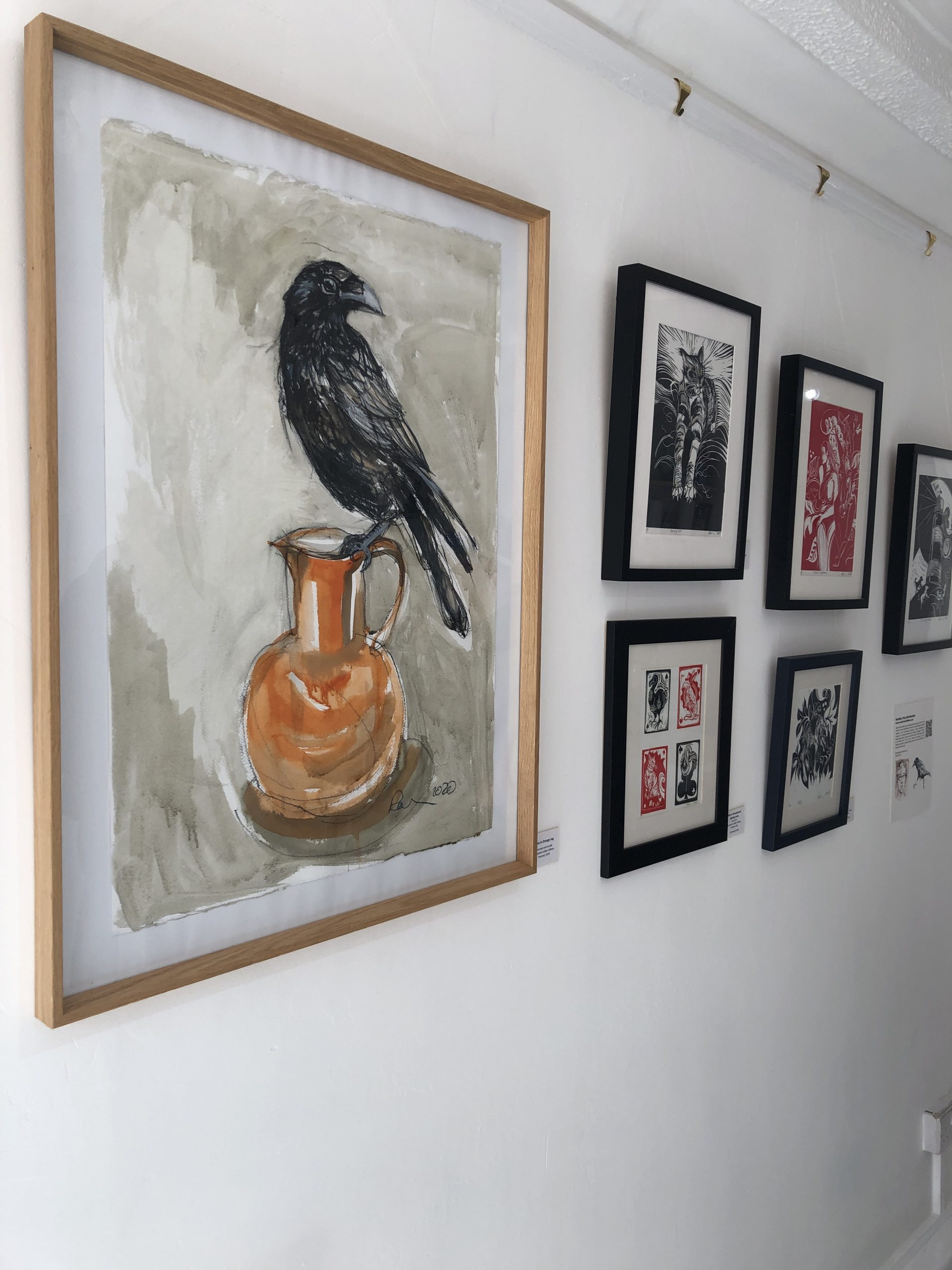 Sprained my ankle
Seriously August. Piss off.
I stepped off the kerb onto an uneven piece of road. I didn't realise there was a car coming and tried to step quickly back onto the pavement, except that twisted my back, caused a spasm, and instead I twisted my ankle and collapsed in the gutter.
At least the car stopped so I didn't get run over.
So now I have a bad back AND a sprained ankle.
No running for me.
Had an impromptu beer
I can still drink beer though, so that's a relief.
As I was limping home from the city with my bad back and sprained ankle I spotted the Plasterers new "beer garden" on the forecourt of the church next door and we decided to stop there for an impromptu beer to anaesthetise the pain.
It was my first impromptu beer stop since lockdown, all the others have been pre planned missions. It felt kind of nice. Almost normal.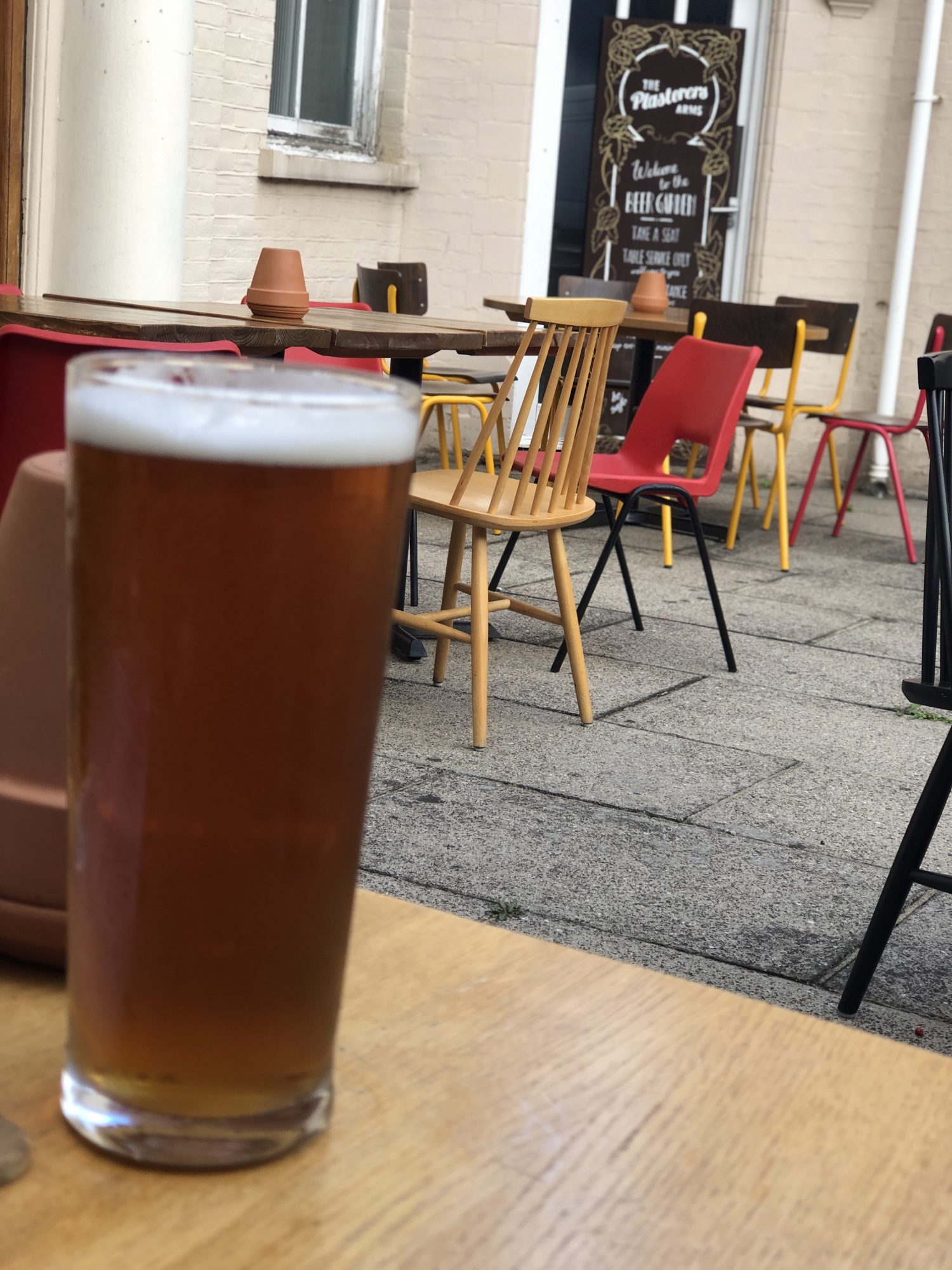 Went for a walk in the rain
Despite my aches and pains I can still just about manage a walk, so on Saturday I taped everything up and went for a walk in the country.
It was very rainy so we only did 5 miles, but nothing hurt. So that's good.
Look at the size of this tree!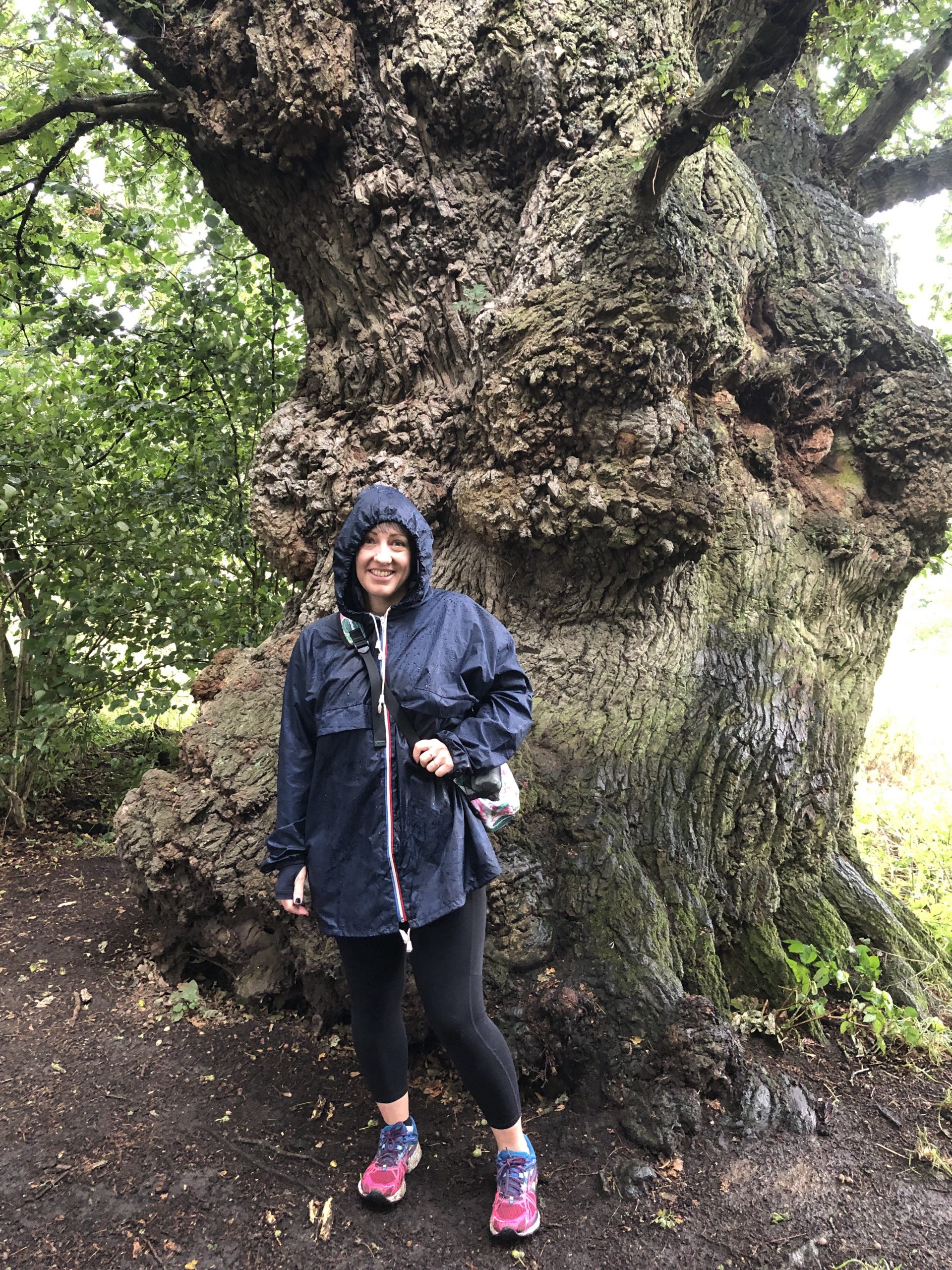 And that was the end of another week in my life, and, thankfully, pretty much the end of August.
September will be about healing my aches and pains and being very nice to myself.