Well, I promised to keep a record of what I ate for a week, and come back and share. So here I am!
In some ways this was a very atypical week for me. It featured no travel, and a couple of events so my diet was correspondingly a little random. I can spot things that I ate a lot of this week that actually don't always feature heavily in my weekly diet (cheese and cake for instance), but also other areas I know I need to watch (like takeaways and alcohol)
So for the nosy among you, here's what I ate and drank last week. For some of you this will be lots, for others not so much. Either way, don't be a bitch about it or I'll just delete you, m'kay?
Monday
Today was the day of my Roller Derby sign offs. I don't like to eat much before I go, so I had quite a big lunch of beans and 2 slices of toast. Dinner was celebratory, lets not even go there, that's a rare occurrence and I seriously regretted the pizza!
Mid Morning Snack – 4 Gluten Free Nairns Biscuits
Lunch – 2 slices wholemeal bread with a can of heinz "Big Breakfast" (beans with sausage and mushrooms)
Pre Derby Snack – Small bag Urban Fruit Dried Pineapple
Dinner – Small Dominos New Yorker pizza, 2 slices Garlic Pizza Bread, 1 Chicken Combo
1 bar Dairy Milk (thanks Wild Honey!)
Drinks – 4 glasses Prosecco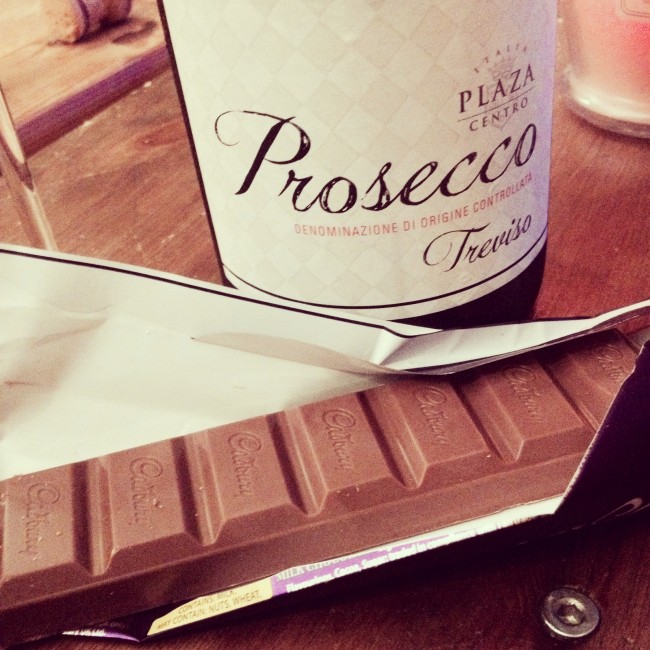 Tuesday
This is actually a much more usual day for me if I'm at home and not too bad really, could do with some fruit or something to up the vegetable consumption!
Lunch – 1/2 pack Tesco Frozen Paella with tinned kidney beans
Mid Afternoon – Costa Coffee Flat White
Dinner – Chicken with a homemade mushroom and stilton sauce, boiled new potatoes and stir fried courgettes.
Drinks – 1 Pint Adnams Broadside, 1 Jack Daniels Honey Whisky
Wednesday
Today I was at an event in the evening with free beer and mini sausage and mash portions, which I thought would be dinner. They weren't as filling as I expected though and I got home starving at about 9pm and made emergency pasta with cheese as it was quick and easy.
Breakfast – Special K Creamy Red Berries with skimmed milk
Lunch – Wholemeal bread roll, left over chicken and stilton
Dinner – Wholemeal Penne Pasta with stilton stirred through it.
Snacks – 2 mini sausage and mash portions
Drinks – 3 pints real ale
Thursday
Today I was skating in the evening, but came home early as I was feeling a bit off colour (turned out to be a cold starting!) instead of cooking I gave in and went over to the Fish & Chip shop, I even got a pie as I didn't want to wait for my usual scampi to cook. Lazy.
Lunch – Marks & Spencer Avocado and Feta Salad
Pre Skate snack – Nakd Cocoa Delight bar
Dinner – 1/2 portion chip shop chips, chicken and mushroom pukka pie, curry sauce and mushy peas
Snack – Vegan Pumpkin spice muffin, Slush Puppie at the skating rink
Drinks – 1 pint ale
Friday
It is very possible I got very drunk and attempted to self medicate my cold with beer and honey whisky on Friday night. Lets not mention it ok. Todays food was weird, largely leftovers and whatever could be scavenged from the corner shop as I didn't want to go shopping.
Mid Morning – 1 slice brown soda bread with melted cheddar cheese, handful Marks & Spencer fancy crisps.
Lunch – Tiger Tiger Thai Spice Noodles
Dinner – Wetherspoons Ham, Egg and Chips
Drinks – Far more real ale and honey whisky than is healthy.
Saturday
Today I decided to go out for breakfast at a new Eds Easy Diner in the intention of reviewing it for my site Vintage Norwich, so lunch was more an afternoon snack, not great. I did make a yummy home made chilli for dinner though.
Breakfast – Ed's Easy Diner Bacon and Eggs with extra mushrooms and a banana and peanut butter milkshake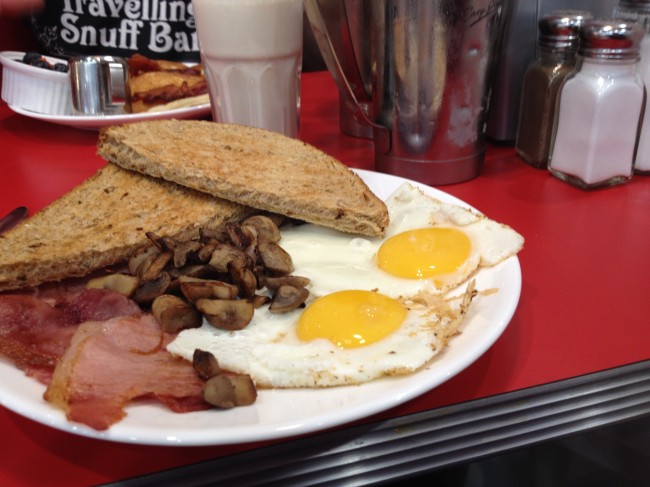 Lunch – Reduced fat hummus with tortilla chips and serrano ham from Marks & Spencer spanish deli
Dinner – Homemade chilli with sour cream, cheese and soda bread
Snacks – 1 devils food cupcake
Drinks – 2 cans Feel Good Non Alcoholic Cocktail, 3 glasses sparkling perry (like unbranded Babycham!) and 3 glasses Innocent Apple, Peach and Pear Juice, mixed together like a very low alcohol bucks fizz.
Sunday
Today was long run day, I did 7 miles in the morning. Then was on a photoshoot in the afternoon with drinks after.
Breakfast – Nakd Cocoa delight bar (pre run)
Lunch – 2 slices brown soda bread with peanut butter, devils food cupcake (post run)
Dinner – Mushroom, bacon and blue cheese risotto made with foraged mushrooms.
Drinks – 1/2 bottle Cava, 1 pint beer, 2 glasses Marks & Spencer Mojito fizz cocktail.
According to My Fitness Pal I came in at around 2000 calories a day last week. In a normal week that would be a perfectly acceptable daily calorie count to maintain weight (particularly if I hadn't had that damn pizza), especially as I'm fairly active, but at the moment I want to reduce weight, not maintain it.
Health wise apparently around 40% of my calories came from Carbs, 40% from fat and 20% from Protein. This is far too much fat, possibly largely down to the fact that I ate cheese pretty much every day this week, which isn't usual. I can see I need more vegetables in my diet as there's at least 2 days that I ate none at all.
I also notice I drank alcohol every day last week, although most days it was just a pint (I happened to have one of those mini casks in the house) and Saturdays alcohol was very low alcohol perry mixed with fruit juice, I would like to have at least 3 alcohol free days each week. Mondays are normally alcohol free for me as I'm skating till 10pm, so fitting in 2 or 3 more shouldn't be too much trouble!
I actually seem to be having a bit of an issue with bread products. Pizza often makes me ill, but last week the bread roll I had for lunch made me pretty poorly too. Soda bread, which is yeast free, didn't seem to cause a problem, interestingly, as I've had problems with yeast in the past. I don't seem to get the same effect from beer though, unless the alcohol just means I don't notice! Either way, I plan to try and cut down on bread as well.
You'll notice I don't eat breakfast often, one of the reasons is that I'm yet to find a breakfast that doesn't leave me starving by lunch time! If I eat before 10am, then by 11am I am starving hungry and desperate for lunch, which means I eat lunch very early, then dinner early, then eat more before bed. If I don't eat breakfast, or sometimes just have a mid morning snack, then I can often wait till 1pm or later before eating lunch. I don't know the reason for it, but either way, at the moment, adding breakfast back in isn't a priority unless I'm running in the morning! Trust me, before I get breakfast suggestions, I have tried bacon and eggs with spinach, omelettes, porridge, porridge with fruit, regular breakfast cereals, fresh fruit with yoghurt and nuts, pastries, a full english, rye bread with cold meats and cheese, boiled eggs and any other breakfast you care to mention. The only one that doesn't leave me starving by lunch is a full english, and that's because by lunch time I've only just got over having eaten it at all and the queasy feeling it gives me.
I have had various diets recommended to me. The Paleo Diet, The 5:2 diet, clean eating and all sorts of others. But I have no intention of going on any eating plan with a name. In my experience they work while you stick to them, but are inflexible and force you to adapt your life, and when you can't, they fail.
I don't want to be Queen of Healthy.
The Queen of Healthy is a very boring woman who never accidentally drinks too much honey whisky and falls asleep on the sofa. I want to be active, with a generally balanced diet that includes cocktails and cheese, just maybe not every day.
From last weeks results I need to cut around 500 calories a day from my diet to lose weight. Last week I could probably have achieved that just by cutting out alcohol, but I don't want to cut it out completely.
So. More vegetables, less cheese, and 3 or 4 alcohol free days a week, are the goal.
I'll check back in a couple of weeks with a progress update!