One of my biggest challenges eating properly is still going away a lot and staying in hotels. It's not only the struggle to eat well while you're away, but also the limited time at home making it very difficult to get organised for meals at home. I'm working on it, and eventually I'll find the solution, but in the mean time, a few weeks ago I decided to conduct and extremely scientific experiment on breakfasts you could eat "on the go".
My ideal breakfast would be savoury, or at least not too sweet, protein rich, around 300 calories ish, keep me full until lunch time,. At home I make a smoothie with My Protein Peanut Butter, unsweetened almond milk, a banana, a bit of Slender Blend chocolate protein powder and a couple of balls of frozen spinach, or I have poached eggs on grilled mushrooms with spinach. Neither of these things are possible to knock up in a hotel room, so I need an alternative to the breakfast buffet that I can eat in the room and takes nothing more complex than a kettle to prepare.
As part of my incredibly scientific and not at all subjective experiment I tried 4 breakfasts, eating each at about 8:30am each day and keeping a note of when I started to feel hungry. And here, they are, in order of pre lunch hungriness, the new scale by which all breakfasts are measured.
Upbeat Smoothie and a Nakd Bar
Calories – 284Protein – 23g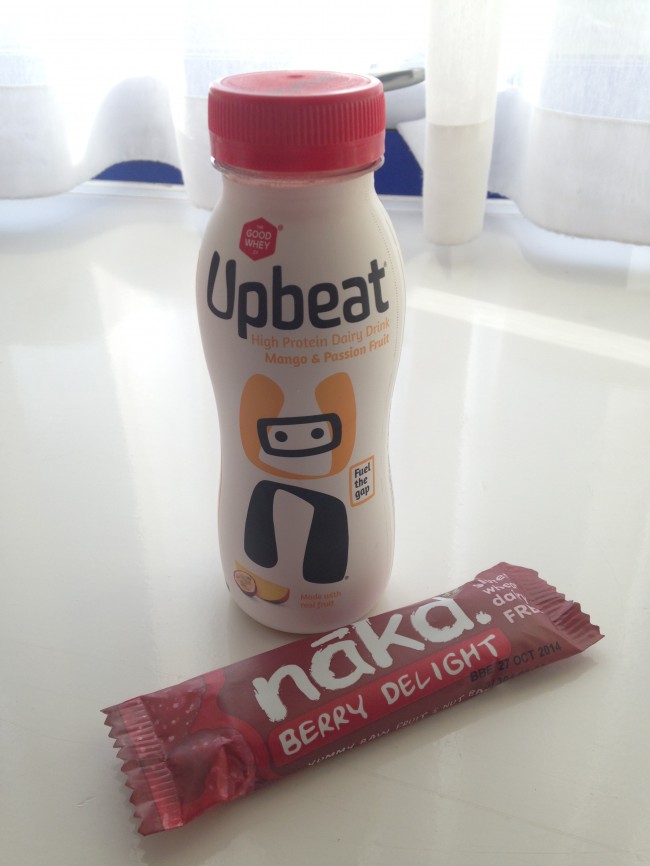 Upbeat is a protein drink using fresh whey and fruit puree that was released last year, but I have only recently spotted in a Tesco. It doesn't seem to be hugely widely available, but I hope it will become so because it was very nice! The combination of something immediate to eat, he nakd bar, and a thick shake that I didn't actually finish drinking till around 10am was a success as I wasn't hungry till well after 12pm. It's perhaps a little sweeter than I would like, but it was lovely. My winner by a long shot!
PHD Nutrition Diet Whey in Strawberry Delight
Calories – 182
Protein – 34g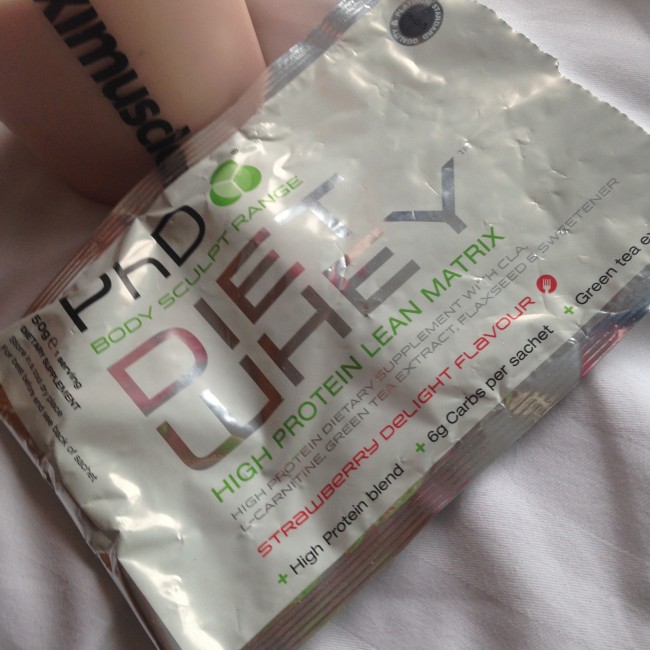 This is a protein shake powder, that comes in a handy single serve sachet, meaning all you need is a shaker and a tap to prepare it. Easy. It contains a whopping 34g of protein per serving, but only 182 calories, which I didn't realise till afterwards, so would normally have had it with something else like a banana or Nakd bar to up the calorie count. It also contains lots of alleged goodies like green tea extract to help you lose weight. The taste of the drink was synthetic and slightly powdery, and as with other drink based breakfasts it took me about an hour to get through. The taste wasn't *really* nasty, just not nice. It also kept me full till well after 12pm, despite the low calorie count, but I did feel slightly bloated with it. This one is good in a pinch.
Scotts So-Easy Porage Oats and Fresh blueberries
Calories – Approx 250
Protein – 11g
Ideally I was looking for a single serve of dried fruit and nuts to mix in with my porridge, but unbelievably I couldn't find any, so fresh blueberries it was, not as portable, but very tasty. It's not super high in protein, but not super low either, and it was really lovely to have something hot. This tasted good, it was real food, but unfortunately I was hungry again by 11:15. Maybe the addition of some nuts would keep me full longer, further experiments are necessary, but I'll definitely be hotel room breakfasting it with porridge pots again!
Sci-Mx Pro 2-Go Flapjack
Calories – 293
Protein – 21g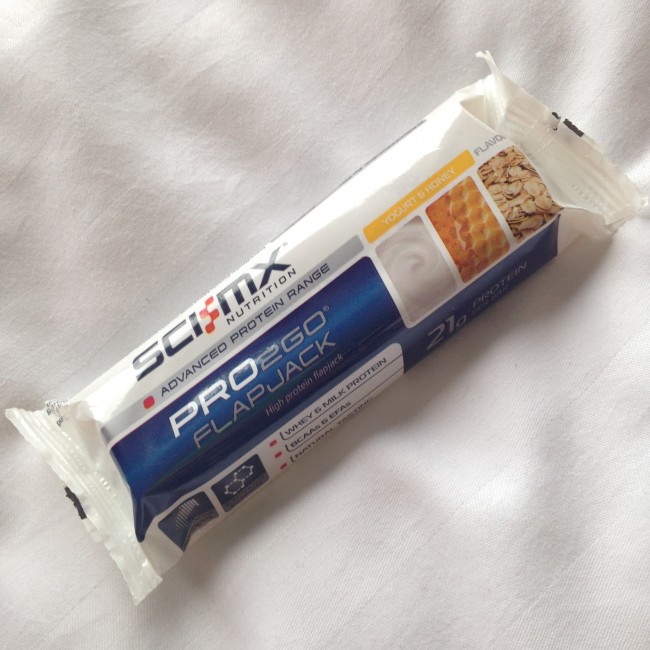 This flapjack had quite a few unpronouceable ingredients half way down the list, but I thought I'd give it a go because right at the top there were oats and whey protein, which sounded nice and breakfasty. The bar was incredibly synthetic tasting, and so sweet it almost hurt from all the sweeteners it contained. I was also hungry by 11:15, so, not really a winner.