We all know dressing for the British Summer takes special planning.
Days of blazing sunshine can end with torrential downpours and overcast cloudy days can end up with you sweating under several layers of jumpers amidst a sea of shorts and t-shirts.
Which is why I headed off for a whole day at The Little Vintage Lover Fair in Heydon village with a certain amount of distrust. The sky was blue and the sun was blazing, so I decided to wear a cute cotton summer dress I bought in a Charity Shop while I was on holiday.
❤ Dress- Vintage M&S from a Charity Shop ❤ Belt - New M&S ❤
❤ Shoes - Clarks via eBay ❤ White Hair Rose (just seen!) -Abilu Creations ❤
Naturally, I am British, so I wore stockings, and took and umbrella, jacket and sunglasses. Of course. The jacket is part of a suit I bought at a vintage shop in Maidstone and the brooch is vintage fur that was given to me by Jewellery Genie.
The Umbrella actually came in handy as a sun shade as the whole day of the fair was pretty nice! The heavens only decided to open up briefly around 4:30pm, by which time we were packed and gone.
Heydon is like the perfect little country village. It's a dead end so you can't drive through it and has a lovely little cafe, a pub, bakery and a large church. The Little Vintage Lover Fair is held in the village hall and many of the stalls are outside, so it's lovely if the sun shines.
It was a beautiful day, but no rest for, er, me, as when it finished we raced back to Norwich as we were excited to see the "unofficial" opening night of The Sir Garnet in Norwich. The pub near the market has been around for over 100 years, but last summer it closed and has been left empty ever since. Until Lauren, the lovely lady behind the Birdcage in Norwich, took it on a couple of months ago, and at break neck speed has transformed it into an amazing, bright, clean space to have a drink and look out over the iconic Norwich market place.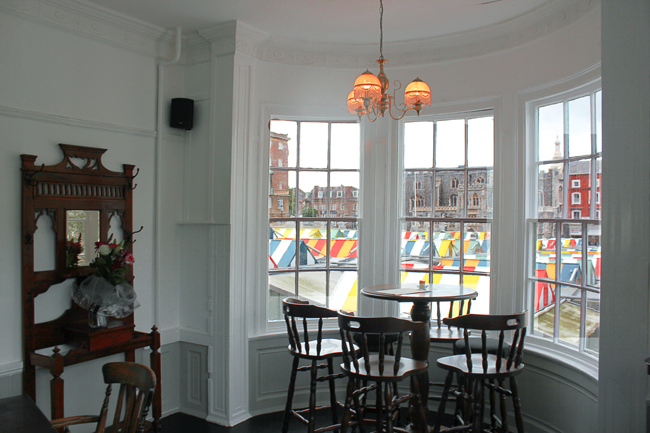 Sadly we didn't have time for one of their AMAZING looking burgers, but we're planning to go back for the public opening on Tuesday to treat ourselves to one for dinner.
And that, was my terribly British Sunday. A village fair with a vintage twist, followed by a trip to a traditional English pub.
How was your weekend?
Related