Yes, it's welly time.
It's been a bit footwear heavy around here recently, but what can I say. I like shoes.
I have a pair of wellies, they are green, boring, and bought in a panic just before VaG in 2010. I always thought of wellies as something you only wore to tramp through muddy fields, but increasingly I'm seeing people wearing them in the City. If you think about it they make sense. When it rains, they protect not only your feet, but your legs from muddy splashes, meaning you arrive at your destination dry and clean. A novelty!
I still bemoan the fact that you can no longer really buy over shoes like you see in the 40s and 50s, but with some of the fabulous wellies around it's not too much trauma to pop your shoes in a bag for life. I think little ankle or calf length boots are ideal for city wear. They keep your feet dry, pop easily in a bag when it's not raining, and have a cute vintagey look.
These are my picks for some stylish but dry vintage inspired wet weather wear
Dale Low Chelsea Wellie £25 Topshop
The lowest priced I found. Chelsea boots carry an association with the mod movement that makes these perfect for those that like a bit of 60s style.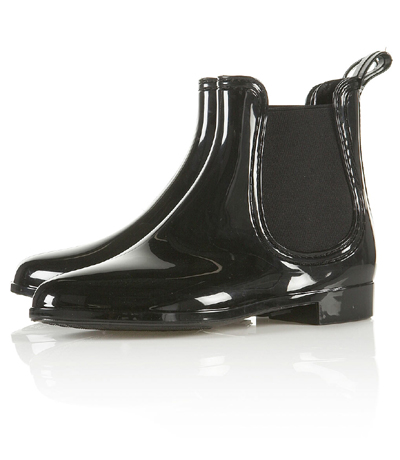 Spats Boots £37.99 The Welly Shop
A bit of spivvy 1920s style in a welly boot.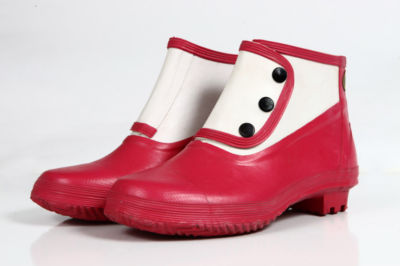 Mel by Melissa Red Bow Ankle Boot £37.99 New Look
A cheaper version of those Melissa Anglomania boots that I lust after every year.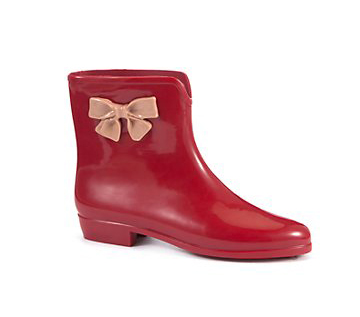 Vivienne Westwood Anglomania + Melissa Ankle Boot £96 Sarenza
And the full price version.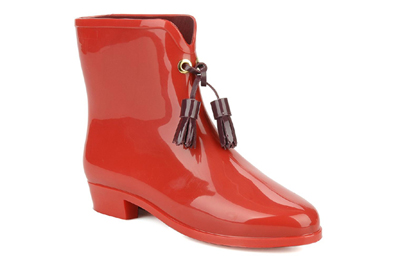 Earlham wedge ankle boot £145 Hunter
The ultimate in glamorous wellies. Wedge heel, shearling cuff, and from Hunter.