Ah, September. Here you are again.
Although I know there are definitely some warmer days still to come, in September there's no denying that the end of Summer is, well basically it's here, what we're having now is warm early Autumn.
I've had a lovely Summer this year, I thought the weather was pretty good, you know, for the UK anyway. I did some nice things, had some nice days out, wore some nice frocks and drank some cocktails, there's not much more you can want from a Summer really.
I'm looking forward to September, I have 2 home Roller Derby games, an Intraleague game and my first big home game as part of the A team, if you live in Norwich come watch and cheer! I also have a holiday planned and will be heading for a few days in Munich over Oktoberfest, though I will have to fly, which I hate. Well, I don't hate flying, I hate airports.
I'll also be working myself up into a stress over the last minute details for Norwich Cocktail Week, which is in early October.
But anyway, enough of that looking forward lark, here's how August looked through the filtered prism that is some selected snaps from my Instagram.
What I Wore
I took surprisingly few selfies and outfit photos in August, I think I was too busy eating drinking and playing sport, but there were a few in there! Wearing victory rolls for the first time in ages at the Bridewell Vintage Day, some old favourites with that check Lady K Loves skirt and showing off new purchases in the form of a charity shop bracelet, a new Full Metal Roller Derby shirt and that fabulous Boden sale bargain sun dress.
What I Ate
In August there was a lot of fun Summer drinking. Cocktails, of course, beer, and some interesting Coconut Water vodka drinks, the healthy face of Summer booze!
Where go the drinks, also goes the food and August was a lot about eating. Healthy food like using flavoured protein powders from Smart Protein to make my beloved Nutribullet breakfasts and overnight oats and not so healthy food like a yummy Voodoo Daddy pizza over Bank Holiday weekend. I also got delivery of a cracking parcel of goodies from the interestingly named Muscle Food who do AMAZING protein waffles (use the code GS226640 and you'll get a free kilo of chicken when you order, I hope you like chicken!)
What I Did
August was also pretty special for me as it saw me play my first British Champs game with the Norfolk Brawds A Team (thanks to McShug on Flickr for that photo) and my first home game with the B team. The home game theme was Jurassic Pack, hence the AMAZING dinosaur photo frame.  I also played for team Ravenclaw in a Harry Potter themed tournament, which was a great excuse to buy Ravenclaw leggings!
The Bank Holiday Sunday was the first city centre Run Norwich 10k, which was a fun way to spend a Sunday morning, though not as fun as the pub lunch on the way home.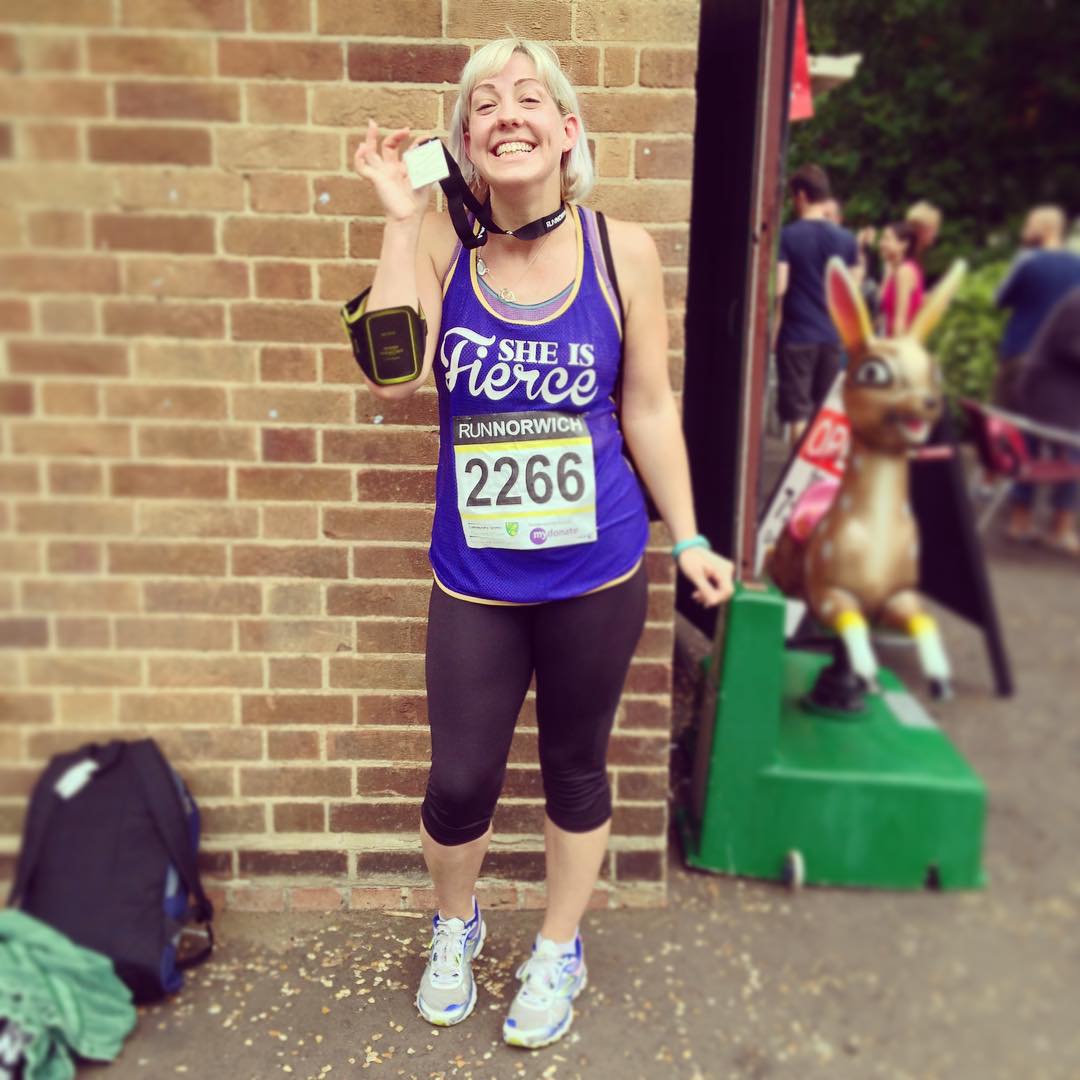 The last thing, that was pretty cool, that happened in August, was my scale finally tipping over to my arbitrarily set weight loss goal. I wanted to get to 10 and a half stone, it just seemed a good number and although I knew I'd lost weight and got stronger and fitter I wasn't expecting to see a huge amount of difference in my progress photos, so I was surprised when I put these 2 photos taken a year apart together to see how much I'd changed. Though I was somewhat disappointed to find that if I put my numbers into the NHS website I am still technically overweight according to my BMI and get handy recommendations to take up a couch to 5k program.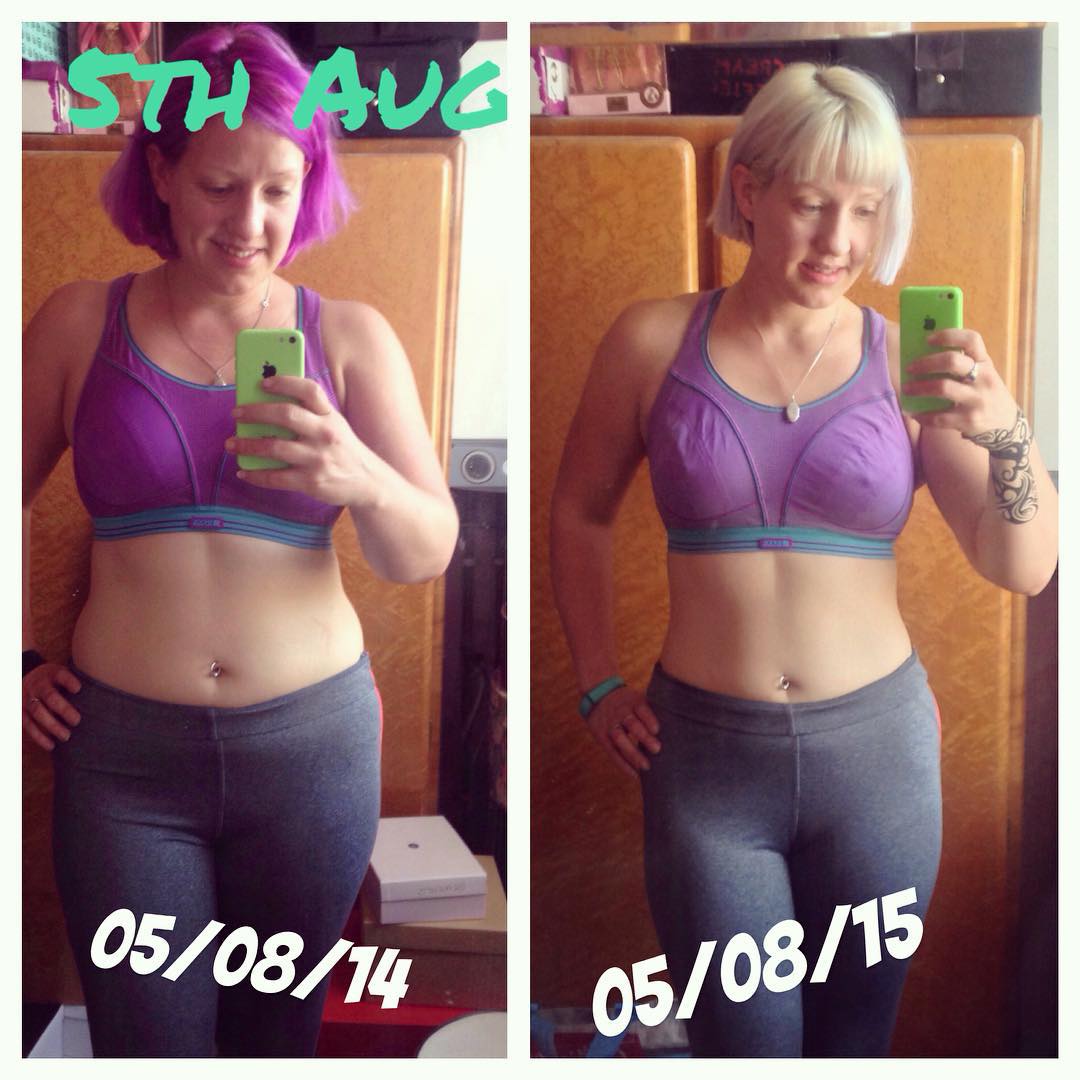 What I Saw
And last, but not least, in August there were cows.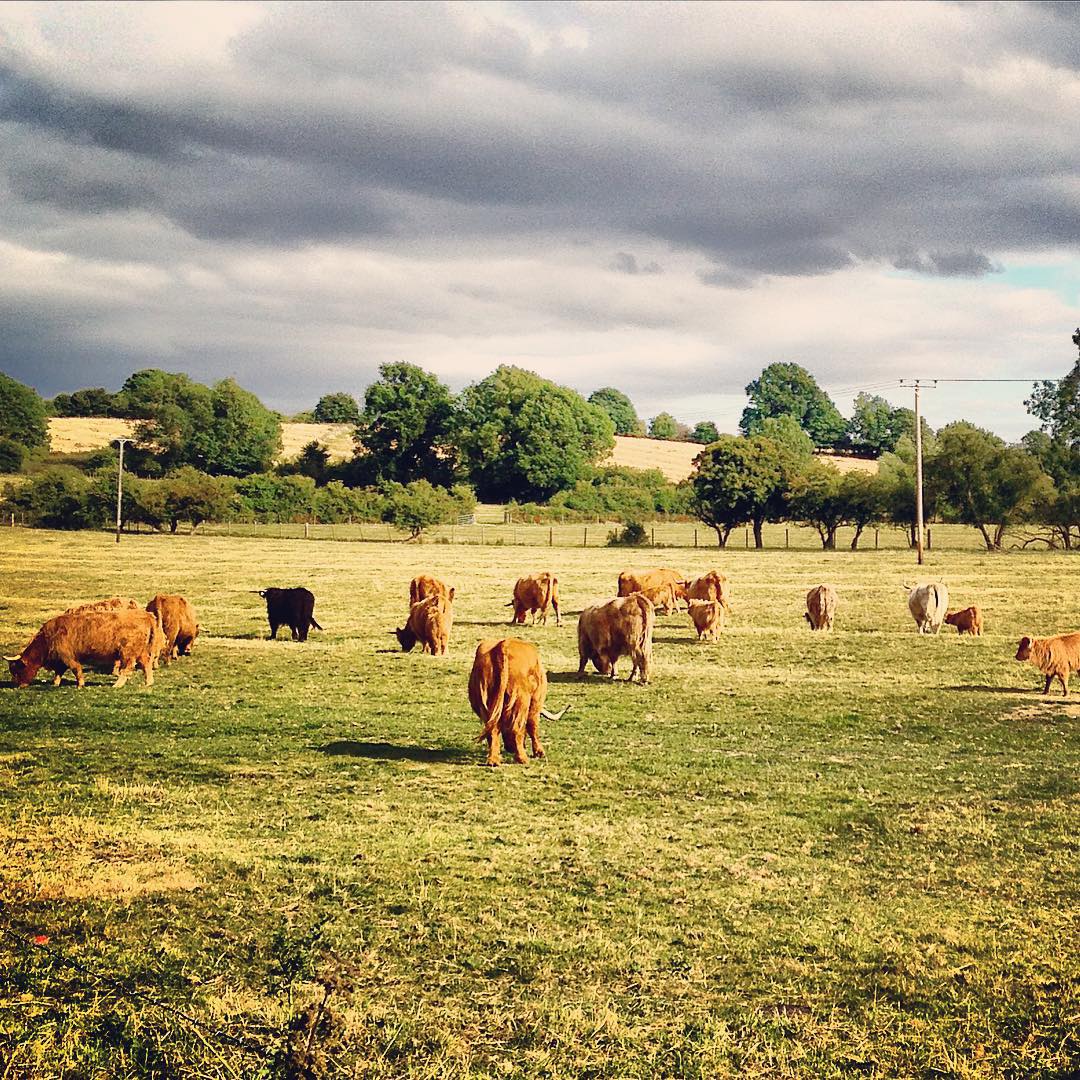 If you want to follow me on Instagram and see what September brings then pop over and say Hi!