I shall start this post with a disclaimer. My Dressing Room is not necessarily an airy, glamorous, Pinterest worthy space.
I live in one of those "three bedroom" Victorian terraces that you get a lot of in some UK Cities. The third bedroom is off the second bedroom and suitable only for conversion to a bathroom, use as a dressing room, or as a nursery. Considering that last one certainly isn't happening, it's now where I keep my other baby, my wardrobe.
It's a small space, which also contains our boiler and my Grandparents CC41 Dressing Room set of 2 wardrobes and dressing table. It's not the most practical space for this furniture, but I am a sentimental git and therefore will never get rid of it until it completely falls apart, which may not be long!
The walls were pink when we moved in, and have stayed pink, the floor hasn't been properly sanded and finished and there are shoes on all available surfaces and dresses hanging on all the doors, meaning it's often very disorganised. I have been making an effort to get it a little more sorted, and eventually perhaps I will turn it into that glamorous space I have always dreamed of having.
Recently Bedroom Storage Maker sent me a perspex make-up organiserand while I was using it to organise my make up I thought it might be handy to share some dressing table storage ideas that I use so that I can actually find things in such a small and disorganised space!
Dressing Table Storage Ideas
Scarves and Necklaces
I use a coat hanger hung from under a shelf to store "dangly things" long scarves are tied around it, strings of pearls and hair bands with elastic are looped around it and long chunky necklaces with clip fastenings are fastened to it. I also looped a piece of ribbon around the coat hanger and clip hair flowers to it.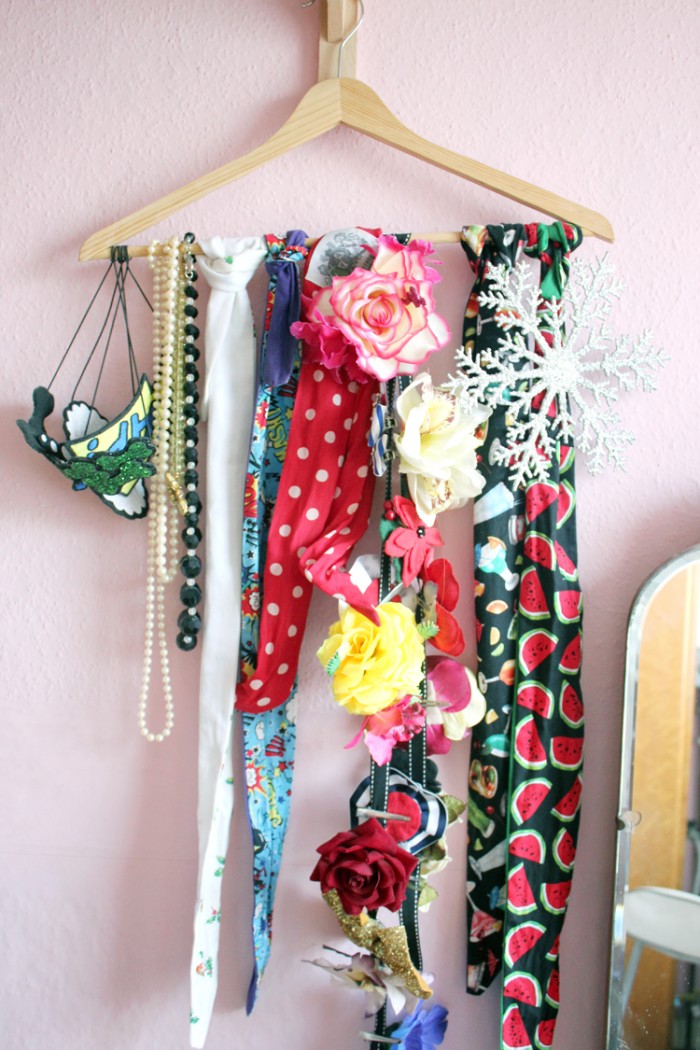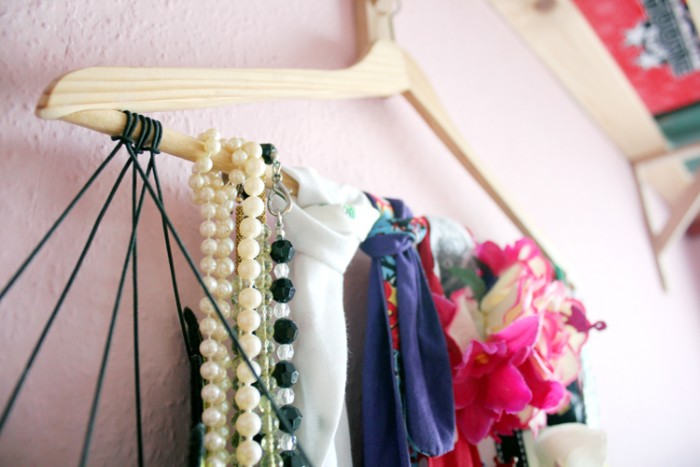 Delicate Necklaces
More delicate necklaces that get tangled up when stored in a jewellery box I hang on the wall. I used to have an old, scratched, 78 record with holes drilled in it attached to a piece of cork board with push pins, but it fell off the wall and broke. Now I just put push pins directly into the wall and hang my necklaces on them. I keep thinking I will buy some pretty silver push pins, but that's just part of an ever growing list of things I never get around to so at the moment they're just coloured plastic.
If you can't stick pins directly into the wall then hanging a cork board and putting them in there will make less holes.
Brooches
I have quite a large collection of vintage brooches and storing them has always been a problem. In a box they get jumbled together and damaged. I have seen people push them into corkboards, but that always seemed a bit space consuming. Instead I tied a long piece of ribbon to the end of my curtain rail, and pin my brooches to it.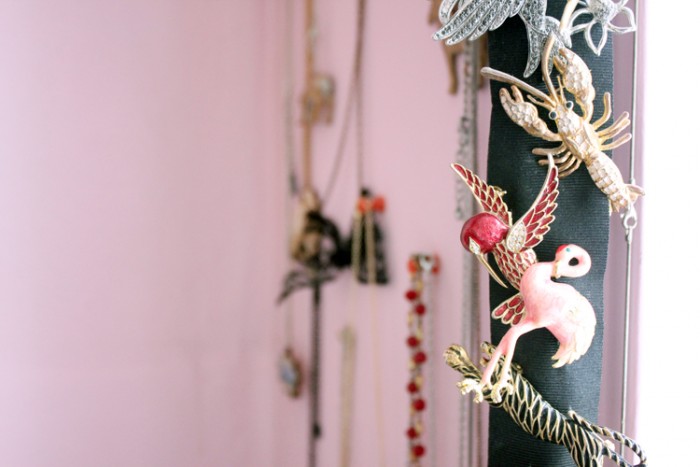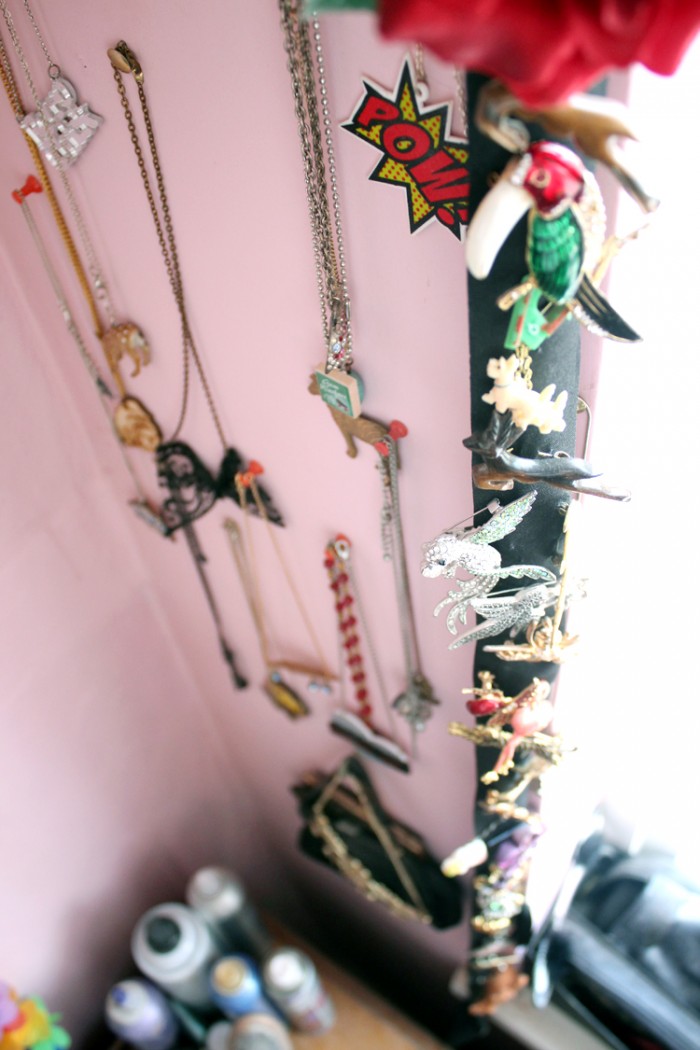 Hair Clips and other small things
Ah, hair grips, the bane of any vintage ladies life. Storing kirby grips is a headache, and if you ask Mr Chick he will tell you I store them mostly on the floor, but that is not true. They come in ugly plastic boxes when you buy them, so new storage is a must. I have 2 vintage glass dressing table sets and the little glass pots that come with them are perfect for storing hair grips. I keep my plain ones in one, and pretty ones in another. Between the 2 sets I have 4 glass pots with lids and they are also perfect for popping other small things in, like perfume samples, safety pins or earrings. As dressing table storage ideas go this is hardly new as these are vintage products, but it's not something people seem to buy any more and the pretty glass pots are lovely to use.
My green glass set was a birthday present from my Mum & Dad, and the clear glass set came from a Boot Fair, they often show up in junk shops and antique markets and there are plenty here on eBay. I even use one of the tall clear candle holders to keep bracelets that I wear regularly on as well!
Make Up
This is a challenge for me and the prompt for this blog post! I did keep all my make up in a make up bag, which meant that stuff I used regularly ended up strewn across my dressing table for easy access and it often (always) looked like a small bomb had exploded in a make up factory. The only thing I had organised was my Besame lipstick selection, which live in a vintage lipstick holder. I highly recommend these if you can get your hands on one (there are several in different styles on eBay), but be aware that chunkier modern lipsticks don't always fit the holes.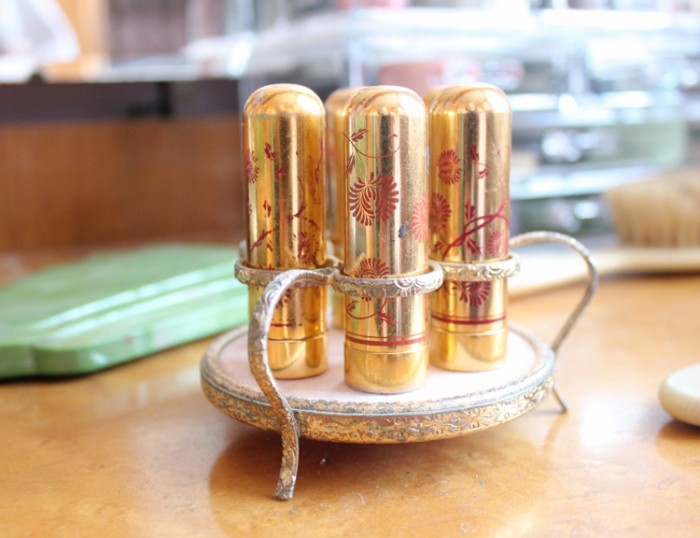 For the rest of my make up, the perspex make up holder is perfect, as I can see what I have, use it, then put it straight back. My Make Up bag is now only for travel, and the odd lesser used item of make up.
The storage unit has several flat drawers, perfect for eye shadows and powders, and space at the top for foundations, brushes and lots more modern lipsticks and being perspex you can easily see what's in there.