Yesterday officially marked the end of an era.
It was Mr Chicks last day at work. In a perfect example of the universes wonderful timing, I got invited by All Bar One Norwich to try out their new menu. This meant I could "take Mr Chick out for dinner to celebrate" as long as he wasn't silly enough to try and eat anything before I'd taken photos of it.
All Bar One Norwich is starting a new era of its own right now. A few months ago there was a fire in the building, and its been closed for some time. I walk past it on my way to the gym on Sunday mornings, and it looked all dark and forlorn. This was really sad as it was always one of those kind of "twinkly" wine bars. The kind you walk past in the early evening and feel jealous of the people inside in the warm lighting, laughing and enjoying a drink with friends.
But, as of now, it is restored to its former twinkly glory!
The decor inside is kind of modern eclectic. There are padded leather banquettes, mismatched stripy chairs and mosaic topped tables. It's a wine bar/café style venue where you can pop in for a cocktail, or a snack, or stay for a full meal. The brunch menu looks amazing, and there are brunch cocktails, so we are definitely planning to go back one morning. Especially now Mr Chick is a gentleman of leisure (ha!).
We weren't there for brunch, though, we were there for dinner. And, of course, to celebrate. Which means fizzy wine!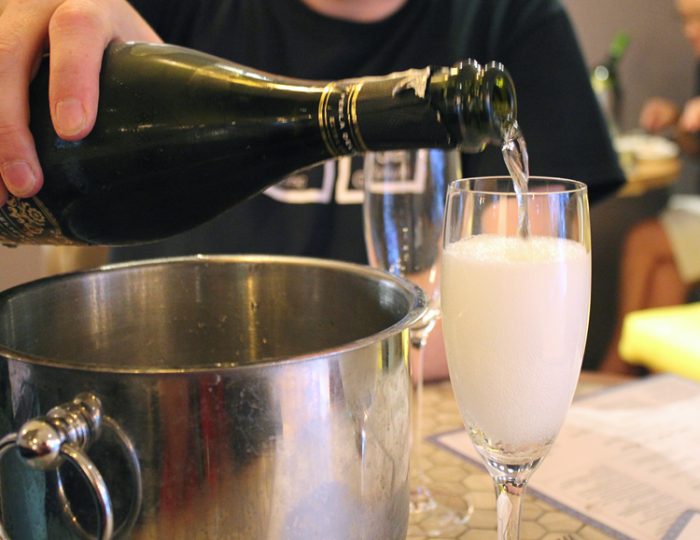 There is a good selection of sparkling wine and champagnes on the menu, as well as some delicious looking cocktails. We opted for a bottle of Prosecco.
I know it's going to come as a massive surprise, but there are no cocktails in this post at all. We thought we would order one to finish the meal, but we were both very full and slightly tipsy having drunk all the Prosecco. For future reference I have my eye on trying out the Thai Martini, and Mr Chick fancies the Honeybee Martini, made with honey tequila.
We may not have had cocktails, but we did celebrate with a LOT of food.
To start we had Duck parcels and the most AMAZING Calamari. The Calamari is very popular as we heard at least 3 more tables order it in the hour or so that we were there. I think you can see why….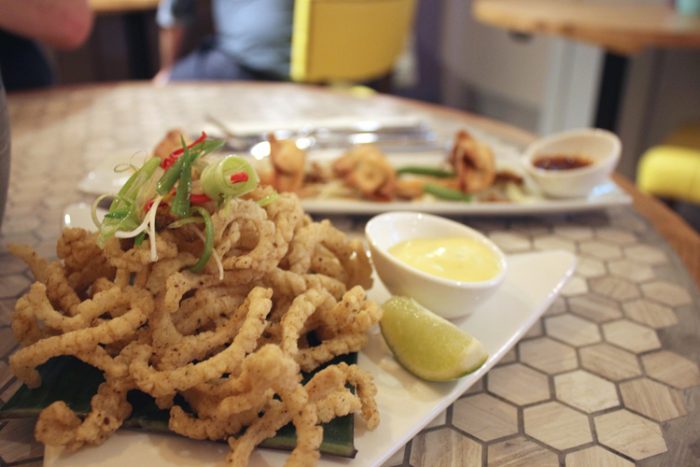 There is an early week night menu that give you 2 courses for £10. Sadly they had no steak, which is what I had my eye on. Instead I opted for the California burger, which in true blogger style contains crushed avocado.
I find burgers are a good thing to choose if I want to decide if somewhere is a good place to eat. I am hugely fussy about burgers. They can't be so soggy that they fall apart, or so dry that I need to add lots of extra sauces. The bun needs to be just the right ratio of crusty to soft and the filling to burger ratio is also vital. See, fussy!
I can safely say, this was a good burger. It looks hugely stacked in the photo, but was easy to eat with hands (really, what is the point of a burger you need to eat with a knife and fork?). Mr Chick opted for the rack of ribs which was also very tasty, so I'm told!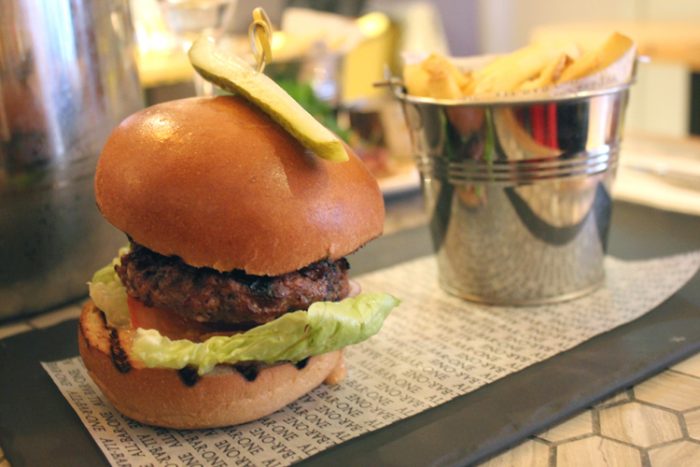 They did have the disturbing tendency that many restaurants have these days of serving food on bits of slate. I have forgiven them as it was only my burger. The other food came on appropriate plates. Burgers aren't so bad on a slate as they don't generally roll off the sides!
We did save room for dessert. It came down to a choice between dessert or a cocktail, but the dessert menu looked so delicious we had to give it a try.
Mr Chick ordered Churros. They were suggested to share, but he bravely tackled the whole plate alone. I ummed and ahhed over popcorn cheesecake and bourbon pecan pie with cinnamon ice cream, and in the end the pecan pie won.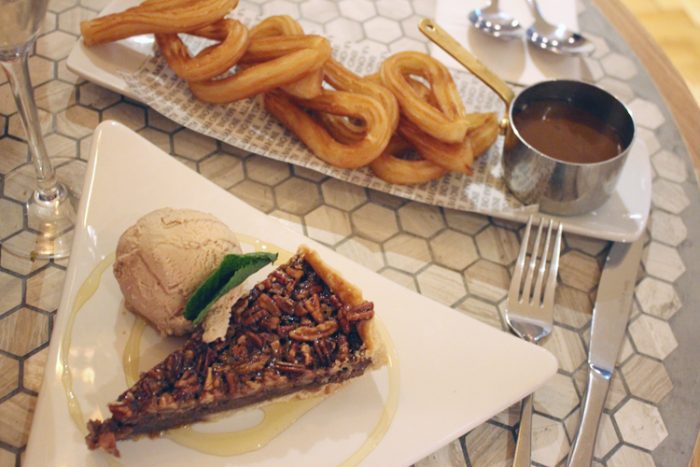 They also have an app with a loyalty scheme that means I get a free cocktail after 3 visits and a free bottle of "bubbles" (I am assuming this is fizzy wine, not blowing bubbles!) after 6 visits. I do love a loyalty scheme.
3 courses and a bottle of Prosecco came to around £70. If we'd opted for the £10 meal deal on a Tuesday night we could have knocked around £20 off that price as well. I really did feel the meal was good value for money, service was prompt and the staff were friendly and the restaurant itself was warm and welcoming.
We then tottered out into the warm August night, full of food and wine, content with the world, and looking forward to the adventure that the next few months will bring!
Thanks to All Bar One Norwich for inviting me along and giving me chance to treat Mr Chick! I'm sure we'll be back for Cocktails soon!
All Bar One gave me a voucher to cover the cost of our meal. All opinions are my own!
Related