I hope you're enjoying your Bank Holiday?
Mine has been super busy so far, with even more going on today.
Yesterday started with an ill-advised trip to the gym. Ill-advised because I have pulled a muscle in my thigh that I thought felt fine. Right up until the point I did a lunge and then went "Ooh, that really hurt". So I still have a pulled muscle in my thigh that I should really rest and not start doing lunges with heavy weights.
The plan was then to head to a pub in town where a friend was DJing. There was a BBQ and other fun things. Then we planned to return to a pub closer to our house that was having a Sunday Funday.
That was the plan at least.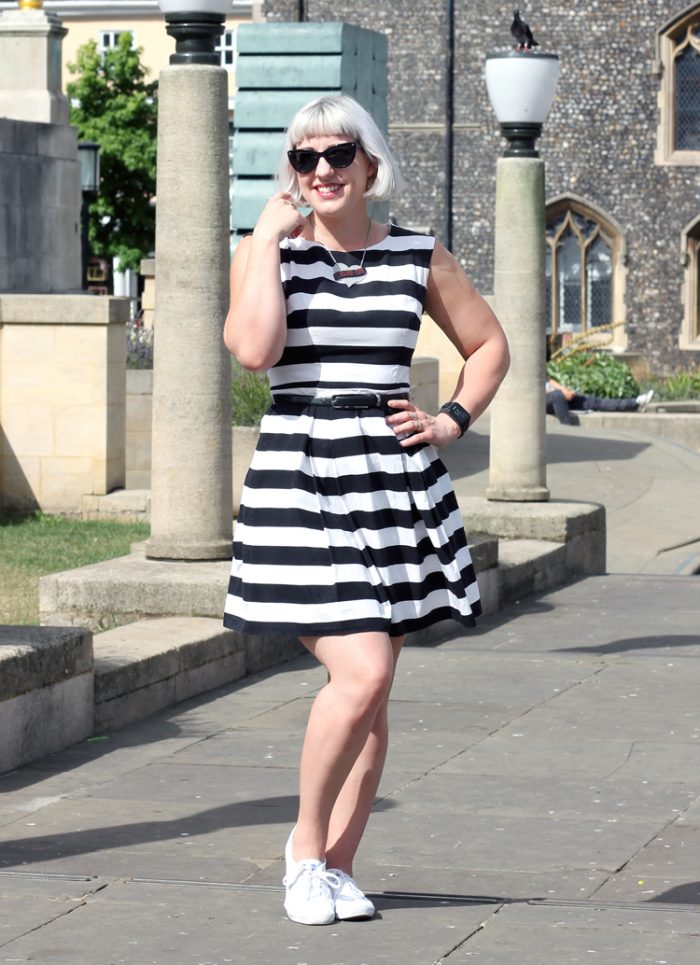 Actually what happened is that the ongoing dishwasher saga has now turned into a washing machine saga. Moving things out to plumb it in has revealed that the plumber we hired 4 years ago was, well, not very good. The plumbing back there is appalling and for the last 4 years there has been a small drip on our washing machine connection. It has been slowly destroying the back wall, and probably costing us money as we're on a water meter.
Mr Chick is now determined to fix this drip. This meant that instead of a BBQ in a pub, we went to a DIY shop to buy plumbing things. Then we went home and I had a crash course in how to turn the water off outside our house while wearing an inappropriate frock.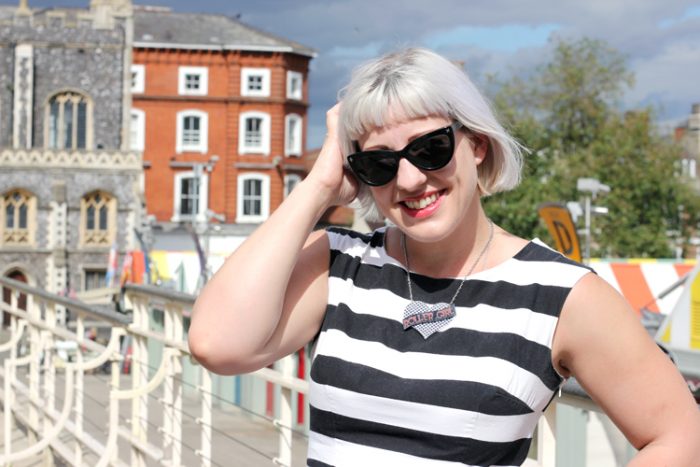 Eventually we gave up on the leak on the basis that after 4 years we probably shouldn't let it ruin our bank holiday Sunday and headed off to a pub called The Cottage for their Sunday Funday.
I have to say, that by this point I wasn't actually wearing the outfit that I am wearing here. I got stupidly hot, so I changed into my Collectif paint pot dress. But for a brief time, before our plans got derailed by a small drip of water, these were my Sunday stripes.
I still feel funny about my legs in short skirts and flat shoes, but much as I'd like to I can't teeter about in heels all the time. I do love my Keds, I find them much more flattering than other tennis shoes as they have a lower cut front, and they also have arch support for my poor flat feet.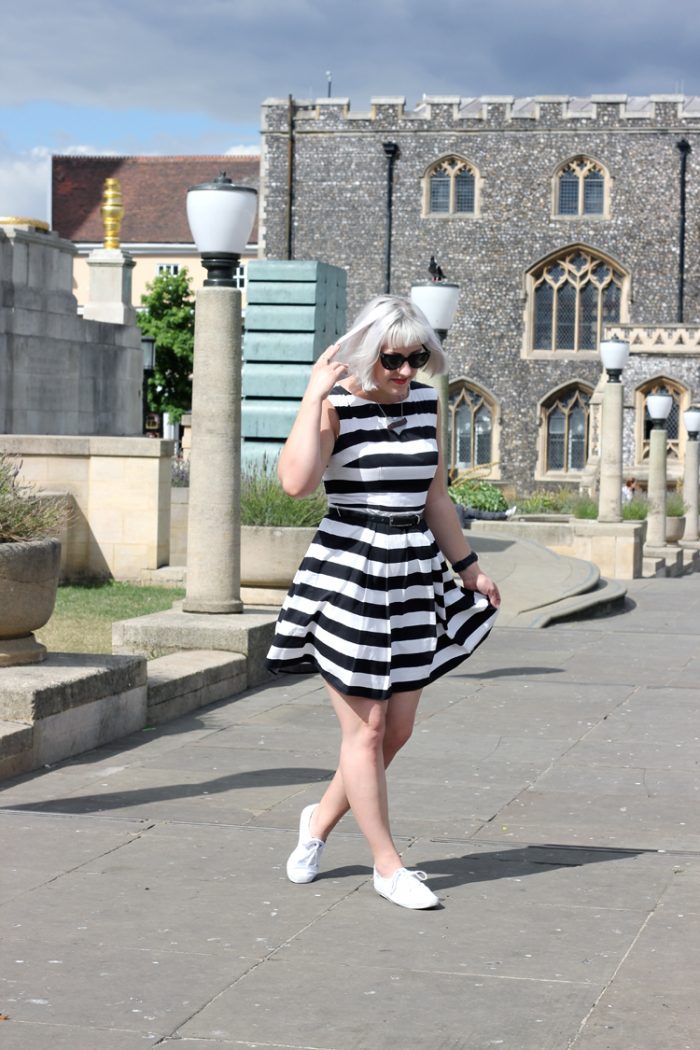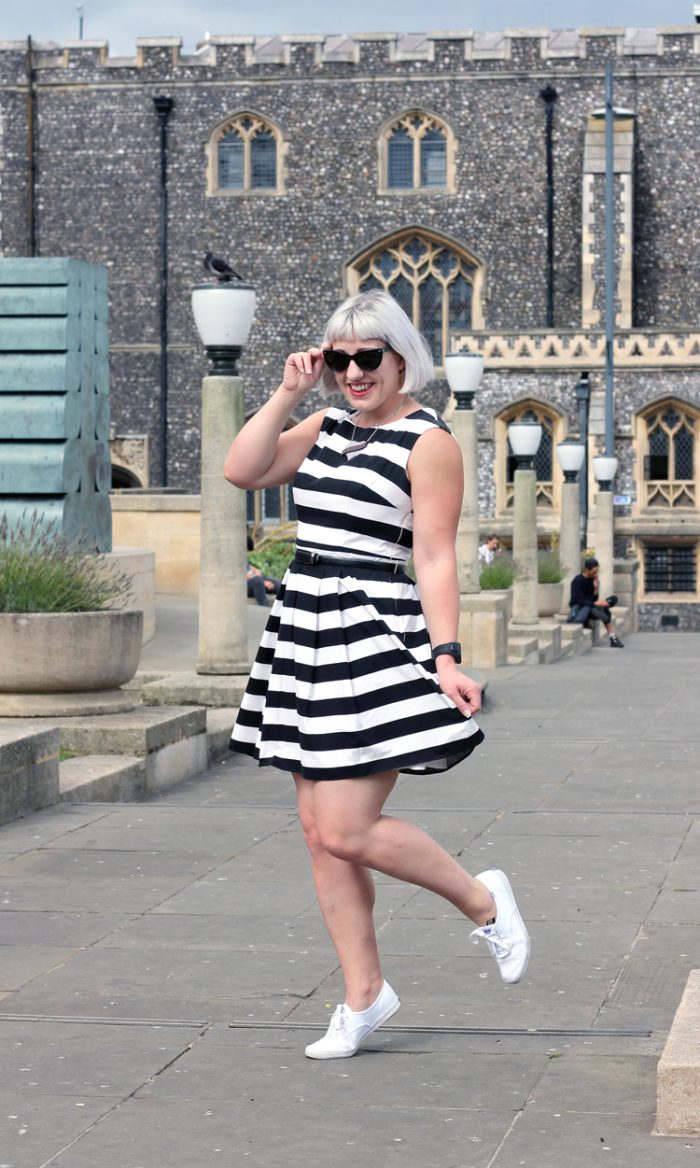 So my bank holiday Sunday finished ok. There was free food and beer, and then we went to a friend's house to drink tea and pick grapes, before finishing with a couple more drinks and some silly games at our local.
The drip, however, is still there.
♥ Striped Skater Dress – F&F* (Similar) ♥ Shoes – Keds ♥ Necklace – Bad Kitty ♥