Back in January I started helping Mr Chick train for the impending Norwich Half Marathon.
I promised to check in regularly to let you know how it was going, and now the first 4 weeks are over and done with, it's time for that check in!
For the last 3 or 4 months Mr Chick has been running only sporadically and doing not much in the way of exercise at all. The plan for the first 4 weeks was to build up some leg strength and get him back into exercising regularly. I included running short distances, strength workouts and long walks, which he enjoys and would get him used to spending a lot of time on his feet.
He's been using the Nike + watch to track both runs and walks, so all the mileage is logged, regardless of speed!
Week 1
Week one involved 3 x 30 minute sessions with a program I had put together on the Wii Fit, mostly stretching and leg work, 2 short 2.5 mile runs and a long walk of around 8-10 miles.
The week didn't get off to a great start. As I mentioned Mr Chick likes to leave his workouts as long as possible, and on one day this week he called from town and asked if I wanted to meet him in the pub. This lead to much beer and no workout. I suggested that in the following weeks maybe it would be a good idea to do the workouts in the morning to get them out of the way before it was beer time.
Week 2
In week 2 the runs went up to 3.5 miles, and the workouts were supposed to get a little tougher, including small amounts of jumping, like a few rounds of burpees, amongst the pure strength work.
Almost immediately Mr Chick started having problems with his knees and IT band and had to rest for the end part of the week. I decided that we'd dial it back and stick with the Wii Fit workout for the 4 weeks.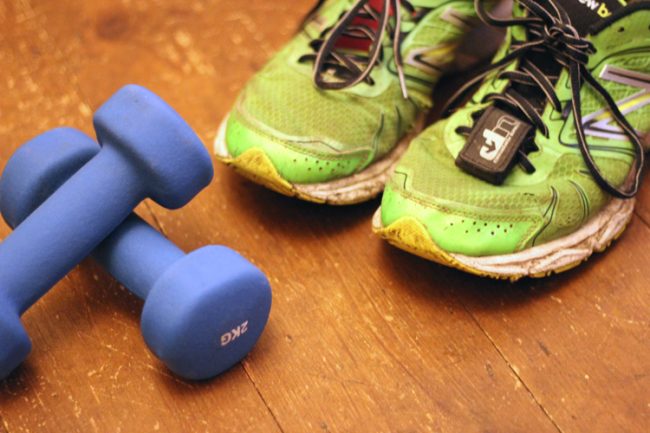 Week 3
This week the runs went up again, one at 3.5 miles and the other 4.5 miles, plus a weekend walk of 13+ miles.
Again, leaving things till late in the day meant there was some shifting around this week. I didn't make proper notes, but I think he skipped a strength workout, though he did get in all his runs. The run I scheduled for Tuesday ended up being run on Wednesday, meaning there were 2 runs in a row, which isn't ideal, but apparently it was fine!
At the weekend the long 13+ miles walk was only around 9 miles as he went out with a friend and the planned route just wasn't quite long enough. At this point I was starting to get a little bit worried that my very carefully planned mileage had basically gone out of the window and that when the miles ramped up in Phase 2 it might be too much, so I started to revise some of the long run mileage downwards a little.
Week 4
In this last week of the first phase I had originally planned the workouts to be a lot more energetic, but instead we stuck with the Wii workouts.
This week the runs were supposed to be 3.5 miles and 6 miles. The first run went fine, but due to a route planning error he only did 4.5 miles on the second.
The long walk this week was much better, ending up at 14.5 miles and the aching legs the next day were the reason I included these in the program!
As I write this we're actually heading into week 6, and Nike has helpfully marked the milestone.
At the end of the first 4 weeks we were not quite where I hoped we'd be. I was hoping to have worked up to a final 6 mile run and included a lot of long walks, but the walks weren't as long, and a few missed workouts mean we're not quite there.
I have adjusted the mileages a bit for the next lot, and also invested in a set of resistance bands to hopefully help build up some leg strength and stop a recurrence of the knee problems.
Personally I felt like the worlds worst nag for constantly having to remind Mr Chick to actually DO the workouts and it's quite stressful having to keep revising the rest of the master plan because we haven't fitted in enough miles.
Obviously I asked Mr Chick for a little input on how he felt the first 4 weeks went from his point of view…..
I enjoy running and in previous years I have managed to pick up my speed and distance quite quickly. Although never to the point of being able to break the 2hr half marathon that I try each year. However, I usually have bad knees, ankles, toes as I have done nothing other than run. With Gemma's program there are other exercises designed to build strength and so reduce the chance of injury. I really do not enjoy doing the exercises and although they only take 30 minutes I have still managed to miss 2 or 3 sessions mainly due to poor planning – I let my day take priority over the exercises. Without Gemma's input I would definitely have binned these by now.

However, I do feel that they have helped. I am getting closer to my toes during my Salute to the Sun, and I also seem to be picking up my running pace and distances much more easily than in previous years. I've had a slight knee twinge, but nothing as long lasting as in previous years. I do think the indoor work is helping the outdoor running.
Which is good to know! I shall keep up the nagging!
Now we're heading into phase 2 the running will be going up to 3 times a week as the weekend walks slowly morph into long runs. There will also be at least 2, possibly 3 rest days a week, though I have stipulated active rest, including a short yoga for runners program for some of them!
I'll be back to let you know how it goes!
Related