I've been far too casual lately.
I've spent a lot of time this Summer running around and doing things, and apart from one Wedding reception (where I didn't even photograph my outfit because I'd worn it before) I've been basically living in flats.
Sometimes, there comes a point when I'm just craving wearing something a little bit fancy, even though I have no where in particular to go.
Specifically, I really wanted to wear heels. Not sturdy, sensible, wedges I can walk in. The kind of shoes that I have to get help to walk across gravel in and need to spend a lot of time sitting down.
So I dug some of my favourites out of the wardrobe. These particular shoes came from a company called Stylist Pick about 5 years ago (I think they might be defunct, their website is offline and their Facebook hasn't been updated since last year).
They LOOK like they should be fairly practical, with their sturdy heels and secure ankle straps.
Trust me, they're not.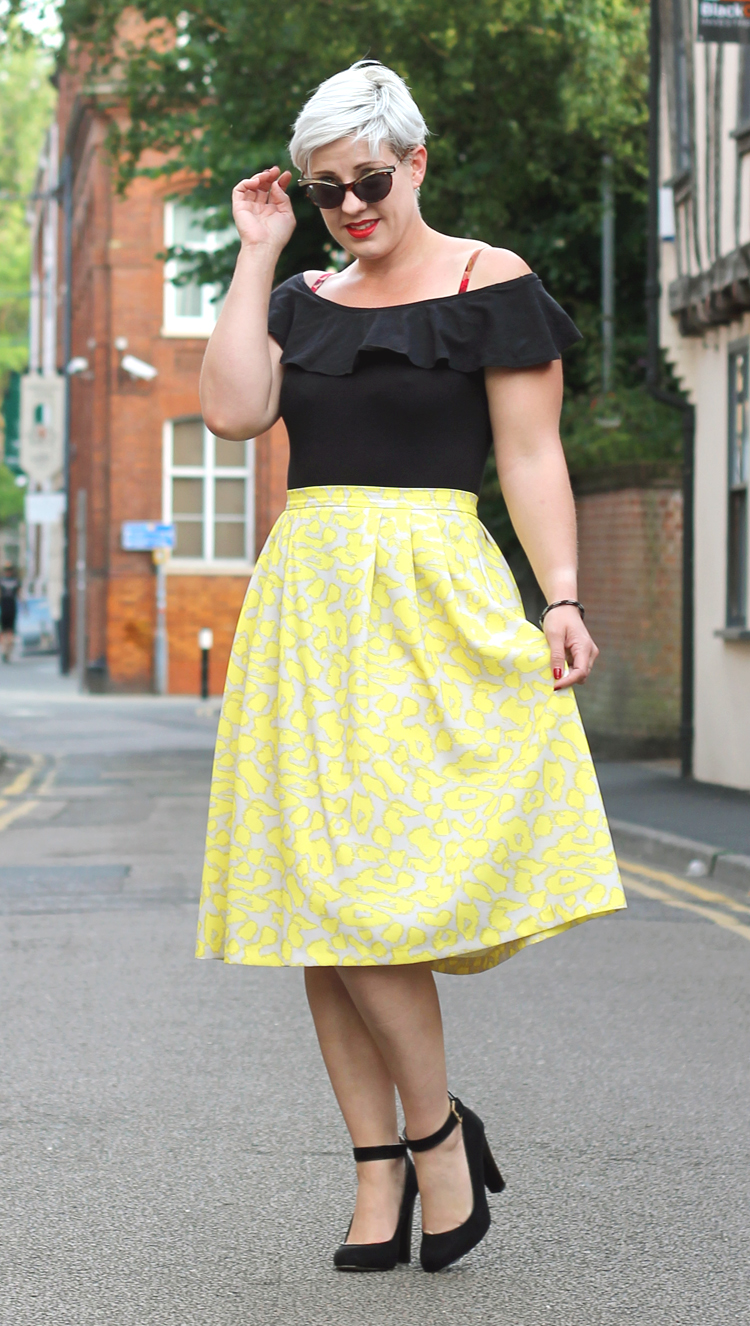 The rest of this summer outfit isn't particularly glam.
The ruffled body comes from Simply Be (first seen here!) and the skirt came from Warehouse as part of a campaign I did with Debenhams a long while back. It's great for dressing up or down. Personally I mostly dress it up, but I did see another woman wearing it once and I barely recognised it as the same skirt as she'd styled it with a bit of a hippy vibe. If I'd worn it with my black and yellow flats like I normally do then I'd happily wear it to the shops.
Those shoes, however, were made for strutting in and pretending you're the most glam bitch in the world.
Just not for very long. Maybe 5 minutes max, then a bit of a sit down.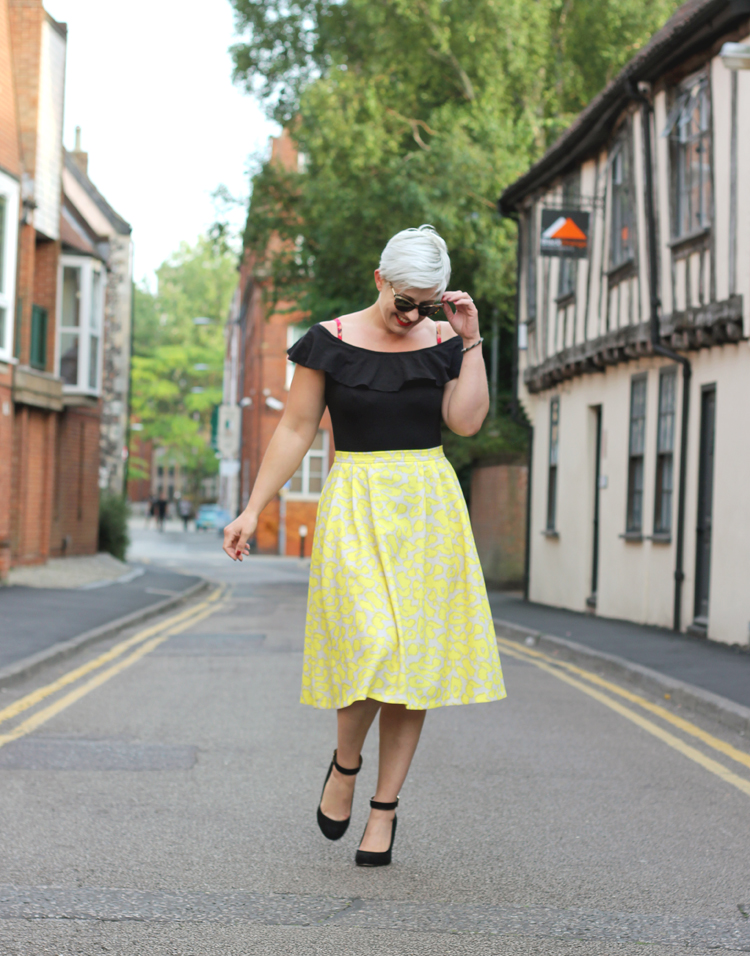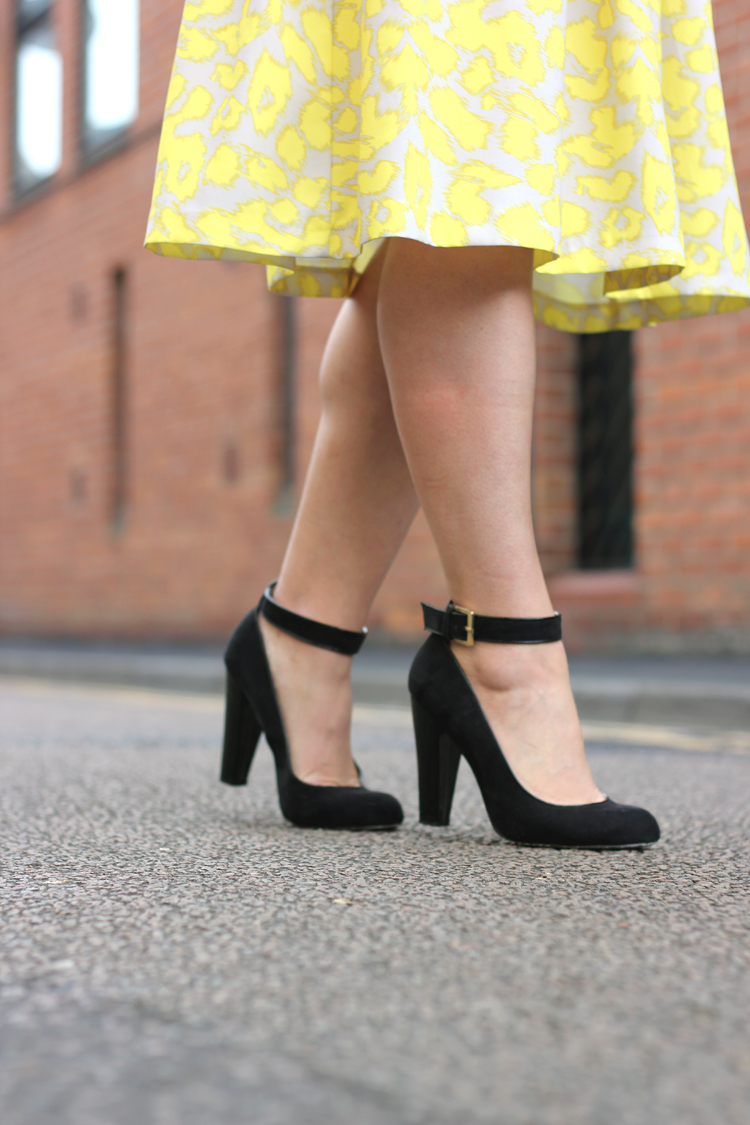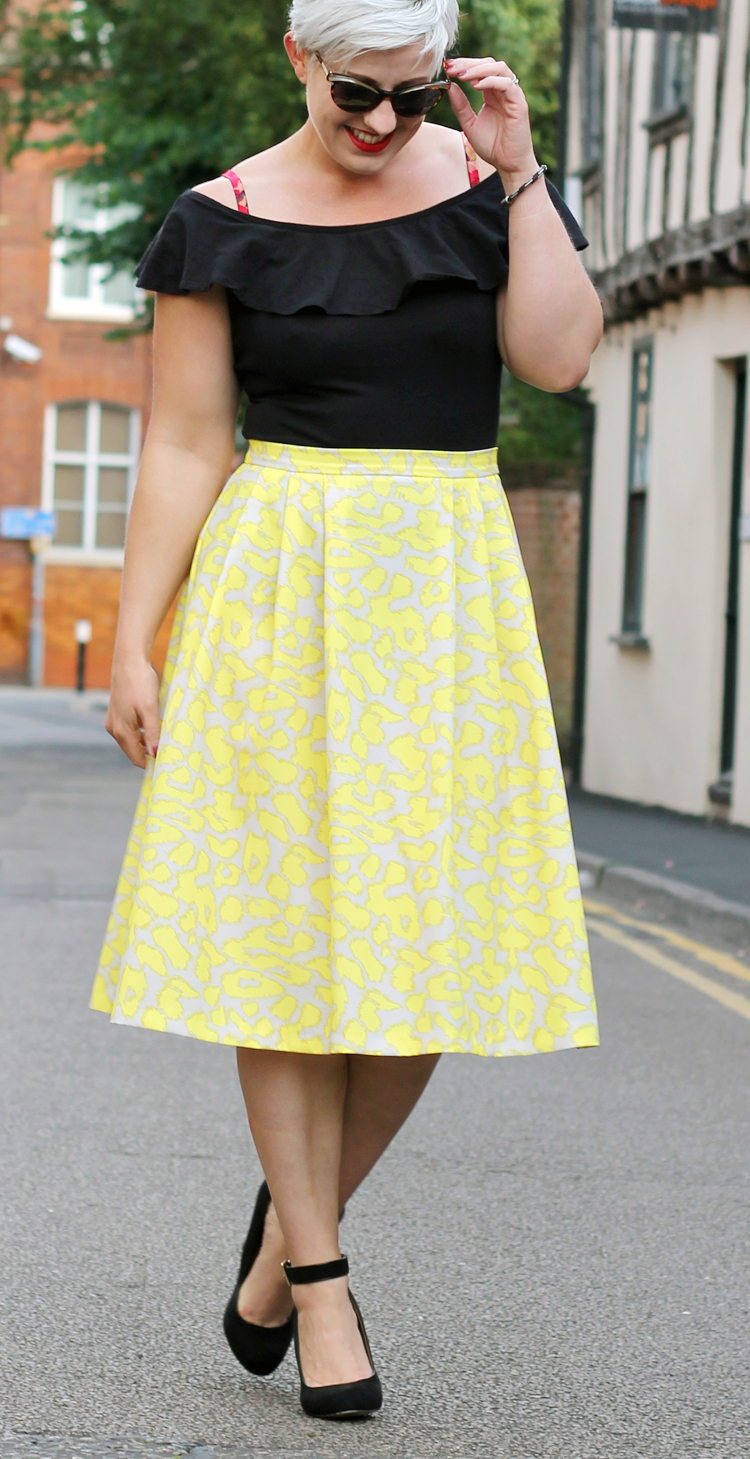 It only occurred to me when I came to edit the photos that I might, just maybe, look a little bit like a wasp.
Black and yellow is a colour combination that does need to be handled a little carefully if you don't want to look like you're trying to warn other animals to keep away. Especially with big sunglasses. But hey, I think I pulled off the wasp look pretty well.
I'm definitely keeping this one in my back-up last-minute summer outfit bank. Despite the fact that 5 minutes before I walked out of the door I was throwing a hissy fit about having NOTHING TO WEAR and how I looked LIKE TOTAL CRAP.
What can I say, it had been a long day.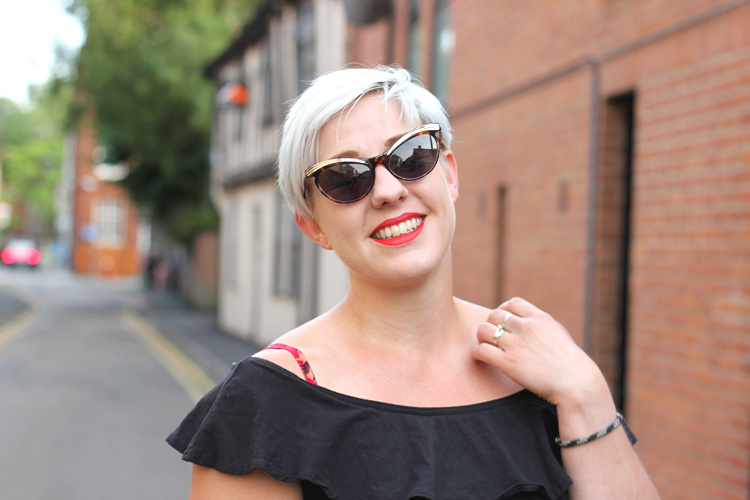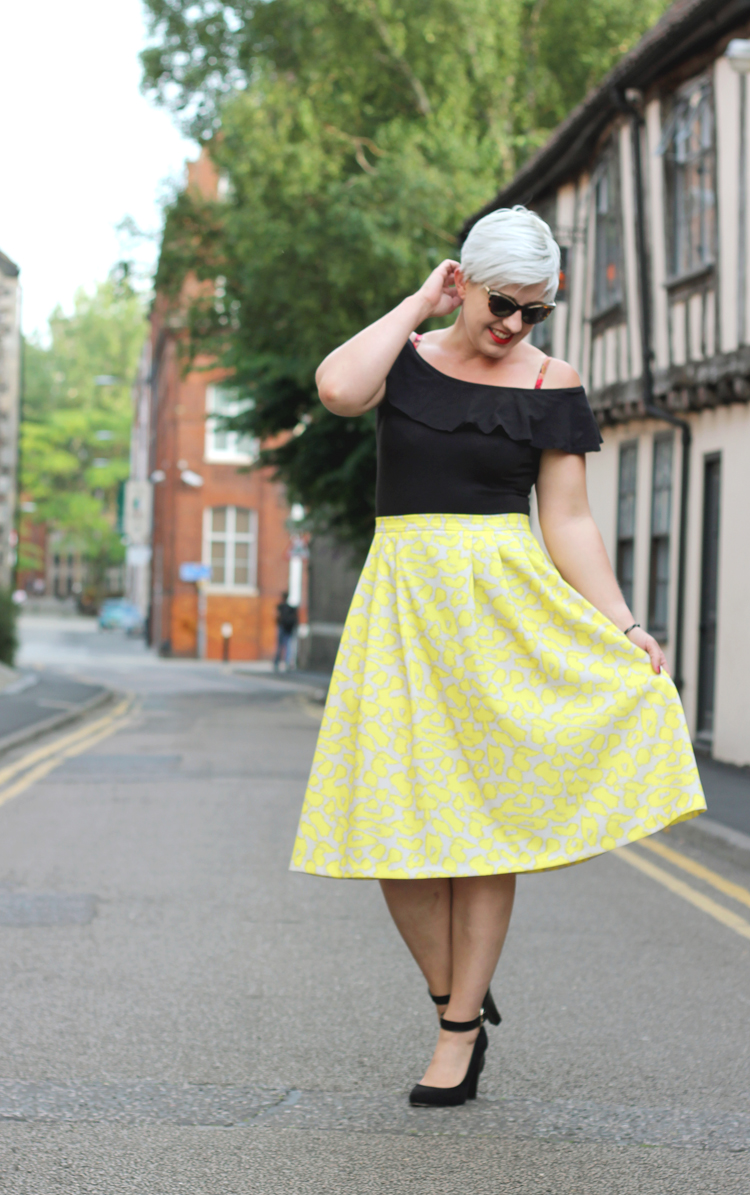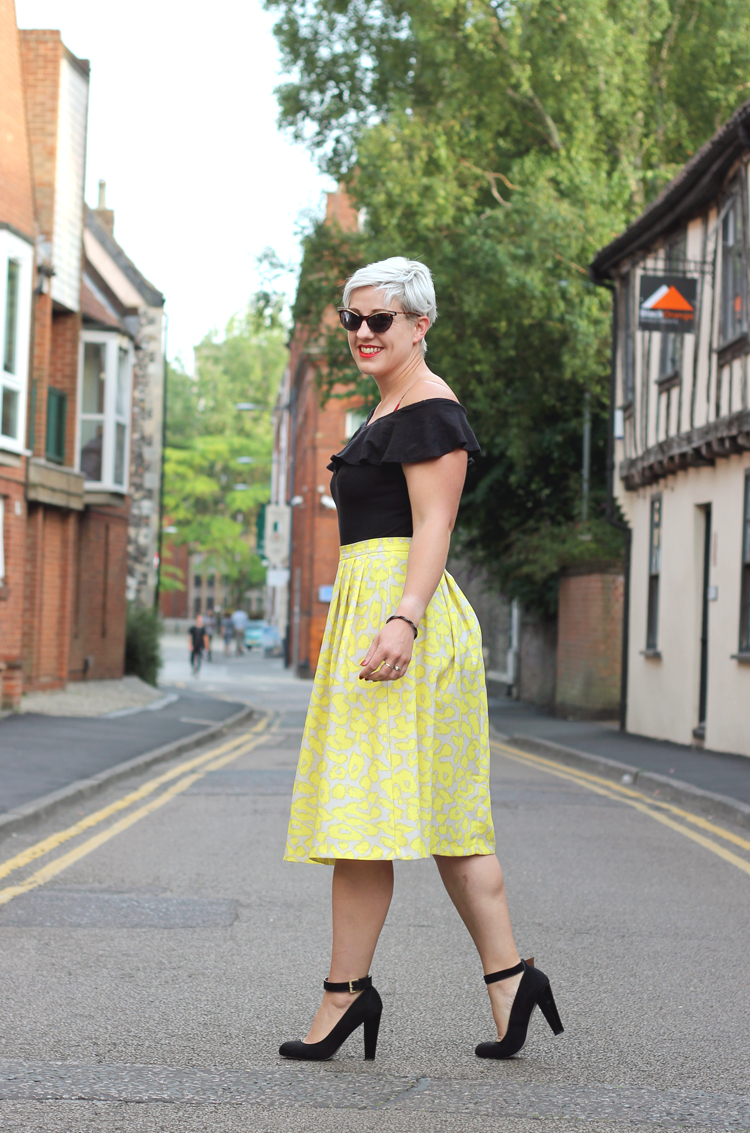 Sadly, most of this outfit is old or out of stock, but I've done my best to track down some similar options in case you, too, fancy dressing like a wasp.
♥ Ruffle Body – Simply Be* (On sale, but only larger sizes, this is similar if you need smaller sizes.) ♥
♥ Yellow Skirt – Warehouse @ Debenhams* (similar) ♥
♥ Shoes – Stylist Pick (similar) ♥
♥ Sunglasses – London Retro♥