The Tea Dress has become rather a fashion staple for a touch of vintage style over the last few years.
Unfortunately this has led to everything from a floral mini dress to a to a maxi dress with sleeves being described as a tea dress. But done properly, the tea dress can be very flattering, easy to wear and look smart.
Technically a tea dress or tea gown was an easy to wear dress with a length around calf length that would have been worn for more informal dining or entertaining, such as dinner with the family only.
These days a dress described as a tea dress tends to be of cotton or other light fabric, fall between the bottom of the knee and the bottom of the calf and have short sleeves, a fitted bodice and a skirt that skims the hips. Keep your eyes peeled in Charity Shops, as the style was a very popular one during the 80s and if you're lucky you can pick them up quite cheap. If not then eBay, as ever, is a good place to look for vintage tea dresses for about £15-£20.
In case that's a bit like hard work, for todays Friday Frock Love I've found some great tea dresses from the High Street and online.
Bow Print Tea Dress – £38 – Dorothy Perkins
The cheapest I found with a decent length, many cheaper versions seem to fall above the knee.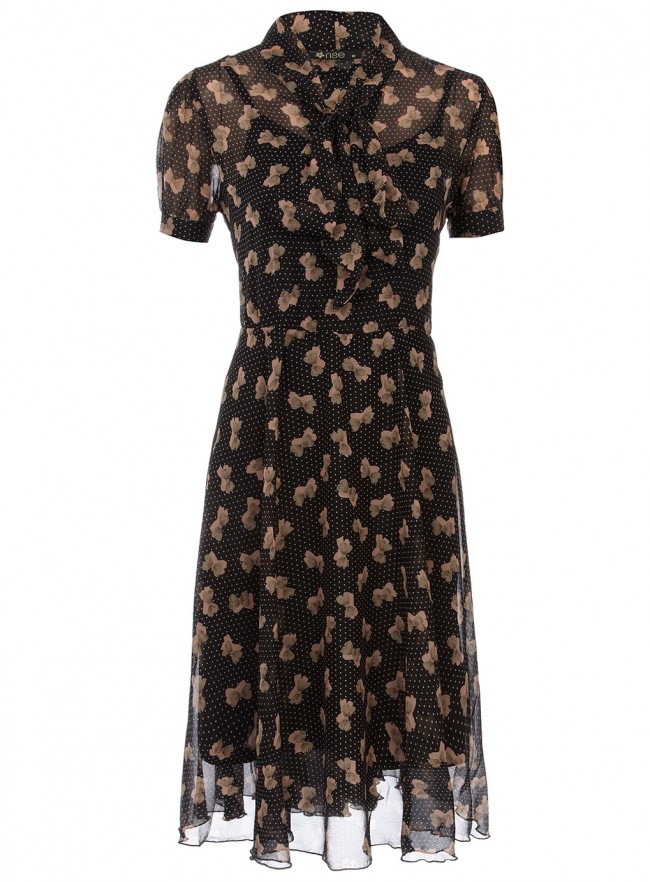 Nice pin tuck and keyhole detail, and I love that colour.
Also comes in an acid yellow that makes me feel a bit queasy, but the lace inserts are an unusual twist.
Florence Dress by Annie Greenabelle – £64 – Topshop
Florals are a traditional tea dress print, and I like the cute Peter Pan collar.
Biba Tie Neck Tea Dress – £125 – House of Fraser
Pricy, but nice, and I think we all know my fondness for green by now…..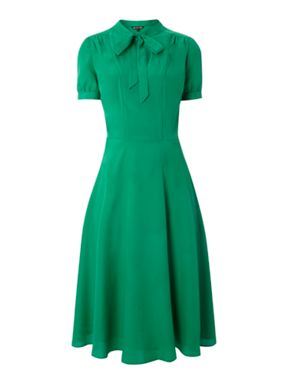 Related