A couple of weeks ago I discovered they had discontinued my regular foundation.
It was one I'd been using for years. And I mean YEARS. It was a mineral powder foundation and worked as foundation and powder in one and was suitable for my pale but pinky toned skin, which is a rarity in a foundation. I was very sad.
I spent a lot of money trying several different new fancy pants foundations, all of which I hated, until I suddenly remembered that Max Factor Pan Stick in Fair is a brilliant foundation that I had been using for years for extra coverage and had somehow forgotten about. But I needed powder to go with it and the one I was using wasn't giving me quite the finish I was after. Anyway, all of this is a somewhat long winded way of getting around to telling you that I bought myself a Besame Violet Brightening Powder to see what it was like.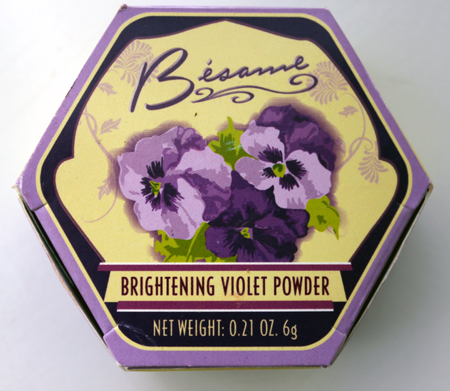 I adore all the Besame products I already have. They're not cheap, but they earn their money by being long lasting, effective and down right beautiful on your dressing table or in your handbag. So I therefore had high hopes for the brightening powder.
The packaging certainly didn't disappoint. The box is so beautiful that it took me 4 days just to bring myself to throw it away once it started to look battered from my make up bag, and inside the box is a cute little plastic pot in Besame's red and yellow colours, with pretty lid and the cutest little velour powder puff inside.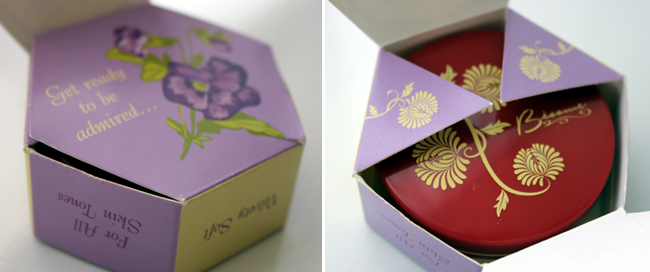 When I first used it I did what, from subsequent conversations and reading, it seems a lot of people do and used it as a sort of finishing powder. I did all my make up, including pressed powder, and then expected this to lift my complexion. It didn't really and considering the price I was disappointed.
Then someone suggested I try using it INSTEAD of my regular powder, and it was a revelation! The difference it makes is subtle, a before and after photo probably not enough to pick it up, but it gives my skin a delicately brightened, matte finish, and suits my pale skin perfectly. It also smells lovely, not highly perfumed, just enough to be pleasant. It is a translucent powder, but because it has no flesh toned tint it doesn't add any orangeyness to my skin, rather the violet tones calm redness and make my complexion feel more delicate.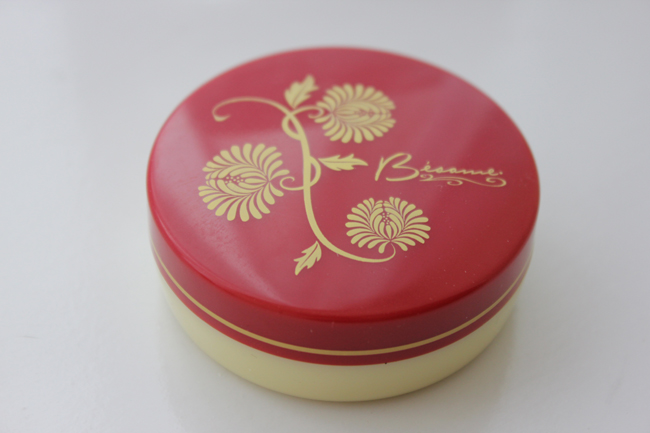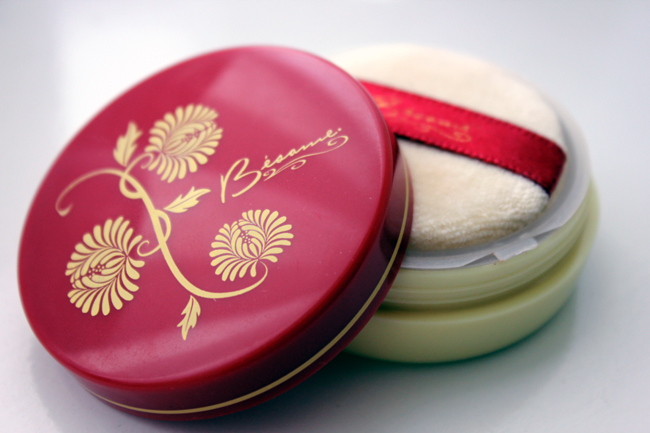 The other problem I had at first was getting enough product out. The powder comes with a plastic sifter and a hinged plastic lid to stop the powder falling everywhere. I first tried shaking some powder up through the holes in the sifter, like I used to with my mineral foundation, but not enough came through because of the hinged lid. I tried shaking it with the lid open, but the powder went everywhere, and you don't want that with a £22 powder!
Finally I tried using the powder puff, slipping my fingers through the ribbon, and just tapping it on top of the sifter. Not gently, with a little force behind it and that seemed to leave enough powder on the puff. I then press and roll the powder into my face over my foundation, reloading the puff occasionally. I finish with a big fluffy brush, swept around the top of the pot to pick up any excess, and then brushed over my face to even it out.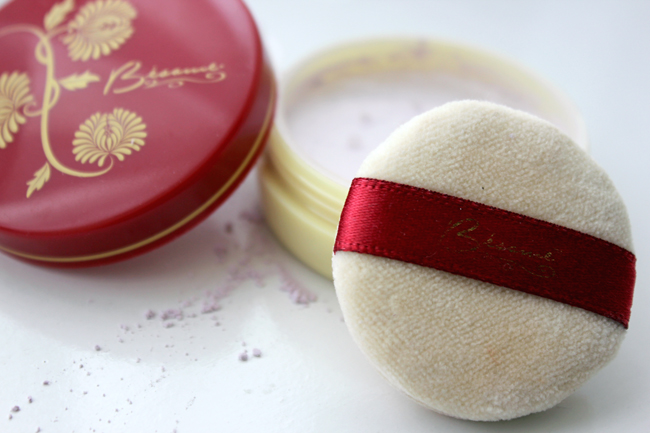 There's no getting around it, this is an expensive product, it's £22 for a fairly small pot. But I will be buying it again. My previous foundation cost £16, and that's a fairly standard price for a half decent foundation. The Max Factor Pan Stick I use under this costs £6.99, meaning the total cost for my base is now about £29 instead of £16. The Pan Stick does last a lot longer than my old mineral powder, but I haven't been using this powder long enough to know how long it lasts. All I can say is that after 2 weeks of daily use it's not showing any signs of getting at all low.
Having given it a good try if I need to sell important body parts to buy myself a new pot I'll at least give it very serious thought.
Besame Violet Brightening Powder costs £22 from What Katie Did
Related