When I started running in 2012 I went out in an old t shirt, a nike crop top style sports bra I'd had for over 10 years and a pair of my husbands pyjama bottoms.
Oh yes.
When they were no longer cutting it (the pyjama bottoms fell down as I ran) I moved on and invested in some proper running kit. It wasn't cheap stuff, but I found a lot of it in the sales, or discount shops so I didn't spend huge amount. All my running kit features exciting features like flatlocked seams for anti chafing, special fabrics that claim to wick away sweat and keep you cool and dry, pockets, inbuilt support and mesh panels for extra ventilation. I've bought from Asics, Puma, Nike, Thoosa, No Balls and Karrimor sportswear brands among others, so I'm not picky, but it's all high performance stuff.
I've often wondered, however, if they are really all they claim. Do I really need a £30+ pair of leggings to run in, or will a £10 pair do as well? So when Matalan offered to send me some of their Activewear range to review I was actually pretty keen. I ordered the Active Vest Top and Active Crop Leggings, both in grey, because I can't stand pink sportswear for Women. The grand total for both pieces was £18, which is a total bargain for sportswear. I'm pretty sure I've seen socks that cost more than that.
First Impressions
When it arrived it felt well made. The fabric was thinner that other sportswear I owned, but the quality was good. I suspected that the light grey was going to be terrible for showing sweat through. I also really didn't like the "coral" trim which was almost neon and quite migraine inducing, but that's just my personal colour taste!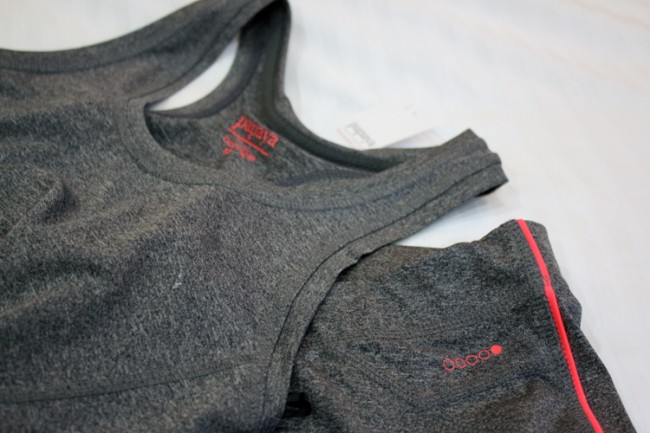 The Fit
They fit pretty nicely, the fabric didn't bag or sag and despite being thin it didn't show too many lumps and bumps! The wide waistband on the crop leggings didn't dig in and the vest was long enough to cover it. I was impressed
The Performance
I went for a short 2.5 mile run in the leggings (I haven't had chance to work out in the top, I mostly work out outside and it's COLD). The fit was great, they didn't slip or bunch at all or dig in at the waist. Very quickly I realised I could feel the seams on the inner thighs and on the top of my hips chafing slightly, which was getting a little uncomfortable by the time I got home. On a short run of up to about half an hour I think these would be fine, if you're running any longer then flat lock seams are worth every penny.
The weather on my run was very cold, but I think I might have had some embarrassing sweat issues with the leggings if it had been any warmer! This isn't such a problem with the colour of the top, I don't mind looking like I've been sweating, but I do prefer to buy leggings that don't leave me looking like I have bladder problems, so black is normally my go to colour. The fabric was pretty decent though and at least didn't lose shape and get soggy at the slightest sign of exertion!
I had intended to get a photo of me in the kit, but it was cold and wet, and I haven't had chance to get another one yet, so this will have to do!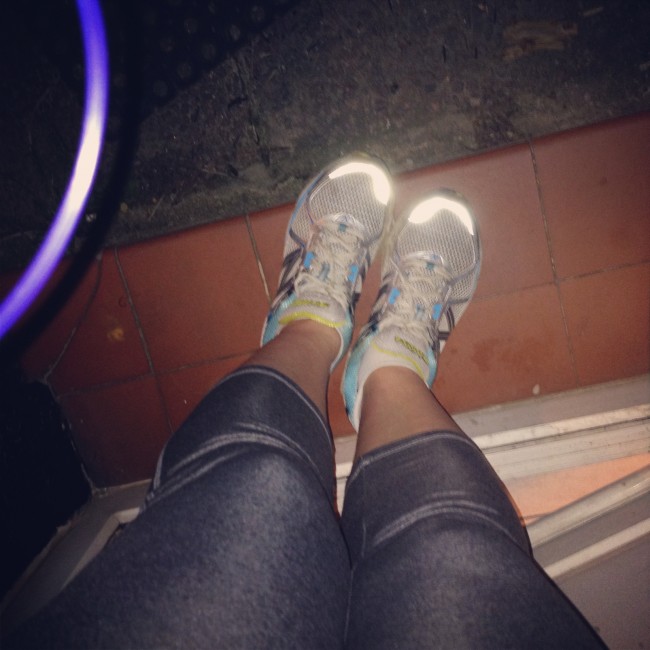 The Verdict
To be fair to the Activewear range, it is worth noting they are not designed specifically for running, which is a very repetitive activity. For general gym wear, yoga, or for beginners who own no sportswear at all and aren't willing to shell out a fortune until they're sure it's going to stick, these are perfect. They're good quality for the price and certainly a lot better than an old t shirt and a pair of pyjama bottoms.
You can view the full Matalan Active range on the website with prices from £3.