Well hello there! Welcome to another Sunday catch up on my exciting life.
I write myself little notes through the week so that on Sunday I can just turn them into a blog post, and every week I end up reading my notes and wondering how that can possibly have only been a week ago. I think as I get older years are getting shorter, but the weeks are getting much, much longer.
At the moment I am attempting to type with fingers that are so cold that I keep hitting the wrong keys, so you'll have to forgive any typos while I tell you about my week.
This week I…..
Had my hair done
My colour was long over due and my roots were driving me crazy. Recently I've started to get a bit of weird banding when I've coloured it myself, the ends are the perfect white blonde I'm after, but the roots are much more yellow. While I was having my hair cut my stylist suggested that one of their trainees at the salon could fix it for me as part of their assessment, which would be far cheaper than paying for a regular salon colour, something I am too tight to do.
So, that was how I spend Monday morning looking utterly gorgeous with tin foil on my hair, and now have lovely creamy white blonde hair that is the same colour all over!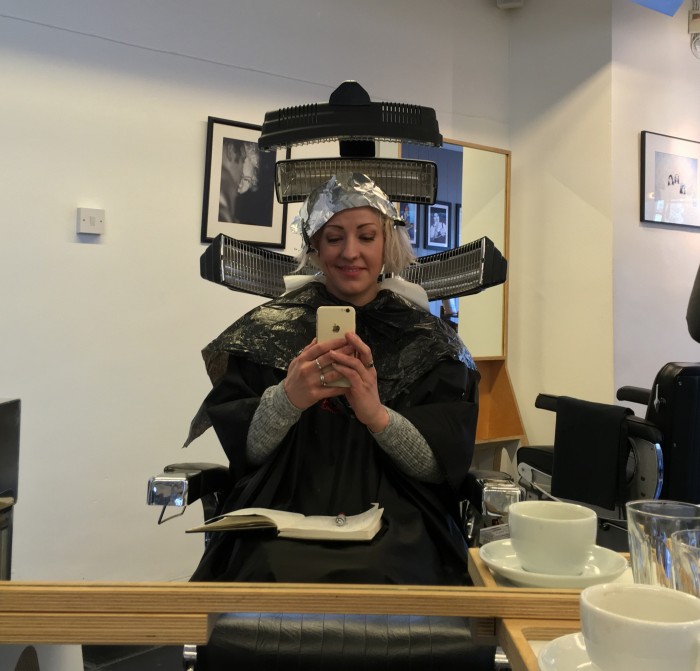 Had no Wi-Fi
This was very nearly a total disaster. At midnight on Sunday, just moments after we had been happily watching Suits on Netflix, our WiFi decided to stop working. We went to bed, hoping that in the morning it would magically be fixed, but it wasn't, so we called BT. The man on the phone spent some time establishing that it was definitely broken and we weren't the sort of stupid people who just hadn't plugged it in (and to be fair he was right to check as I once bought a new laptop because my old one was broken and wouldn't charge up anymore, and then realised I hadn't turned the plug socket on at the wall). Then he told us that an engineer would need to come out, the earliest that could happen would be Friday, and also that should the engineer find out that we were the sort of stupid people who just hadn't plugged it in we would be charged a billion pounds for wasting their time.
FRIDAY, that's 5 days without WiFi, and when you work from home and your job is blogging that's a lot of money spent on coffees so that you can use coffee shop WiFi. Fortunately we discovered that one of our neighbours, whose BT service WAS working, had the Openzone facility switched on, and I was therefore able to stay home and work until BT figured out the problem was somewhere else and managed to fix it like magic on Thursday afternoon.
There, wasn't THAT a long and boring story?
Went out for dinner twice
I know, in one week! How thoroughly decadent of us.
On Sunday last week  we decided to go out for lunch at Zaks American Diner. They're sponsors of Norfolk Roller Derby so we get a discount and we had the hugest portion of cheesy sauce covered chicken and curly fries.
Then, a mere 2 days later we went out to see an exhibition and impulsively decided to stop at a restaurant on the way home that we'd been meaning to try for ages ever since it opened. Just Lobsters actually doesn't just sell Lobster, a fact that Mr Chick found irrationally irritating until I pointed out that they'd put "and other great stuff" underneath it. We'd heard mixed reviews of the place, and it wasn't cheap, but we had a really nice meal, and I got to wear a bib with a Lobster on it, which was one of the highlights of my week I think.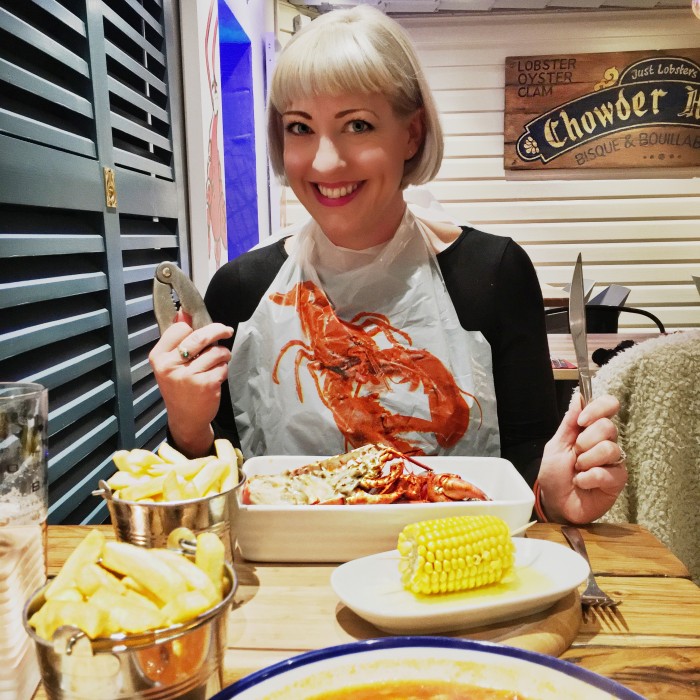 Visited the Plunkett Room
The Sir Garnet pub on Norwich Market has a fabulous upstairs room with amazing views over the market. They have just transformed it into a permanent exhibition of photographs by Norwich Photographer George Plunkett. George Plunkett was born in Norwich, and from 1931 to 2006 he built up an amazing photographic record of life in the city, as well as further afield. A selection of his photographs will be on permanent display in the Sir Garnet.
We were invited along to the opening night. We arrived a little late, but by all accounts that was a good thing as we missed a huge crush in the room at the start of the evening and got to enjoy the photographs, and our free pint of specially brewed George Plunkett Ale, in a bit more peace.
The Sir Garnet website has a more details, plus digital versions of the photos on display, so if you like vintage photos, pop over and take a peek!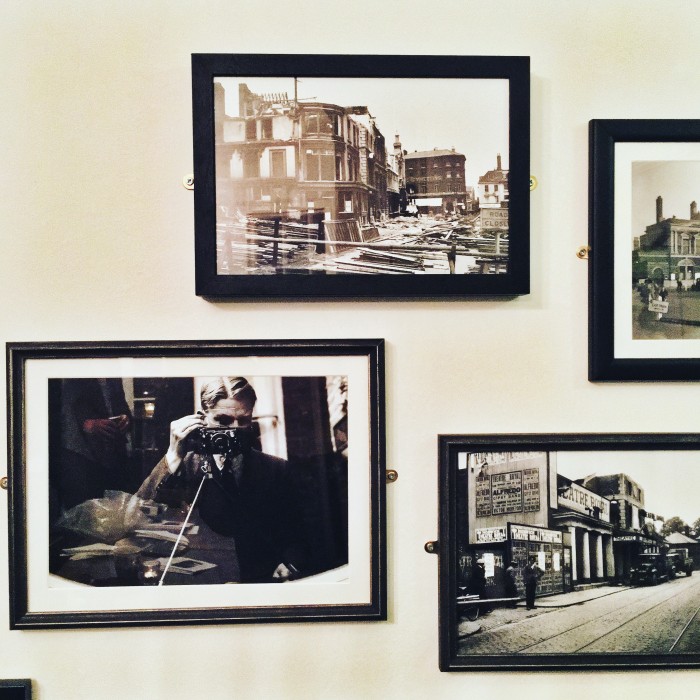 Dropped 85kg on my knees
I had an "interesting" gym visit on Wednesday. My gym has only one squat rack, so even though I go at a quiet time I often have to wait for it. I asked the people using it to let me know when they were done,which they did. So I headed over to the rack, only to find a wiry man in his 50s trying to leap in there first. He looked me up and down, seriously like he was assessing whether I should be allowed to use weights, asked how many sets I planned on doing, then graciously gave me permission to use the rack I had been waiting for (it's hard to do sarcasm in print, but please do insert some sarcastic tone of your own around the word "graciously"). When I started loading the plates on the bar he kept running around and bringing me weights, like he was trying to get me done as quickly as possible. I felt really flustered and I ended up cutting my sets short and moving on to deadlifts instead so Mr Impatient could have the rack.
That's when my co-ordination abandoned me and I managed to land an 85kg weight directly on my knee caps instead of lowering it gently to the floor.  It really hurts and I have bruised knees.
You'll be pleased to know that when I went to the Gym again on Friday it was a lot more successful.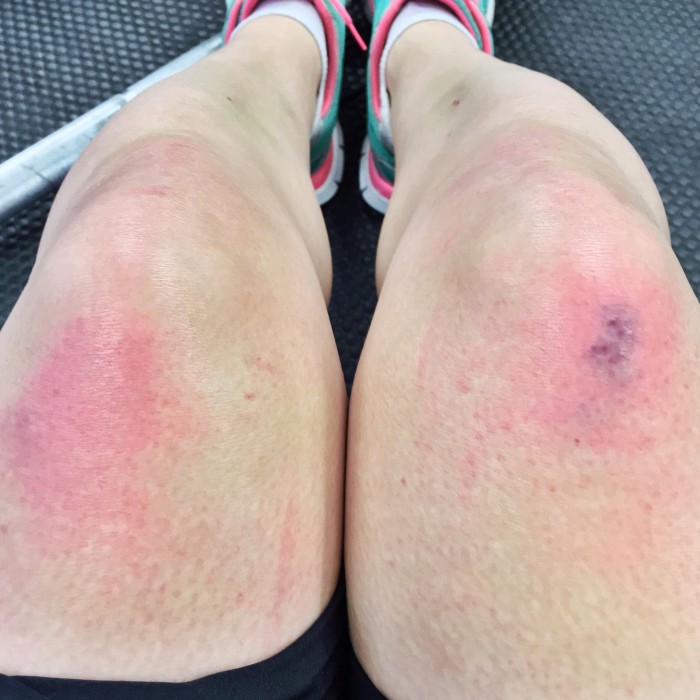 Played ALL the Roller Derby
Today I feel a little bit like I've been beaten up. My regular training sessions are Thursday and Saturday, but this week I also headed off for a Co-Ed scrim on Friday night. It was a really fun night, and good practice as I have some long Derby weekends in coming months as well!
I mostly blocked, but I did jam twice, and Des from Near the Coast has this great photo of me jamming with my eyes closed!
Drank all the Beer
And to finish off what has been a very full week, last night I drank an ill advised amount of beer. The Rugby was on, so I had to have beer, then we went to our local pub and were having such a lovely time that we drank even more beer.
Which is why as well as very cold hands, I also have a slightly groggy head today.
How was your week?