Well, that's Valentines Day done for another year.
Valentines Day is the weirdest of "holidays". I am a person who will scour the world for obscure things to celebrate. So far this year I have celebrated not only the boring old regular New Year, but also Russian New Year and Chinese New Year as well as Burns Night, Superbowl Sunday and National Bagel Day, and it's only mid February.
So, obviously I celebrate Valentines Day, because why wouldn't I? People do get quite worked up about crass commercialism, though. Sometimes the same people who were happily buying Christmas jumpers and bedecking their halls with boughs of snowflake shaped fairy lights just 6 short weeks ago.
So last night, being very short of budget, we treated ourselves to an M&S "dine in for 2" deal, and early in the evening we went out for a Happy Hour Cocktail. Actually leaving the house obviously meant the most Valentines themed outfit I could muster.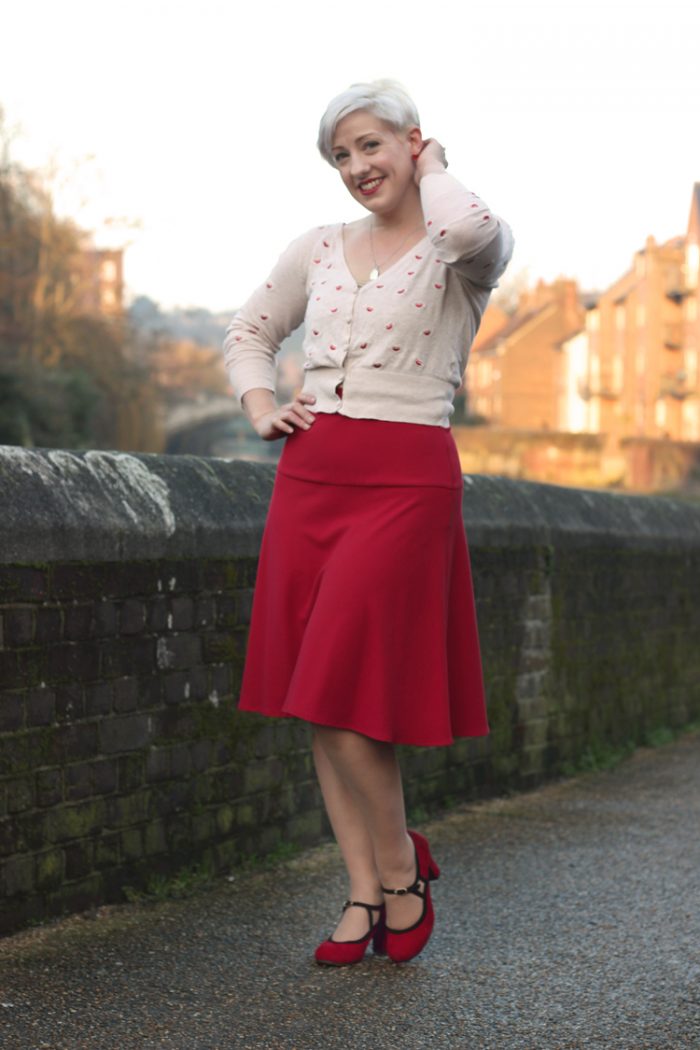 Our original plans for Valentines Day hadn't included a dine in for 2 meal and a cheap cocktail. Our original plans had been the same as last years. We were going to pay our little hut in the woods a visit. It's essentially camping, but with wooden walls and a pot boiler to keep you warm.
2 things scuppered that idea. Firstly we had snow over the weekend and we were a little unsure as to whether it would be too cold, even with a nice cosy fire going. As it happens the weather has taken a turn for the bright and sunny, so that wasn't a problem. The actual nail in the coffin was that on Monday, when we were planning to drive down, I was as ill as an ill thing. So instead we had to rejig our plans while I spent Monday lying in bed making little pathetic wimpering noises.
Thankfully I felt much better yesterday, so we spent the petrol money on Happy Hour cocktails instead, and I got to wear red suede shoes instead of wellies.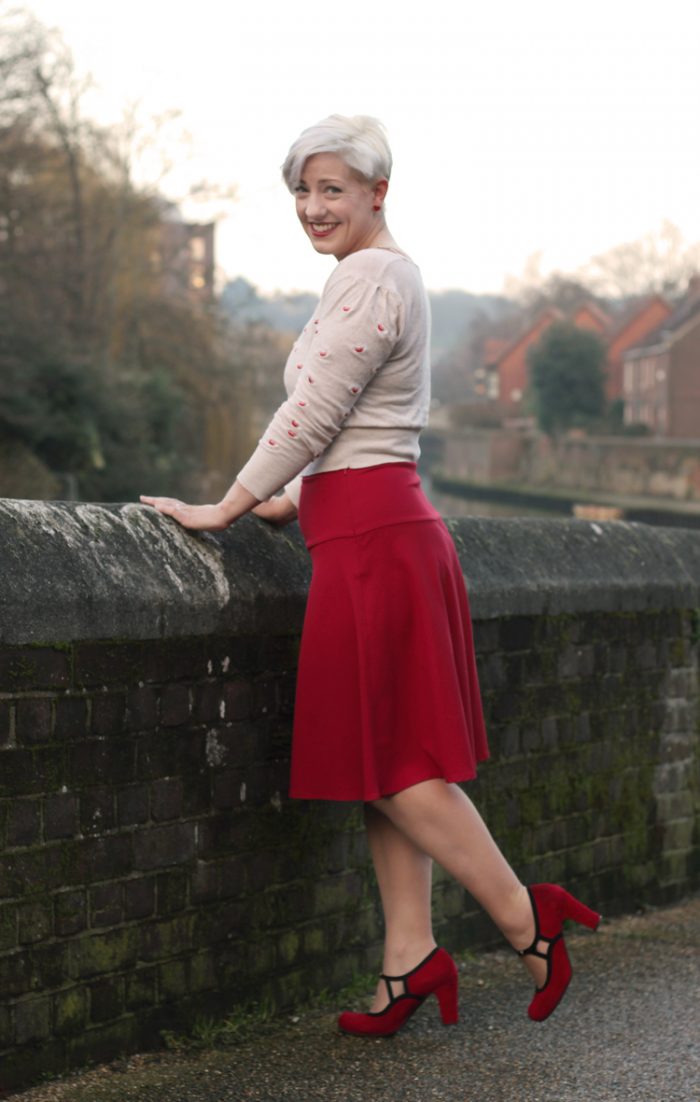 I will confess that even my little Valentines loving heart felt a minor frisson of irritation when we arrived at our chosen bar just after 5pm to find every single table with a little red "reserved" sign on it and a small pile of paper rose petals and confetti. We eventually located a small table that we were permitted to sit at and enjoyed our cocktails while listening to the waiters explain that this evening they were only serving their "special" (read: "more expensive") Valentines menu, not their regular bar menu. We left around 6:30pm, and almost every single "reserved" table was still empty and presumably would remain so until gone 7pm.
Still, it's hard to remain grumpy and cynical when you're wearing heart earrings and a cardigan with kisses on it.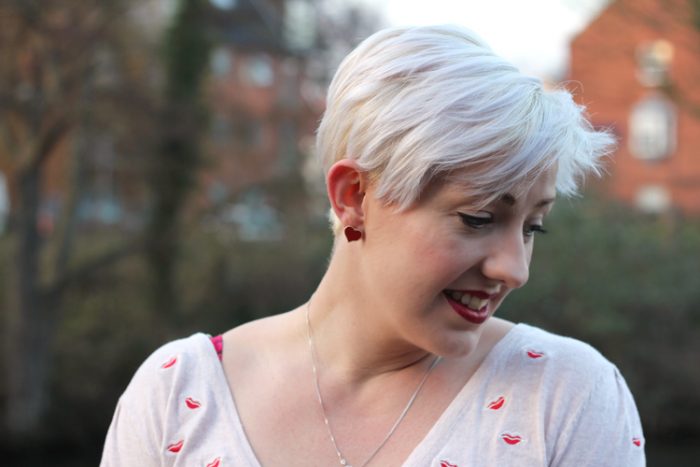 This cardigan with kisses on it came from TK Maxx many, many years ago, and pretty much only gets worn on Valentines Day. It's a little bit of an odd shape. Loose on the body, but with very tight sleeves, or otherwise I would probably wear it more often.
The fact I only wear it once a year means I'd forgotten what it looks like. On Monday, while I was taking a short break from making pathetic wimpering noises, I'd started to plan what I might wear on Valentines Day if I was still alive. I'd had an idea that I would wear the cardigan backwards so it had a v back, and team it with my tulle skirt.
When I took the cardigan out of my drawer it turned out to only have the kisses embroidered on the front of the cardigan, which would have looked a bit weird worn backwards. So I tried it forwards with a tulle skirt and I felt I looked just a bit too much like a hippo in a tutu for my liking. So I swapped it for a red skirt, because there's nothing like wearing red on Valentines Day to add a touch of cliché to an outfit.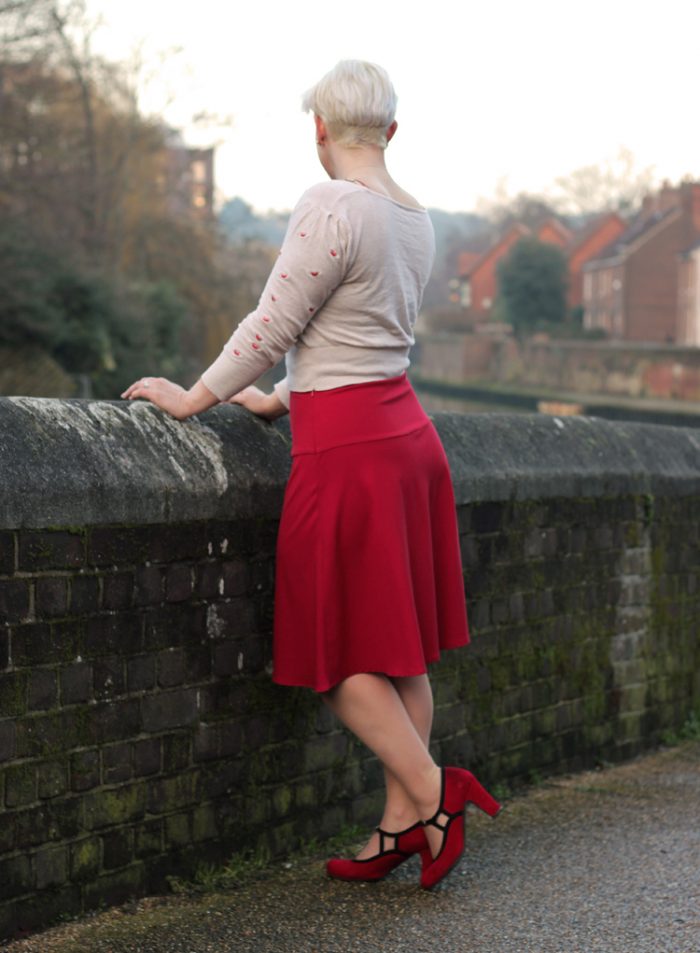 So, with Cocktails in a totally empty but completely reserved bar drunk, we wandered off home. Then we watched the 1934 Clark Gable and Claudette Colbert movie It Happened One Night and the slightly more up to date Ghost on Netflix and drank the fizzy wine that came with our meal deal.
How was your Valentines Day?
♥ Kisses Cardigan – TK Maxx (similarish)♥ Red Skirt – House of Foxy* (similar) ♥
♥ Red Shoes – Chie Mihara* (similar) ♥ Heart Earrings – Don't remember (similar) ♥