Srsly, I have nothing to wear.
Ok, that's not strictly true, I have lots to wear, I'm wearing some of it now.
I really am generally having one of those hissy fits that ends in all your clothes being strewn around the floor, though.
I have a wardrobe full of clothes, but right now I feel like nothing works for my actual life. I hate wearing jeans and a t-shirt, but I seem to have no middle ground between that and cocktail dresses in my wardrobe. Which means I feel like I'm living in the same black skirt, a selection of vests and 1 Collectif Summer dress ALL THE TIME.
This outfit is an effort not to do that.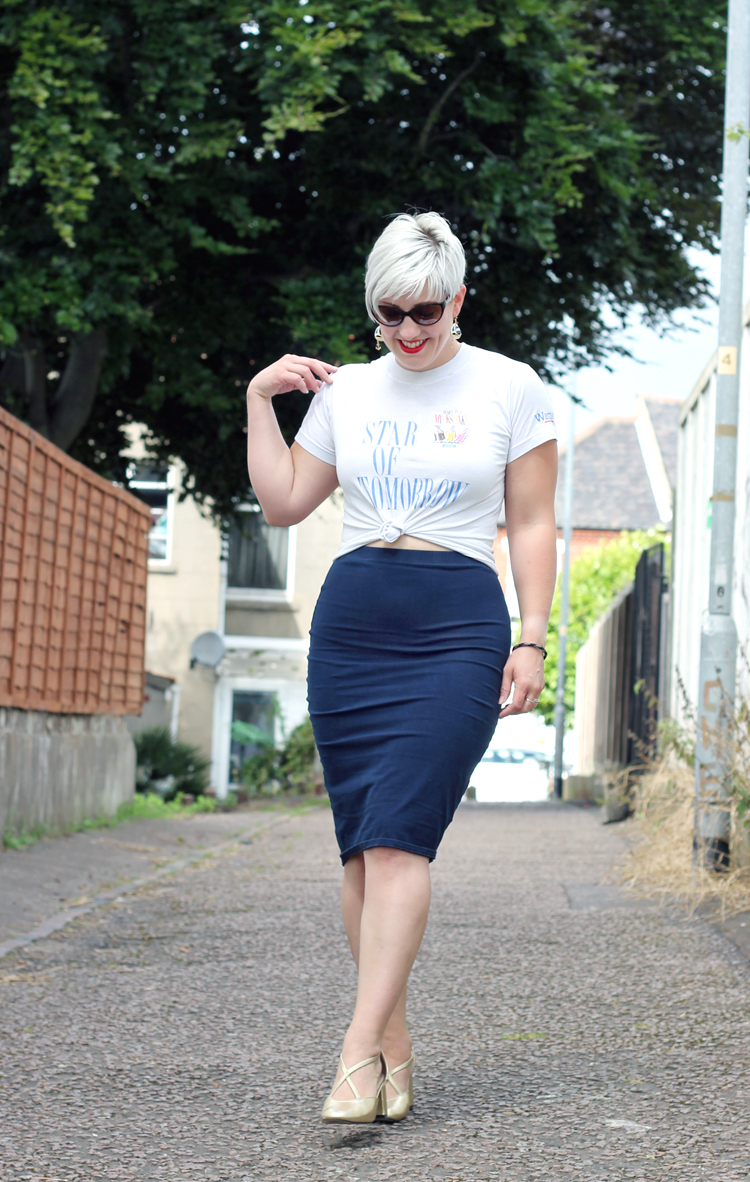 Actually I think the problem isn't that I have nothing to wear. It's that I'm just seriously sick of Summer. At least in a fashion sense.
I love Summer. I like barbeques and picnics. I like sitting in a pub beer garden on a sunny afternoon and I like light evenings. I'm just not sure it actually suits me in a style sense.
I'm sick of being too hot (and occasionally too cold) all the time. Nothing I own feels comfortable for the weather and I'm secretly longing for October when I can start to wear my black tights and Hotter Donna shoes teamed with a skirt and a roll neck and feel both smart and comfortable.
That's not what I'm wearing today. Obviously.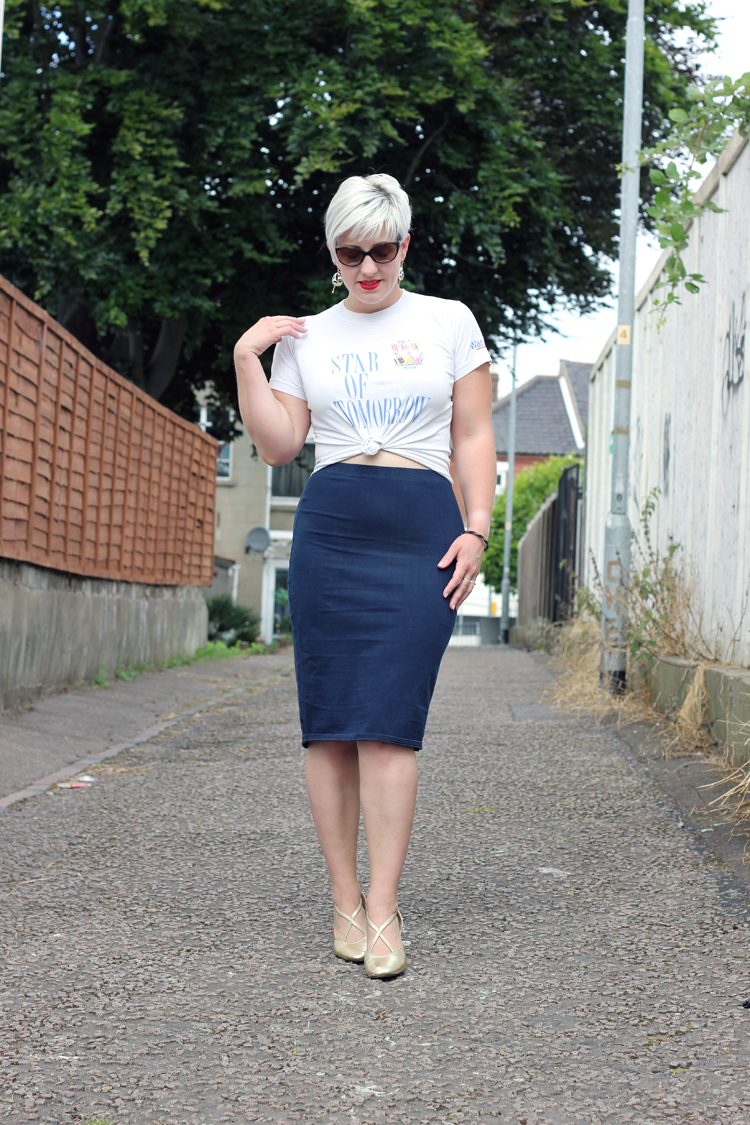 Today's outfit is an attempt to prize myself out of that sun dress and into something a bit more structured.
The t-shirt is vintage. Though I'm not sure if things are still vintage if you've owned them yourself since the beginning?
Back in the early 1990s I entered a talent competition while on holiday on the Isle of Wight at a Warner holiday camp with my family. I danced to Black Sabbath in a purple leotard and frizzy hair.
And I won.
The main part of the prize was a holiday for 6 to attend the finals of the Make it a Milkshake "Star of Tomorrow" talent competition. There was a vicar on the judging panel who wasn't entirely impressed with my choice of song, so I went out in the heats and just got to spend the rest of the holiday playing in the arcade.
I also got this t-shirt. There was a baseball cap as well, but it's gone missing in the mists of time, which is probably a good thing as I look *terrible* in baseball caps.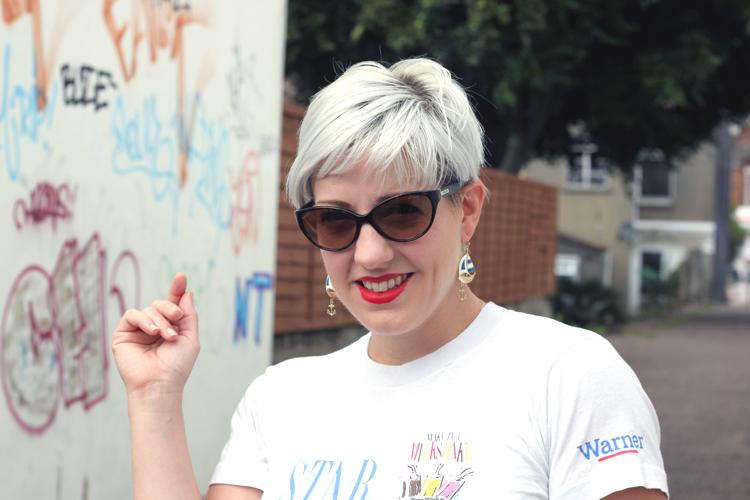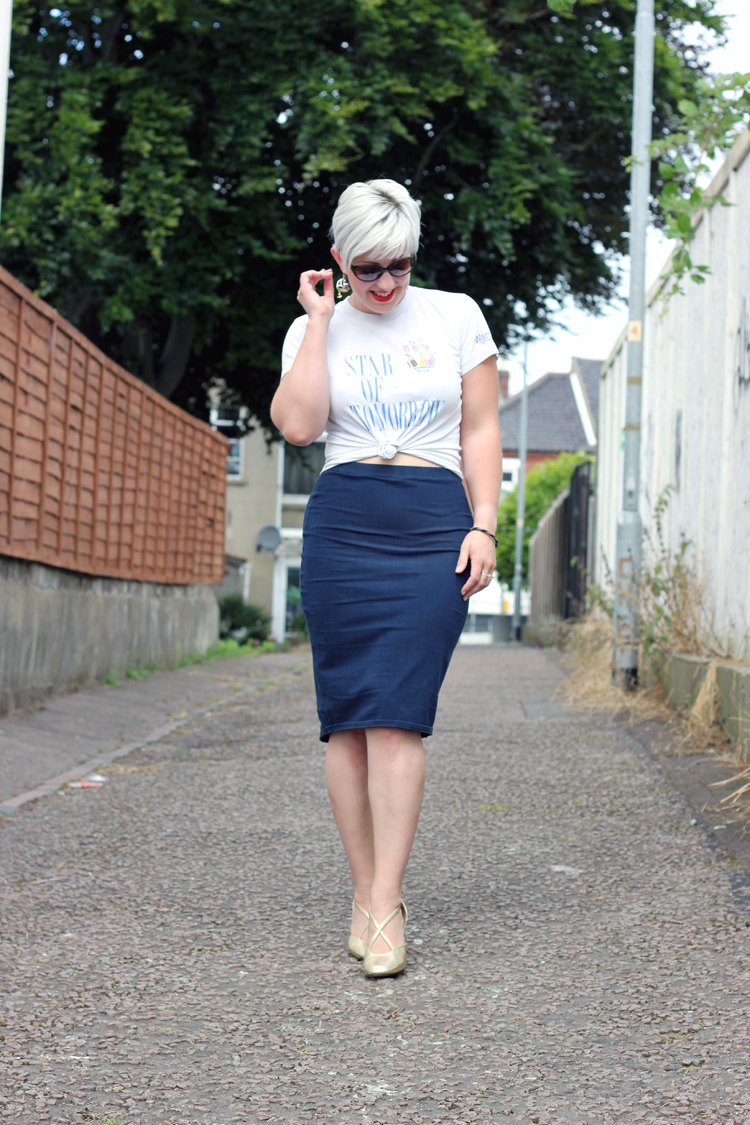 By tomorrow I expect I'll be back in that sun dress again, but for now I'll be wearing my own vintage t-shirt and sail boat earrings.
♥ T-Shirt – Vintage ♥ Skirt – Primark ♥ Shoes – ASOS ♥
♥Earrings – Can't remember (similar) ♥