I had to get dressed in appropriate clothing for meeting strangers in a professional capacity this week.
Most of my business is done virtually, which means it is absolutely fine for me to send emails and conduct business calls in my gym kit, or whatever Summer frock I happen to be wearing at the time. But about this time of year we start preparing for Norwich Cocktail Week, and that means occasional face to face meetings with actual human beings, for which I need to look smart, but still like, y'know, me.
On Wednesday that meant pulling this old favourite floral tea dress out of the wardrobe.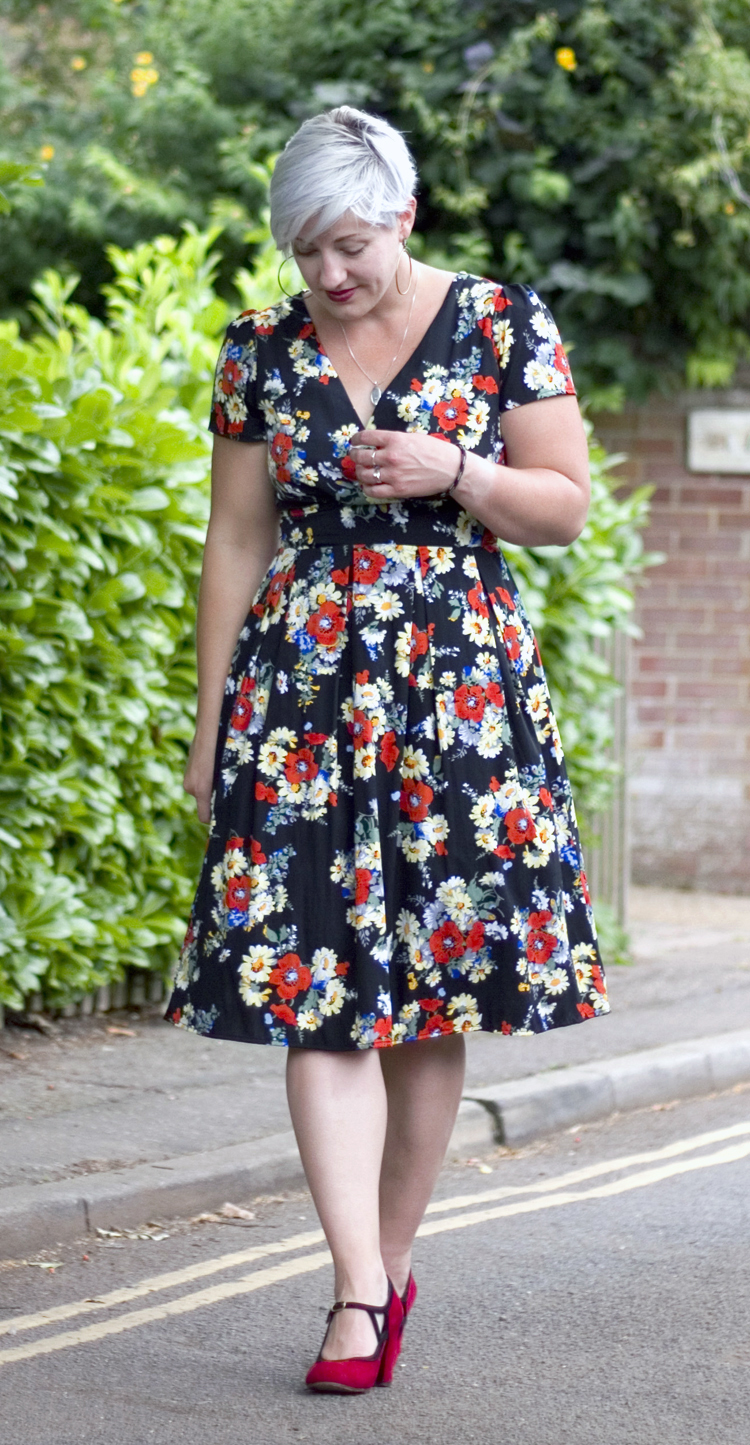 I have mostly worn this dress in the Winter, with red tights and a red beret, which is my favourite way to wear it, but I also think it looks great with these red Chie Mihara shoes.
I haven't got over my obsession with big earrings yet, so I threw on a pair of hoops as well, just to add a bit of extra interest. After all, there's business meeting smart and then there's just plain boring.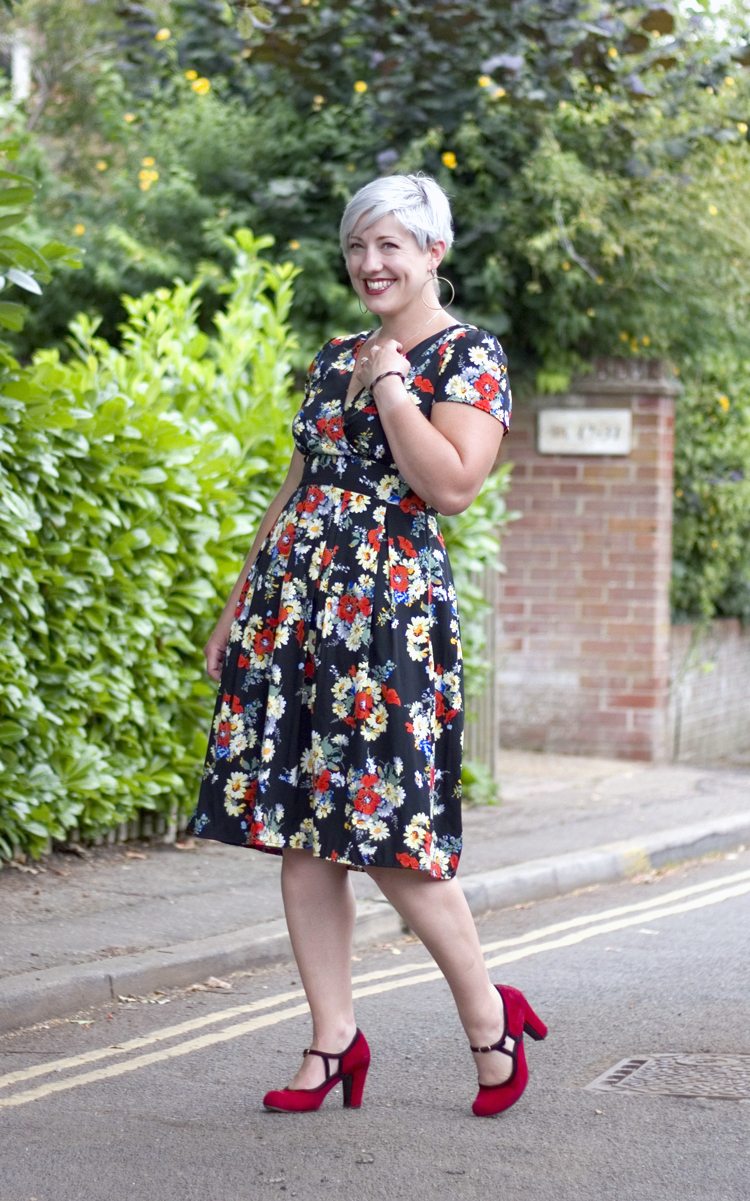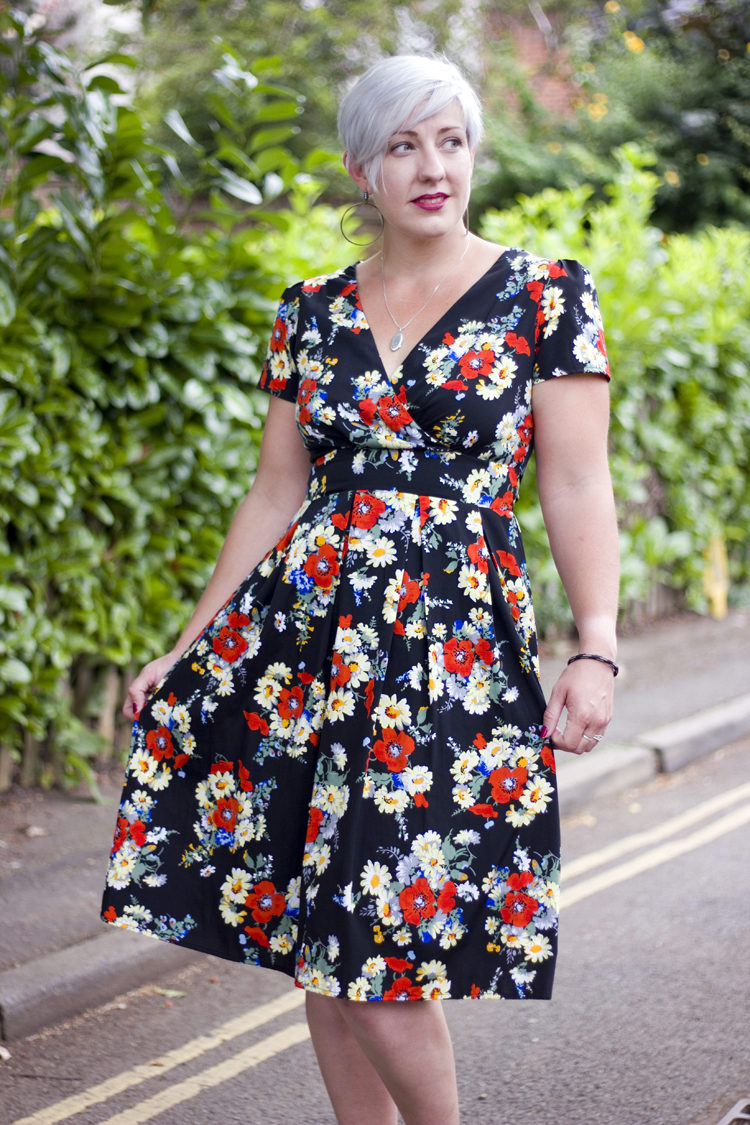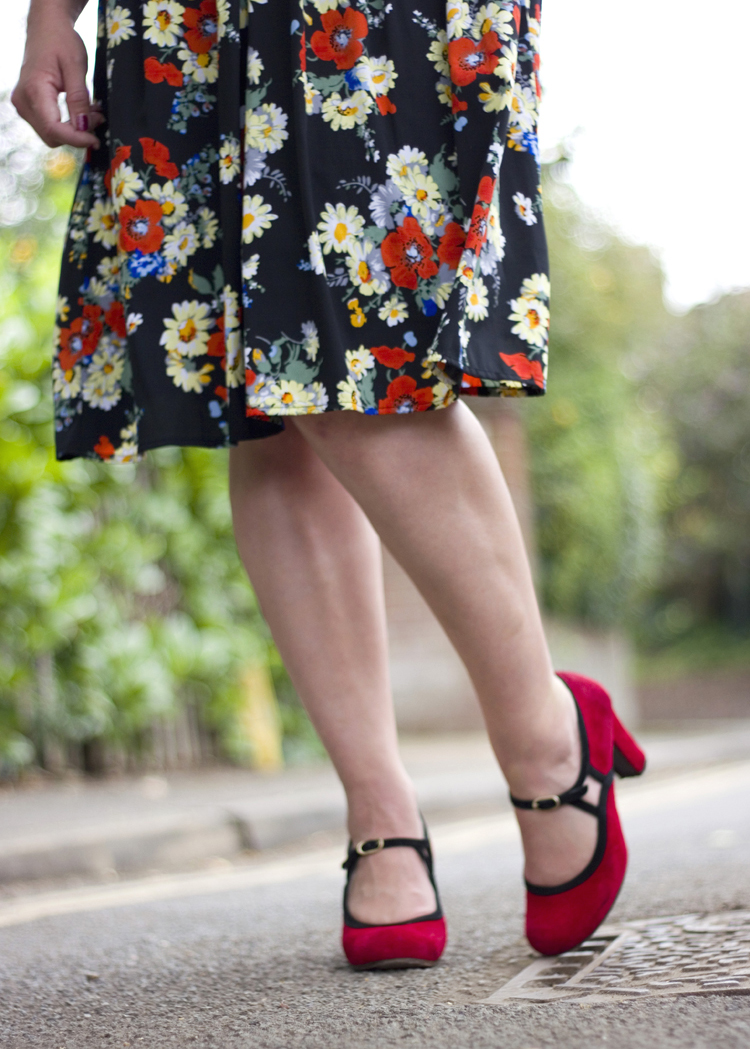 I was actually surprised how conservative I felt when I put this dress on. When I get chance to wear something that isn't sports kit these days I've been feeling quite bold. Lots of stripes and prints and crop tops and strappy tops to deal with the hot weather. I felt like a grown up again in a floral tea dress, and I wasn't sure I liked it.
It did grow on me. How could it not? The fabric is lovely and light and floaty, and I love that the sleeves aren't annoyingly tight on my upper arms like I so often find with dresses with sleeves. The floral print is also pretty bold and striking. These aren't tiny ditsy florals, they're in your face, just how I like them.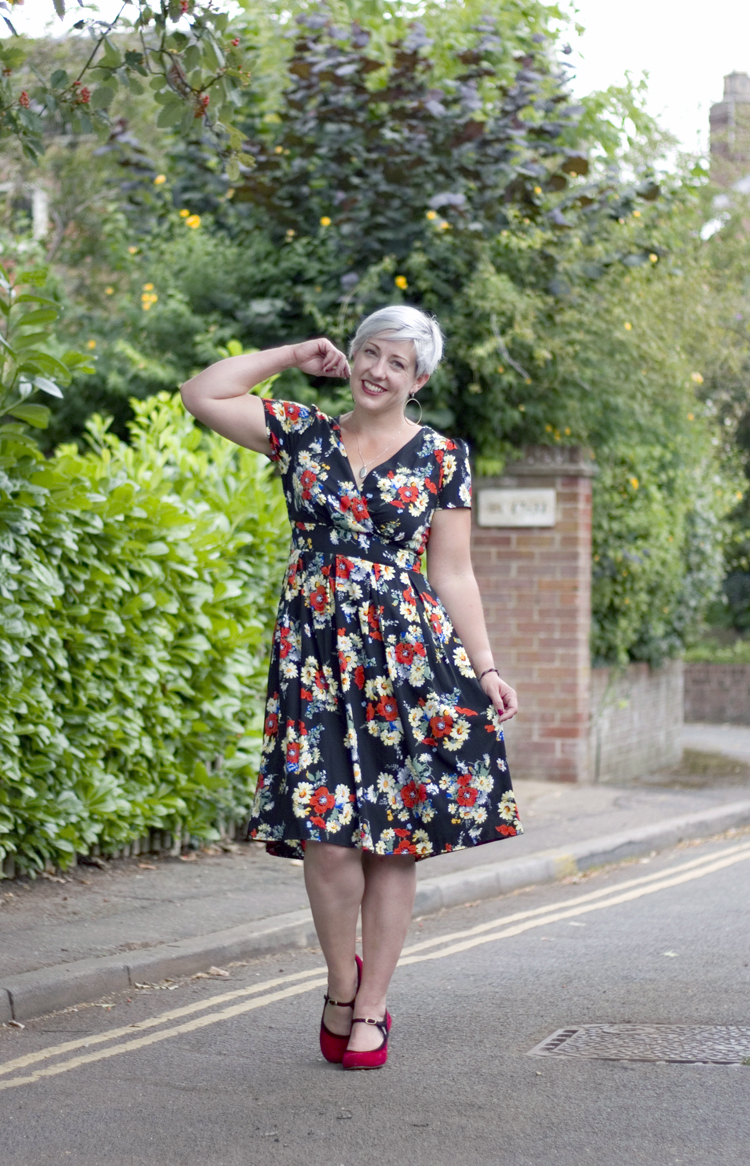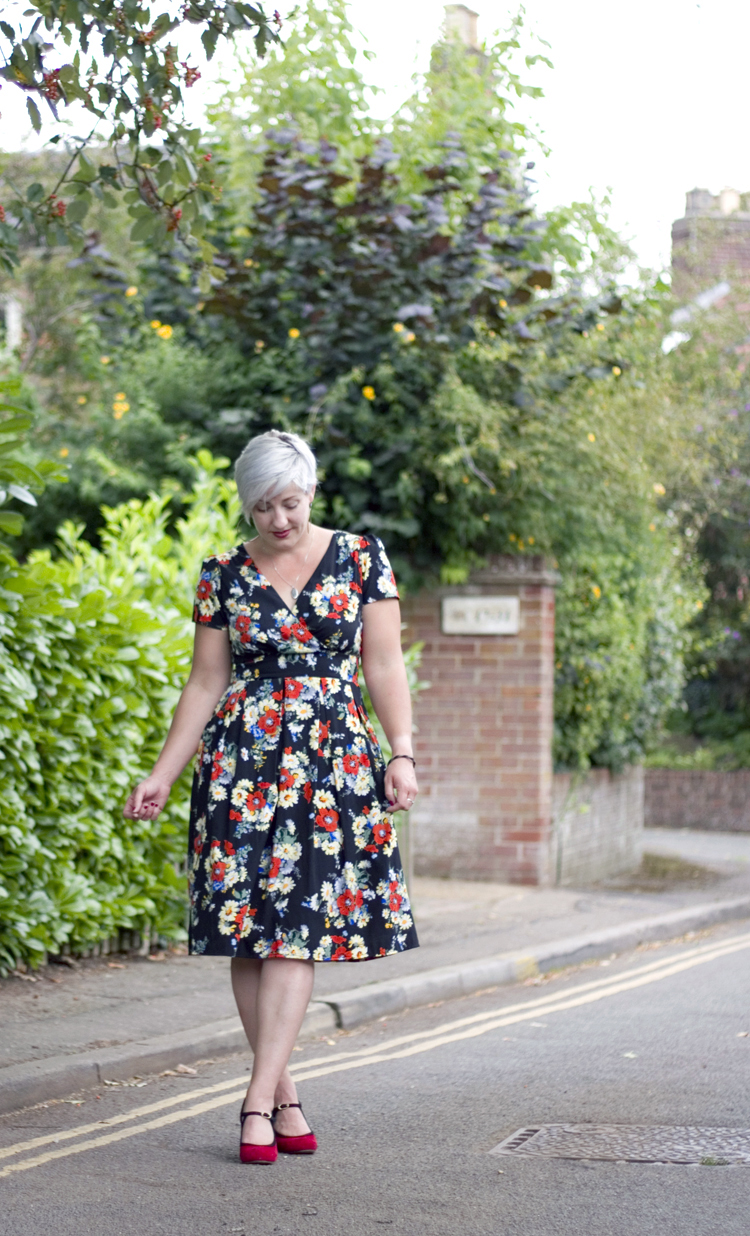 On a final note I am seriously looking forward to Autumn at the moment. I can feel it in the air. I'm mentally planning what colour tights to buy to go with all my dresses and pondering whether I need more berets.
I'm looking forward to heading out for a run on a crisp bright morning and coming back without sweat dripping into my ears (I know, gross, right.). I'm looking forward to wearing my leather jacket again and to being able to sleep without a fan pointed pretty much right at my face.
I love bright September days when it's sunny but there's a chill in the air and dramatic October skies.
Basically, bring it on Autumn.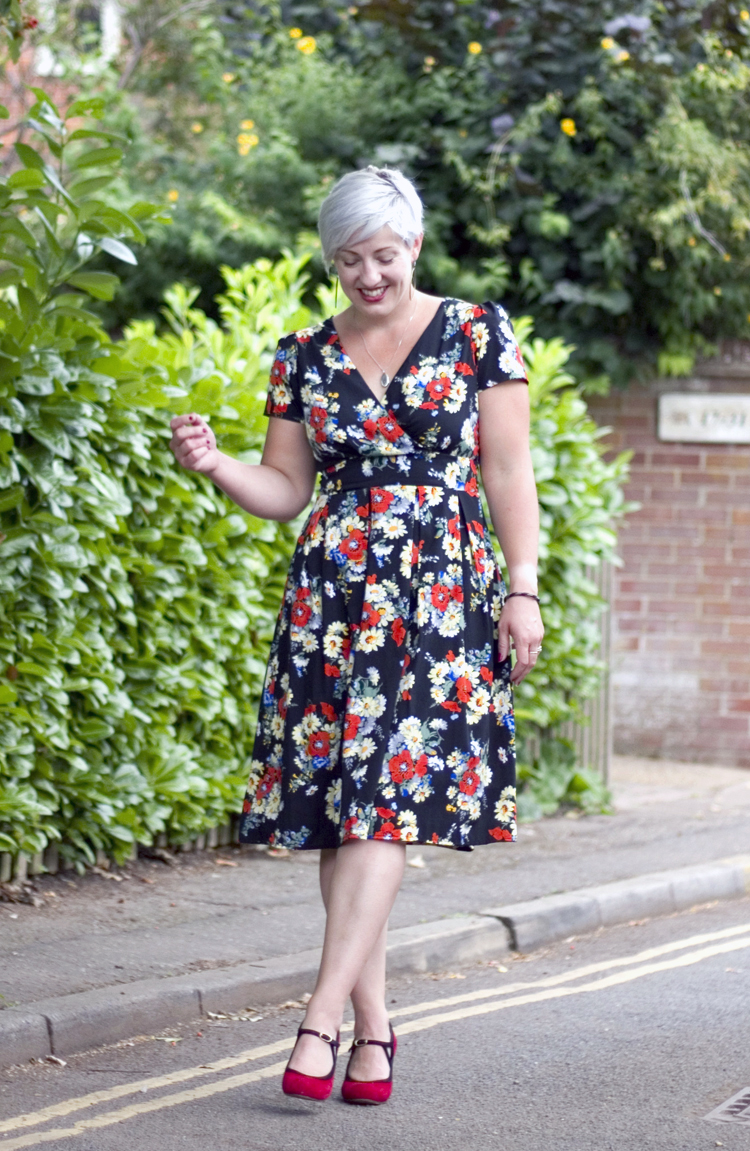 ♥ Dress – Weekend Doll* ♥ Shoes – Chie Mihara (similar) ♥
♥Earrings – I forget (similar) ♥
Related