Recently my knees have been on show a lot more. It started with the Boden leopard print dress, then there was the lycra mini, and then shorter styles like this Joanie Clothing dress and this skirt, as well as the rediscovery of this Alice by Temperley dress that had been lurking in my closet.
There was a time a few years back when no one had seen my knees for a very long time. I was totally devoted to the midi dress.
I had a few issues with shorter skirts. First up, the fact that my legs didn't instantly transform into long willowy limbs like the model in the picture when I put on a short skirt and secondly that I could never figure out why short skirts never looked as short on me as they did on the models.
Over the years I have figured out a few things about short skirts and me that have given me the confidence to bring my knees out to say hi occasionally. I've accepted my short, stumpy, strong and shapely legs a lot more, they might not be long and willowy, but they can probably leg press you! I've also realised that when your legs are as short as mine, they're probably not going to look that short in reality. It's about relative thigh and leg length. Those willowy supermodels can wear such super short skirts because with a 36″ leg a skirt that is, for example, 12″ long still leaves 24″ of willowy supermodel leg on show. My 27″ leg means that same skirt is going to cover nearly half of the available leg. Y'see?
I also learned that the same rules about what suits me apply whatever the length of the dress. I still have the occasional nightmare about that time that a "stylist" decided to try and put me in a bright blue "trapeze" style mini dress and I looked a lot like a Blue Meanie (srsly, I nearly actually cried). If I'm going to go shorter I need a waistband, and probably a slight A-line shape and definitely a fitted top. I'm thinking a chic, sharp, early 60s kind of vibe.
So, today's Friday Frock Love is the shorter frocks that are currently on my wish list. Click the pictures to buy, or scroll to the bottom for a list of links!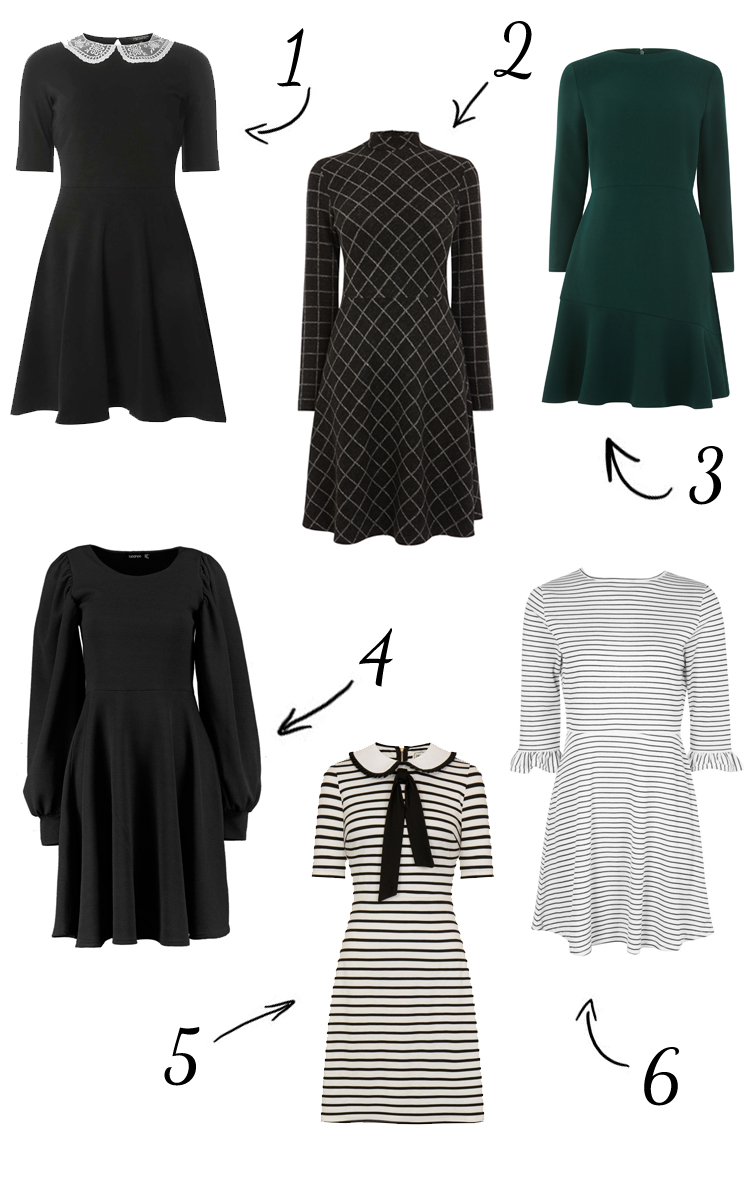 Cute, simple, and a little bit Wednesday Addams
The check pattern makes this feel more dressed down to me. I'd wear it with black tights and chunky boots.
Also comes in black and red. That little peplum hem feels so sixties, just add a little beehive and chunky earrings!
If you know how I feel about full sleeves, then you'll know how this dress will be haunting my dreams……
This one is already haunting my dreams! I want to wear it Parisian style with a beret and ballet pumps!
This one looks like it would be cute as the weather warms up with keds for a cute casual look.