I love Vintage Clothing.
It's often better made, fits my shape better and, although duplicates are around, there's much less chance of turning up at an event in the same frock as someone else. It is also sometimes hard to find in your size, expensive, or too fragile for every day wear. It's nice for vintage clothing to continue to have a life, but I wouldn't want to ruin a precious 1930s frock because I was reaching for the frozen peas in Sainsbury's.
So, if you like a vintage style, whether that's a mish mash of decades, or complete devotion to a particular era, what's a girl to do?
❤ Coat - Principles ❤ Blouse - Gap ❤  Jumper - Calvin Klein Jeans ❤
❤ Tights - New Look ❤ Shoes - Bertie
There's always the world of repro, but due to its niche nature and the small companies that make it this can also be pricey, plus it's nice to have a more varied wardrobe sometimes.
So, if you turn to the mainstream shops, how do you find those items that might work for your look among a sea of mini skirts and lycra? I often get asked by people where I find my clothes, and often I'm dressed head to toe in High Street labels. Much like vintage and charity shopping, finding vintage style on the High Street is all about imagination. These are my top tips.
General Tips
A strong understanding of the shapes from particular eras means you can instantly spot on the hanger something that's going to work for you. A puffed sleeve or gored midi skirt for a 30s style, some shoulder pads or a peplum might scream 40s, or a nipped in waist for a 50s look.
Keep an eye on the proportions so that it's easy to tell from a distance if something is too short, or the waist is too high.
The key basics you have in your wardrobe can be added to more stand out items to make a look your own. Breton stripe tops, circle skirts, pencil skirts, waist length cardigans, longline cardigans and suit jackets are all things that it's easy to find on the High Street and are stapes of a vintage style.
Modern High Street sizing, as I believe I may have mentioned before, is very different to vintage sizing! Many women turn to vintage as their measurements don't match up with the modern size charts. I, for instance, just cannot buy a pencil dress on the High Street as generally I will find that if it fits my hips there's about 5″ of excess fabric at the waist. Unless you have the seamstress skills for a lot of altering it's important to know your body shape and how it fits with High Street sizing. I can get a great vintage look with a High Street circle or A Line skirt, but not a pencil skirt, so I don't buy them there.
The high fashion High Street brands are not the only place to shop. Labels that cater to an older demographic are excellent for classic shapes and styles, and will often have longer hem lengths. Try places like Edinburgh Woolen Mill or Country Casuals that you might not normally look at.
❤ Jacket - Warehouse ❤ Dress - Principles ❤
❤ Belt - Primark ❤ Shoes- New Look ❤
In The Shops
Those little details make all the difference between something looking cheap and really special. Keep your eyes peeled for lovely buttons, pintucks and pleating and trims that elevate an item above those around it. Check the fabric too, anything too lightweight will look cheap and won't give you the look your after.
On the High Street you can try things on, make sure the bits of what you are already wearing will help you envisage how something could look when you get it home. It's hard to see a 1940s style blouse in a top from New Look if you're trying it on with jeans. Take along a pair of heels, a belt, and even a brooch. Any accessories that will help you really see the potential in a piece when you try it on.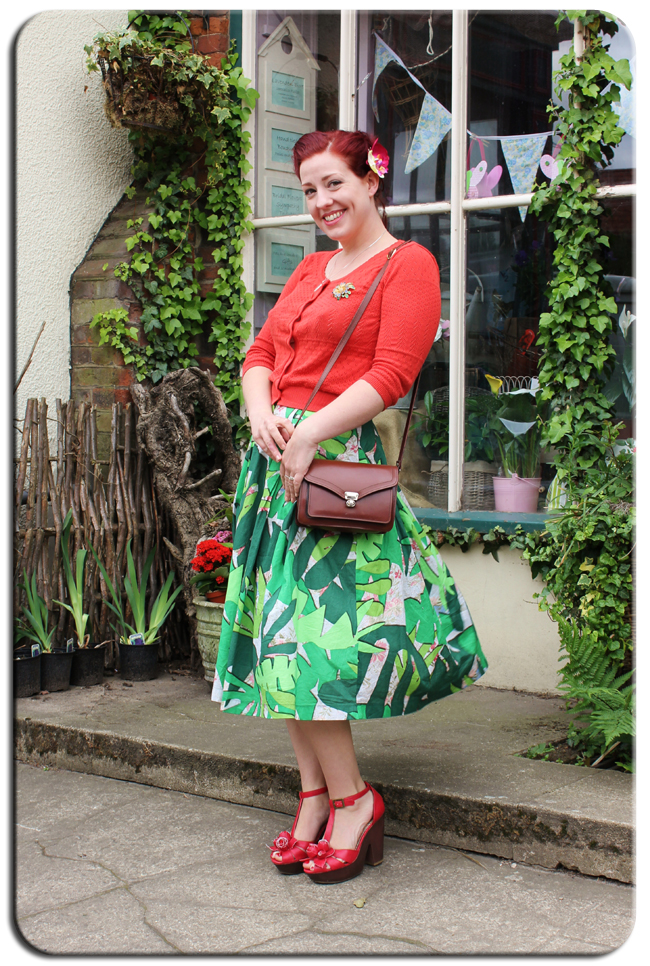 ❤ Cardigan - H&M ❤ Skirt - Antoni & Alison ❤ Shoes - Rocket Dog ❤
Shopping Online
Searching for "dress" or even "vintage dress" in an online store isn't actually that helpful. Know the keywords that can help you find what you're looking for. Seaching "midi dress", for example, despite being a term particular associated with the 70s, will throw up lots of dresses that really are just "knee length", or "normal length" as I call it. Try searching for the details, "puffed sleeve", "shoulder pad" or "nipped waist" might throw up some gems if the site has a good search behind it.
This is the best tip I can give. The models and styling they use on mainstream sites might not be your style, but that doesn't mean you have to wear it that way. I find ASOS particularly bad for using excessively thin models that look like they might even have been digitally stretched! Just because a dress looks shapeless on the model doesn't mean it will be on you. A gorgeous blouse teamed with skinny jeans on a site, may look amazing teamed with high waisted trousers on you.
❤ I'm not sure I look better, but I certainly look different! ❤
Well, those are a few of my top tips.