It's most definitely time for the annual vintage inspired swimwear post.
I can't think what it is about the weather that's made me think of swimwear *fans self with a hotel room service menu*
Swimwear is one of those things that, unless you swim regularly, it always seems such a shame to spend a lot of money on, but in reality you probably couldn't make a better investment. If there was ever a time that you wanted to be sure that materials weren't going to sag, that they gave good support and didn't ride up into all the wrong places, it's when you're wandering round in public in little more than your underwear. Plus, because you wear it so infrequently, with the right care a good swimsuit can last you years and years.
My top tip for flattering swimwear is to buy a size bigger than your normally do, especially with bikini bottoms. Trying to squeeze into a smaller size isn't going to make you look smaller, it's going to give you lumps and bumps where you don't want them, you'll get a smoother line in the next size up.
Todays swimwear all comes with a nautical flavour. Because if you can't dress like a sailor at the beach then where CAN you dress like a Sailor? Er, maybe on a boat, but that's also sort of near the beach, so it totally counts.
These picks are all from the High Street or online retailers with good return policies, so in theory easy to try on to make sure you get the right size.
The cheapest I was able to find. If this one doesn't appeal to you then I recommend following the link and taking a look at the other swimwear from the same brand as they've got some great stuff, including a leopard print high waisted bikini!
They say they're wide bikini bottoms. They don't look very wide to me, but I thought this was so cute I'd put it in anyway. The buttons and stripes are nautical, but it's a change from the regular red, white and blue and I love that skirted bottom.
This one comes from Bravissimo, so is ideal if you need to buy in cup sizes. I like the nautical stripes mixed with the shell print, and the retro halter neck style.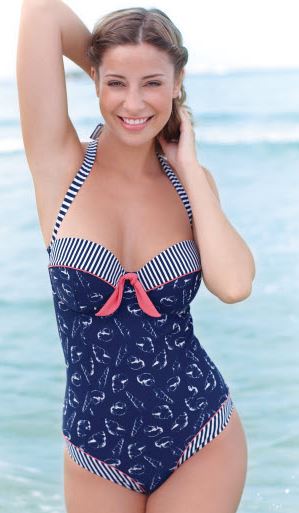 In the picture of this being worn it is teamed with a different bikini top, but I like the more vintagey looking halter top with the high waisted bikini bottoms.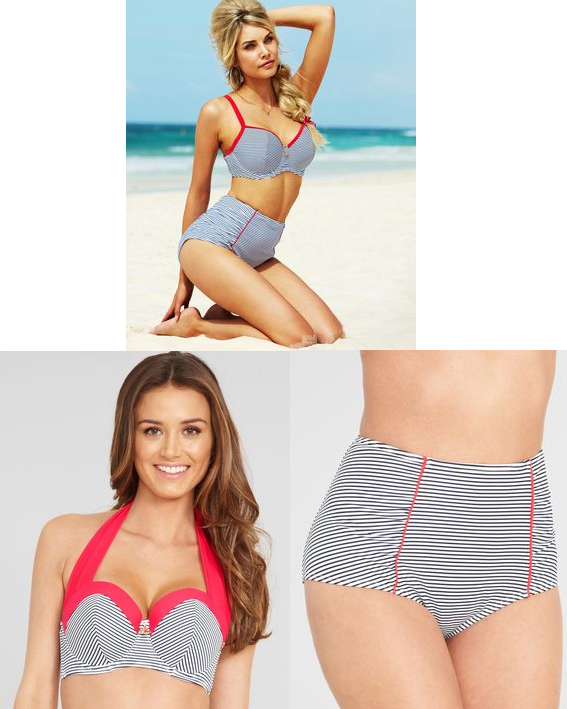 Well, it doesn't get much more nautical than this. It's basically a sailor suit turned into swimwear, and with vintagey low cut legs, perfect.