I rarely do these sponsored video things.
But today is a bit different, because I'm actually really excited about the launch of the Benefit They're Real Gel Liner Pen.
My original plan was to go and buy one and review it alongside the video, but time was a bit short and I haven't had chance, so you'll have to wait a few more days for my opinion on whether it actually works!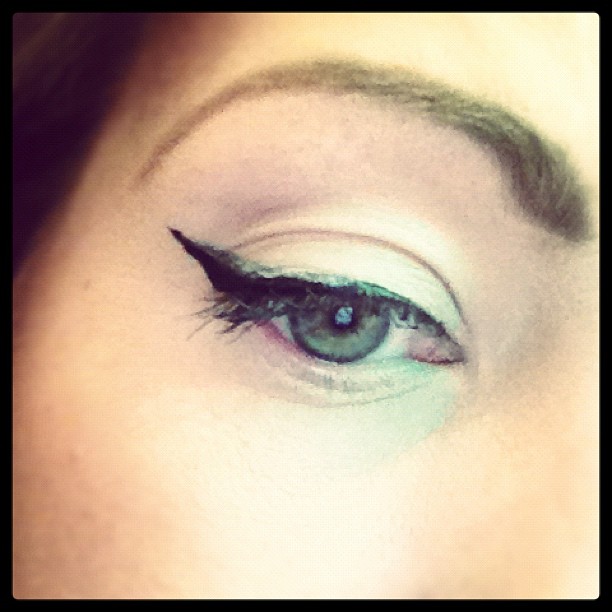 I went to a Benefit Masterclass a couple of years ago where I tried the "They're Real" Mascara, which was frankly amazing, so I have high hopes that the gel eyeliner will be equally amazing!
First up, take a peek at the video. It'll have to be more than amazing to be able to use it without a mirror in the back of a moving car, so I don't plan to put it to that stern a test when I get my hands on it!

I'm quite fond of my eyeliner flicks, and after trying many different brands have been a big fan of L'Oreal liquid liner for some years. I like a dark black line, but I normally wear my eyeliner fairly fine and flicked, rather than wide and winged! To get it like that it's important that an eyeliner gets close to the lashes and delivers a consistent dark line as going over it too often can make the line too thick and wonky.
The Benefit Gel Liner claims to be pretty much budge proof, and has a special AccuFlex™ tip that "hugs" your eyelashes making sure your eyeliner gets really close with one easy swoop. It also comes with a special remover to get it off, so I shall be interested to see if my regular hot cloth cleanser does the trick. I've yet to find a product it can't remove with a bit of attention, watch this space!
This post has been sponsored by Benefit, but all opinions are my own, or they will be when I get my hands on the eyeliner!