Look at me! I'm standing upright!
That's right, after nearly a full week of being bent double I can stand up right today! Woo Hoo! Well, I can as long as I don't stay sat in this chair writing blog posts much longer.
Not only am I upright, but it's a glorious day, and I have been waiting for a glorious day on which to wear this outfit for AGES.
It's STRAWBERRIES!
The dress came in a parcel from Collectif, and sadly seems to be sold out now as it's a pretty awesome dress, in fact, it's like 4 dresses in one as the straps are adjustable and can be removed completely, worn like I'm wearing them, or as a regular halter neck. It's a size smaller than I normally wear, as the flared skirt and stretch mean you get a better fit, so that's worth bearing in mind with these style dresses from Collectif.
Also the neckline changes as the strawberry bit can be flicked up and down!
So, even though my back is held together with rock tape, ibruprofen and hope, I have managed some frolicking in the sunshine.
I even frolicked in awesome new Summer shoes, which managed to conveniently add the finishing touch to this outfit without even trying. The shoes were sent to me by Irregular Choice, and are so comfortable it's ridiculous, the inside is all padded and the wedge platform means I feel like I could walk for miles without crying over my sore feet, which I spend a ridiculous amount of time doing if I'm honest.
I have sensible flat shoes that eat my feet on even a trip to the corner shop, but these feel perfect. I find Irregular Choice shoes can be quite narrow, and I have wide feet, so they are a close fit. There's a fine line between "too tight" and "snug fit" which means they don't move and rub, and these sit on just the right side of it.
When the parcel arrived, inside were some little extra bonus gifts, one of which was strawberry earrings. Strawberry earrings! How perfect!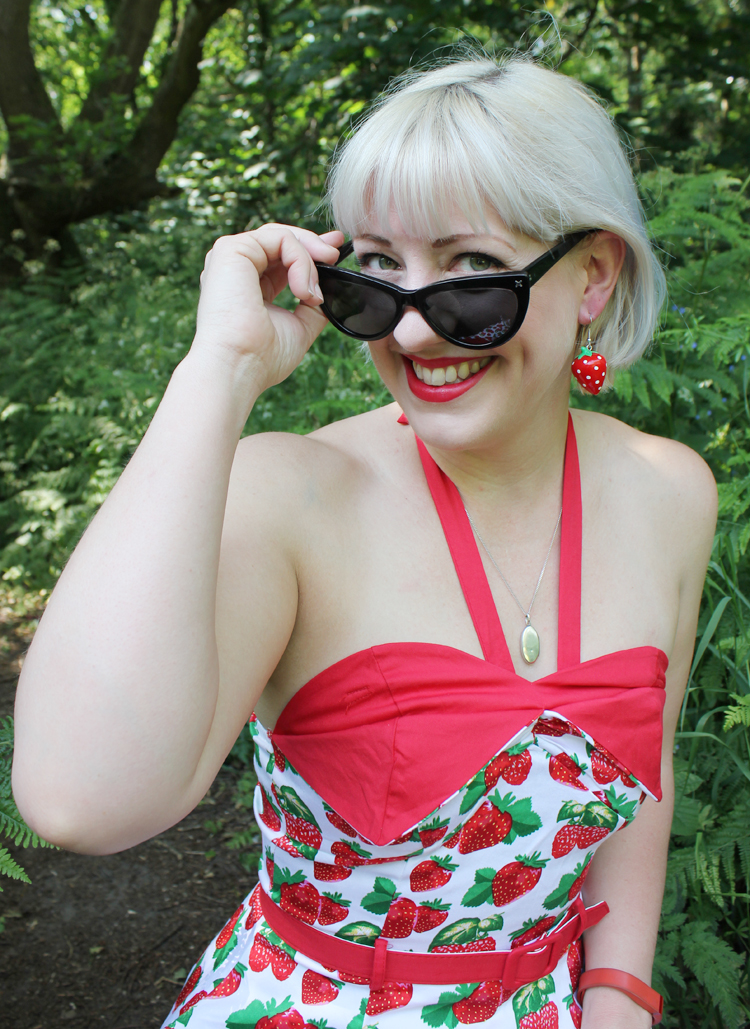 While I had this outfit in mind, I also spotted this Strawberry Clutch online, and I really want it so badly! I do recognise my terrible tendency to take an outfit theme just a little bit too far. So tell me, do you think the Strawberry clutch would just be a bit too much strawberry for one outfit, or would it be the perfect finishing touch?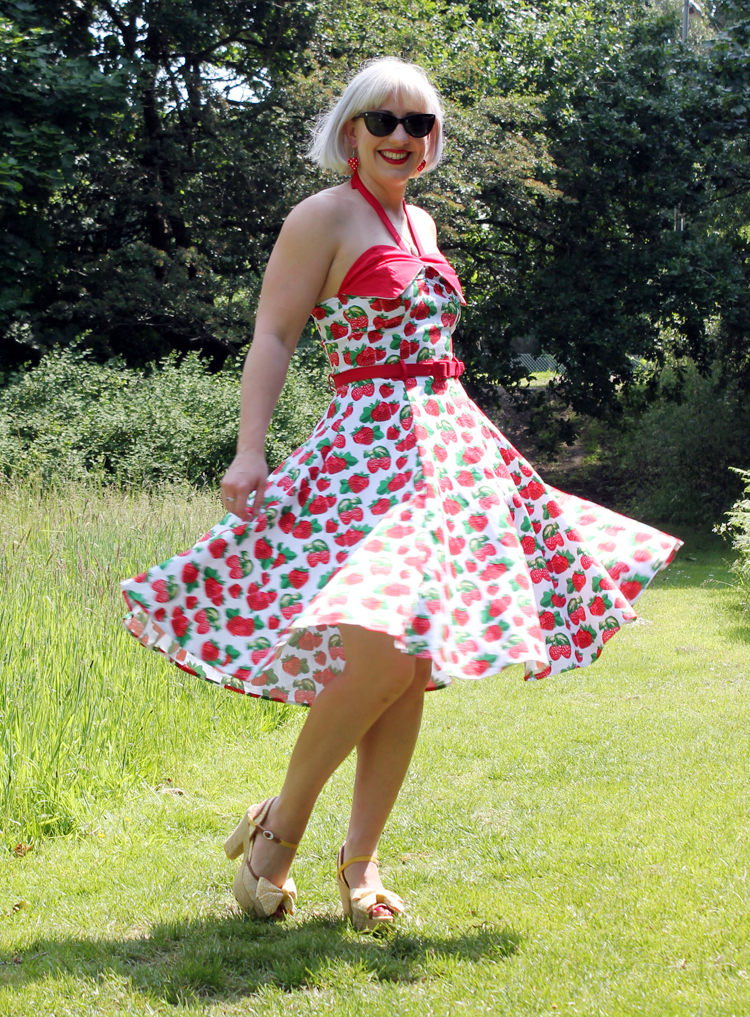 The other thing I did this morning, apart from frolicking in the sunshine, was trim my own fringe. I've been slowly reaching the completely blind stage of fringe growth, and with not enough money or time to hit the hairdresser I decided to trim my own for the first time in about 5 years.
I'm not going to lie, I was terrified as I'm out of practice, but I followed my own instructions from 2009 and seem to have managed not to do anything too hideous. Not like the time I tried to cut my own fringe by sticking sellotape across it, that was a disaster.
Unfortunately Mr Chick is poorly, so I don't have much frolicking planned for the rest of today. I do, however, plan to see if my back is up to a little run in the sunshine, once I get out of this chair.
♥ Dress c/o Collectif ♥ Shoes c/o Irregular Choice ♥