I just realised that October is the month that marks the anniversary of my first ever outfit post.
I mean, it's not THE first ever outfit post, other people beat me to that I'm sure, but I'm feeling all nostalgic as Autumn gets going and I was kind of interested to look back and see how I've evolved over the years, both in my style, and in blogging.
Blogging has been a rapidly evolving thing since I started. Seeing as I've had the same blog and not deleted those early terrible posts in all that time it sometimes feels like a little time capsule of the evolution of the blogosphere, as some people call it. Not me, obviously, except I just did.
Back in 2008 I'd been blogging for 6 months, I don't think I'd ever even read a blog before I started mine. I loved writing and I spent 6 months posting random rants, fashion features and updates on things I was selling in my eBay shop. Then I saw that other sites were doing outfit posts and thought "hey, I could do that". So there was a single blurry photo, taken with my camera phone, of me in a dress I got for £7.50 at the supermarket, a vintage belt, and shoes that were falling apart because I couldn't afford to buy any more because I'd been self employed for a year and was still building up my business selling vintage and second hand clothing on eBay.
Back in 2008 blogging was a whole different thing. I don't think many people thought they could do it as a career, or even get free stuff out of it, but I came into it very shortly before the whole thing started to explode with craziness and brands started to approach bloggers with special blogging events and press releases and bloggers started to post bigger and better quality pictures and buy better cameras.
Just a year later in 2009 pictures were bigger and we'd got altogether a lot more fashion bloggery. I'd had one of my first ever freebies because that top was sent to me by a lovely lady from SPUN clothing . I was getting my pose on looking all Rock n Roll in a vintage belt made from a motorbike chain, and super cheap ankle boots. The photo is still grainy, taken indoors on a dark evening with a cheap camera.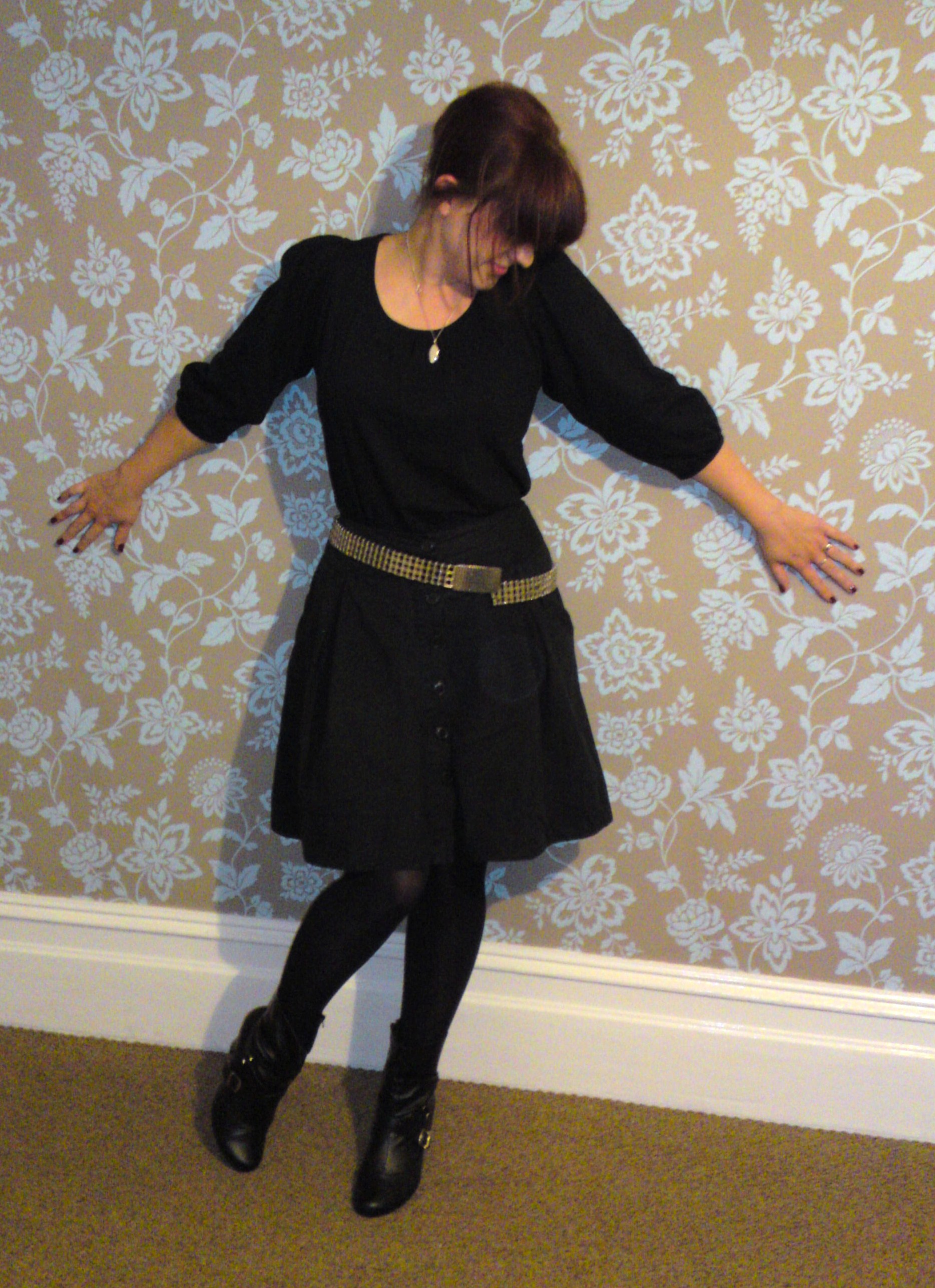 When I started buying and selling vintage and second hand, my style was very eclectic, I always aspired to the glamour of old movies, but I tended to just take little aspects of it and make it more modern. I didn't know anyone involved in "vintage" and I had no idea there were people out there that did that look all the time.
By October 2010 I'd started reading a lot of vintage blogs and was getting a lot more dramatic with my style and so excited with the concept I could actually dress like it was the 1940s. I had my hair cut into a proper midi cut that month and started to experiment with wet sets. By October 2011 there was rarely a day I went out without my hair set and I was wearing seamed stockings a girdle and was totally immersed in this exciting new vintage world.
More generally "Vintage" had started to become a thing, and a plethora of vintage events, many of them featuring cupcakes, had started to arrive in the world by 2011. My blog at the time seemed to tie into this nicely and I was bundled under the title "vintage blogger" along with a small group of other prolific bloggers at the time, many of them are now my "proper" friends.
By the time we get to 2012 blogging was well established and brands were working with bloggers a lot. I'd still not quite caught up on the quality images front, obviously, though by then I was the owner of a DSLR camera. While I might still be snapping photos in the bedroom of a Holiday Inn, and I evidently hadn't got the hang of cropping them very well, they were slightly better quality than my old point and shoot.
I started running in 2012 and October was the month I finally gave up on regular wet sets and abandoned the midi cut for a bob. This outfit was a charity shop dress and cardigan, with my favourite ever Clarks shoes that I was SO excited to get given for a review, because CLARKS, they were a proper company and EVERYTHING!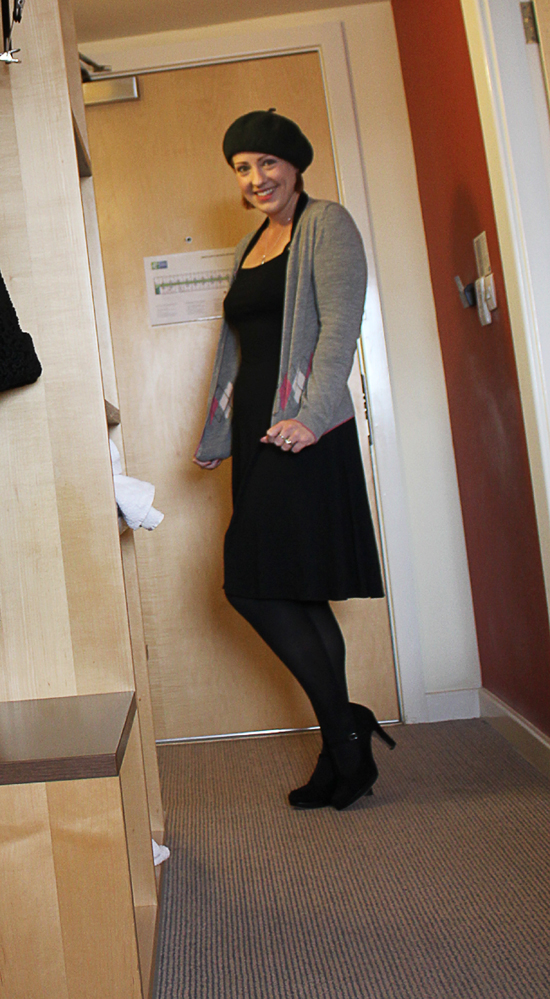 By October 2013 blogging was pretty safely established as a media. I was looking for interesting locations for my outfit posts and they contained multiple photos, different poses and close ups of details. From a scan of my blog posts it seems that by now there quite a few approaches from brands as well, I remember feeling a little overwhelmed and I was starting to realise that when you're a blogger free stuff isn't "free", it's hard work. Brands weren't always clear about their expectations and would chase for posts when you just hadn't got to it yet, and as a blogger you had to be a lot more organised and have editorial calendars and spreadsheets and things.
By now people were starting blogging with the idea that it was their passport to fame, fortune and freebies. They were launching new blogs with beautiful fashion magazine level photography and it started to feel a struggle to keep up.
I'd started to leave that very vintage look behind as well, still pulling it out occasionally, but with a fondness for body con dresses and quirky prints. Both the dresses in these photos were blog "gifts" and I was still cropping my photos far too wide.
And then, suddenly, it's only a year ago. My life has changed almost beyond recognition since I started blogging. I can normally afford to replace my shoes when they fall apart, and sometimes buy clothes that aren't on the sale in Tesco. I've stopped trawling the Charity Shops so much, because it got harder and harder to find decent things at a decent price and it wasn't worth the time investment as I got much busier over the years. My life these days is dominated a lot more by lycra leggings than seamed stockings as I got more involved in Roller Derby, running and going to the gym.
I learnt to say no without feeling guilty to a lot of the things that I'm offered and be a lot more selective about what I cover on the blog. I feel like the blogging world in general has settled down a little since that big boom. Brands have also learnt to be more selective about who they chose for a campaign and aren't just distributing free stuff randomly to anyone with a blogger account. The things I get offered are often more relevant, with more thoughtful, involved, campaigns, and often have a budget reflective of the work that they expect a blogger to put in. This means that the relationship feels more business like and professional.
Everything in this outfit from October last year I bought myself.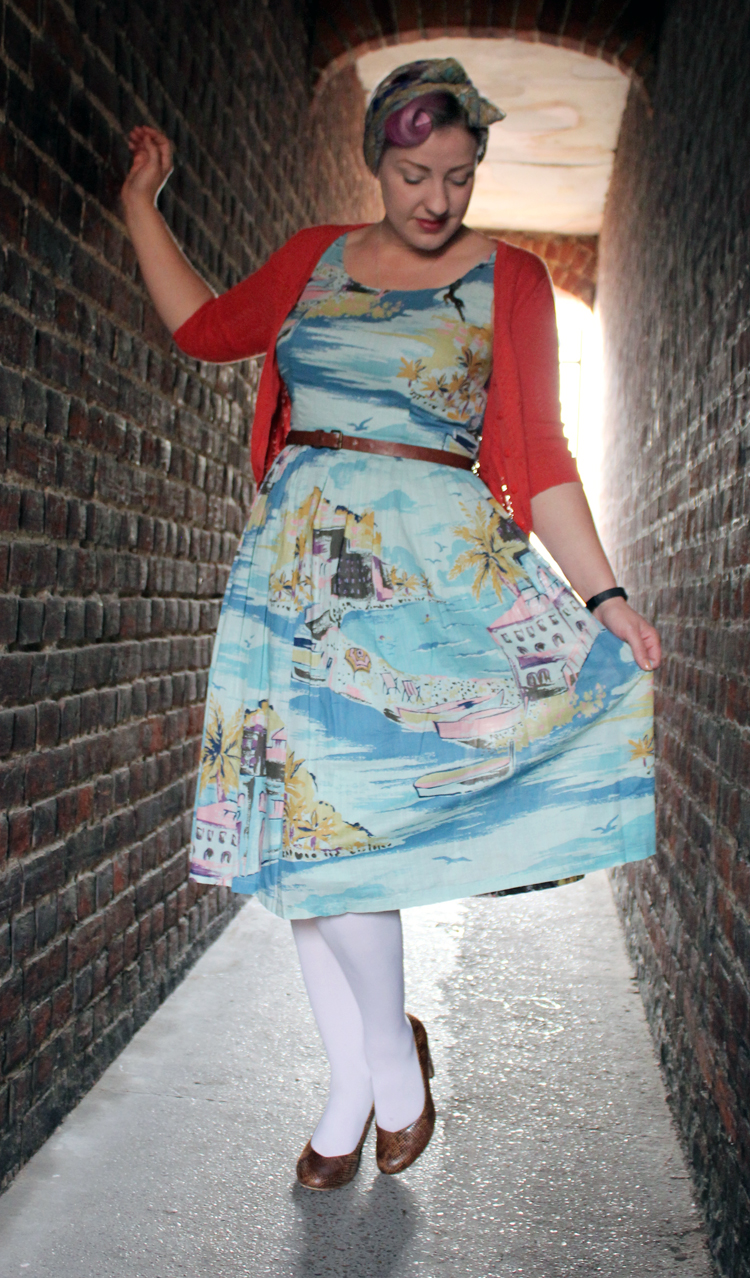 And in October 2015? Well, I started to realise recently that I feel a little adrift in this brave new world of blogging. Like I'm the old lady who started her blog all those years ago and hasn't quite kept up with the times.
I never started my blog with the intention of making it a career, I started blogging to promote a shop I no longer run, and I carried on blogging because I love writing and being able to make a living out of that rather than dragging parcels to the post office every day was pretty awesome. I like to document things and write about my thoughts and feelings, and, when people started actually reading it, I loved it when people found my posts funny, or inspiring, or useful.
In 2015 I've often felt like I'm trying to keep up with a world that I didn't opt to be part of in the first place, like I need more of a niche, better photos and less words. I ended up blogging as a career, and I love it, but the downside of that is feeling like you have to keep up with what the "market" demands of a blogger. Sometimes I've felt stuck for ideas for fear of offending or alienating someone or I feel like my photography is just not up to scratch, or just like I waffle on too much and no one is actually reading it (which lets face it, is probably true, I am, after all, on 1600 words already for this post, who has that kind of patience?).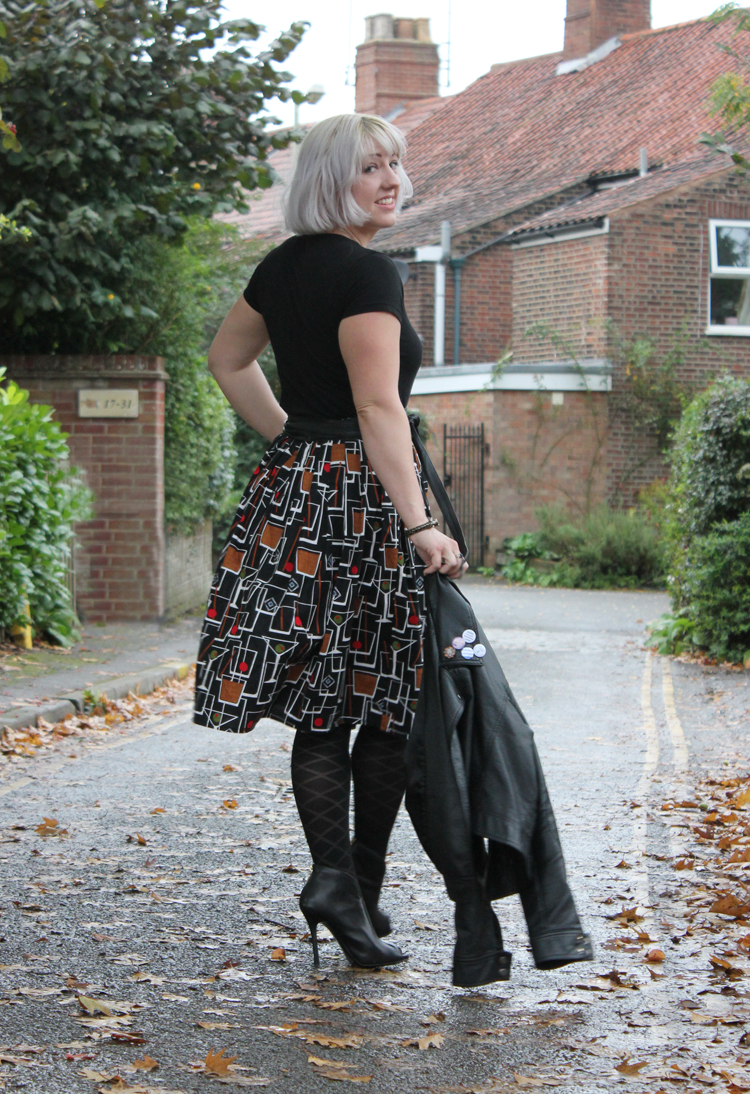 I read blogs because I loved that contact with the person behind them. I wanted to know what other people felt about things, where they'd been and what they liked. As blogs have become big business and blogging is viewed as an aspirational career option it seems there are less and less words, and more and more photos of impossibly perfect lives to live up to.  I feel less like I'm seeing a real person behind the blog.
I'm as guilty of an artfully posed Instagram photo as anyone, but sometimes it's nice to see them interspersed with a grainy, late night, badly lit shot of a pizza or a mirror selfie with washing in the background, because life isn't perfect all the time, and that's what I loved about blogging. I loved that balance, to see that *real* people can look as perfect as those models in a magazine, you also have to see them looking *real* some of the time too. Whatever *real* means, which is a whole different post.
So, for now, I'll carry on writing posts about my holiday and illustrating it with iPhone photos, because I love to do it, and I hope that there are still people that like to read it. But I'm interested to see where me and blogging end up in October 2016.