Lets just imagine we're heading off on MY dream mini break.
We're going to travel late on a Friday afternoon, I love train travel, as long as it's First Class, obviously. I'm going to want to wear something comfortable but smart to drink whisky & ginger from a can in while watching DVDs on my laptop. Because, you know, I'm classy.
I pretty much own no trousers, but one of my goals this year is that I am definitely going to find my perfect capri pants (it's good to set your sights high) Could these Voodoo Vixen ones be them?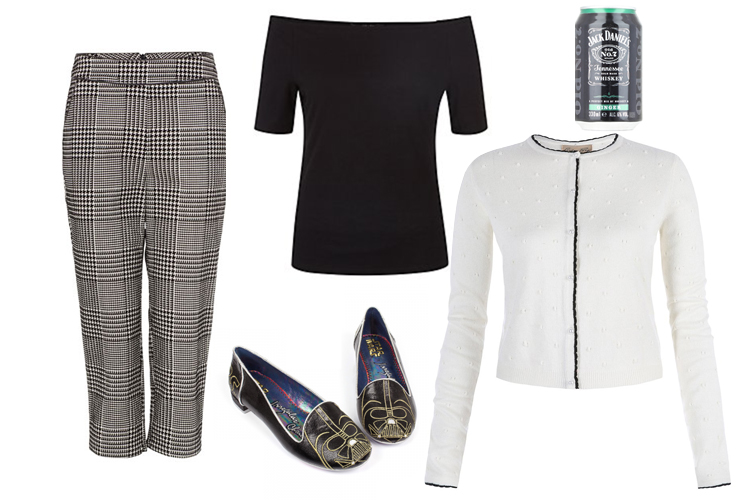 ♥ Capri Pants – Voodoo Vixen ♥ Bardot Top – New Look ♥ Cardigan – Lindy Bop ♥ Darth Vadar Shoes – Irregular Choice ♥
Once we arrive, ideally we're going to be chauffeur driven to our hotel. I might have packed light, but I still can't face dragging my bag across  [INSERT EXCITING CITY HERE]. Once checked into our spacious and beautifully appointed hotel suite I will freshen up and change my top and shoes before a casual evening dinner, I'm thinking fancy burgers, the sort that come in Brioche buns, and a couple of fancy craft lagers, before turning in for the night.
Note: In reality wearing a cream top and red lipstick out for burgers can only end in disaster. Let me dream.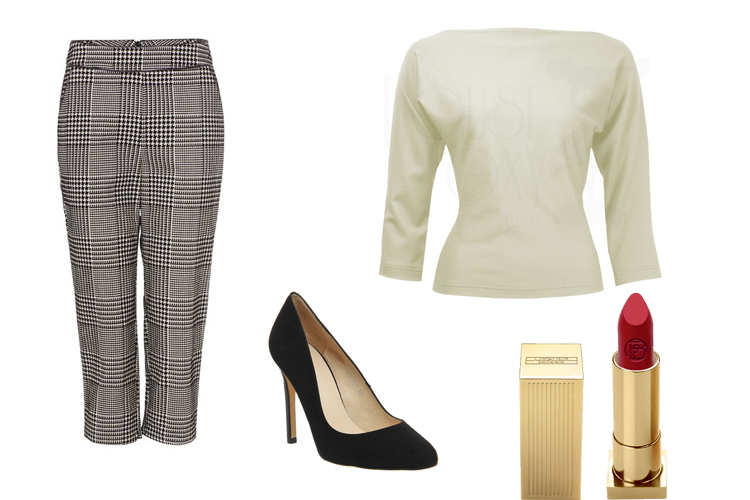 ♥ Capri Pants – Voodoo Vixen ♥ Boat Neck Top – House of Foxy ♥ Shoes – Office ♥ Lipstick – Lipstick Queen ♥
In the morning we'll awake refreshed and open the curtains to sunlight streaming through. After a morning coffee we'll head out for a run, because that's the sort of thing I like to do on holiday. There's probably a local river (there's always a local river) so we'll head along there in the sunshine, before returning having earned a hearty breakfast.
After breakfast we'll spend the day taking in the history of [INSERT EXCITING CITY HERE], enjoying their local specialities for lunch, which are definitely something tasty, not pickled herrings or anything, and taking in the ambience of a few local bars. As this is my dream mini break it's a bright and warm spring day and we'll sit by the river with a glass of wine and lunch on the sort of food that it would be a crime not to Instagram. We'll stroll back past some historic things and read the plaques on the walls, learning something new and exciting which we will immediately forget. I will look chic and elegant, but in Darth Vader shoes and we better hope it's not a breezy day too, because I'm definitely wearing this skirt.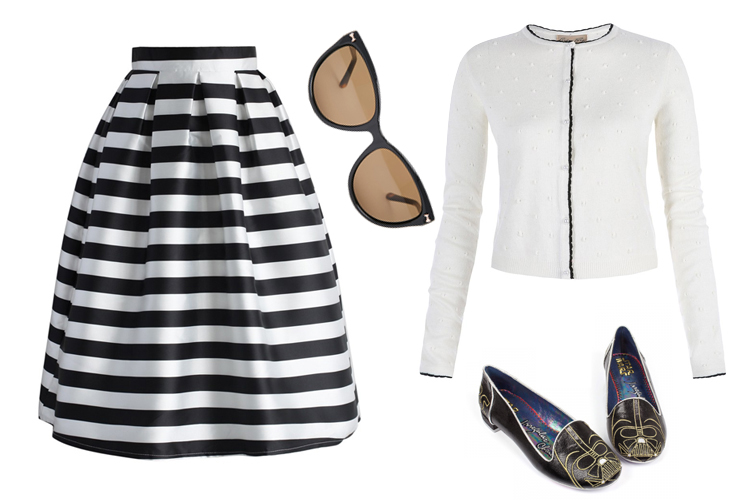 ♥ Skirt – ChicWish ♥ Cardigan – Lindy Bop ♥ Darth Vadar Shoes – Irregular Choice ♥ Sunglasses – Ted Baker ♥
It's my dream mini break, so my hotel suite has some kind of exciting spa bathroom. I'm going to lounge in there with a glass of Champagne for a couple of hours and emerge looking like a Goddess for a glamorous evening of cocktails and dinner in a restaurant that's relaxed enough to be fun, but that also doesn't print the menu on the placemats and cover the table in special offers. I'm definitely going to have the steak, because this is the sort of place where you know the steak is going to be really good, or maybe I'll have something described as Medallions, or a medley. You never know. We'll finish with a nice brandy, because there's no room for pudding, before moving onto the sort of nice cocktail bar that has individual lamps on the tables and they bring your drinks to you instead of making you stand at the bar.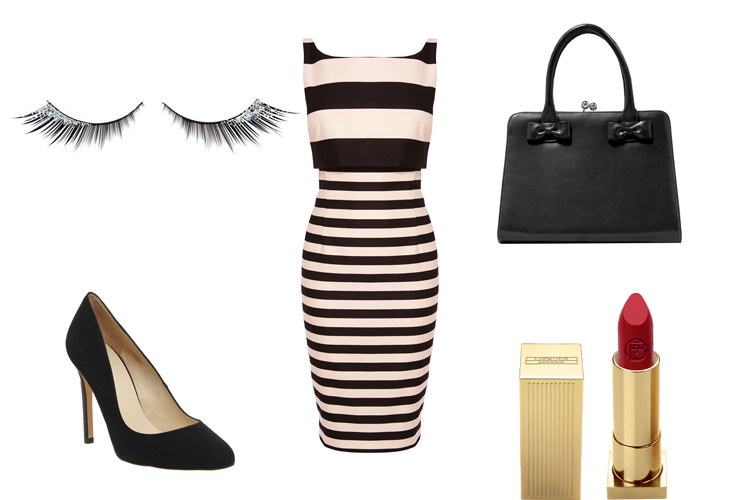 ♥ Dress – Coast ♥ Shoes – Office ♥ Bag – Collectif ♥ Glitter Eyelashes – Urban Decay ♥ Lipstick – Lipstick Queen ♥
Pleasantly tipsy we'll stroll back to the hotel through starlit spring streets then drink Champagne in our pyjamas and order dessert on room service because we're greedy and it's a holiday.
On Sunday morning we'll awake a little late, but hangover free (this is a DREAM mini break, I know in reality I'd be waking up with my hair sticking out at funny angles with the hangover from hell, but not today), have a hearty brunch in a chic local cafe before heading back to the station for the (First Class, naturally) trip home)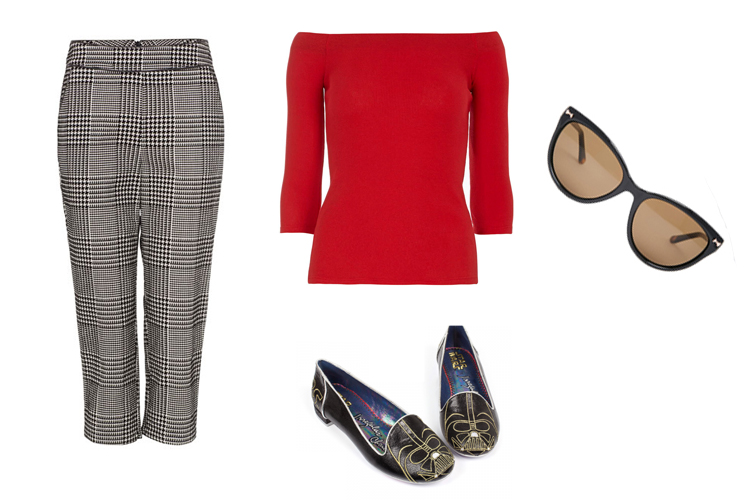 ♥ Capri Pants – Voodoo Vixen ♥ Bardot Top – Dorothy Perkins ♥ Darth Vadar Shoes – Irregular Choice ♥ Sunglasses – Ted Baker ♥
And that is how I would pack for my dream mini break in a glamorous City. 1 pair of trousers, 1 skirt, 1 dress, 3 tops, 1 cardigan, 2 pairs of shoes and a handbag. Fling in a pair of pyjamas and a make up bag and we're good to go!
If you want some more help packing light, I wrote some tips for packing light all the way back in 2009, when it seems I still had a thing for red, white and black!