Beret season has officially started.
This is great news, as there's nothing better than a beret to cover up hair that needs a trim and that you couldn't really be bothered to brush properly before you went out because it's Sunday morning and you're feeling lazy.
This Sunday we went out for brunch. Nowhere exciting, only budget friendly Wetherspoons, so this outfit is about as casual as I get if I'm not in sportswear. It features denim, but it is high-waisted Collectif denim.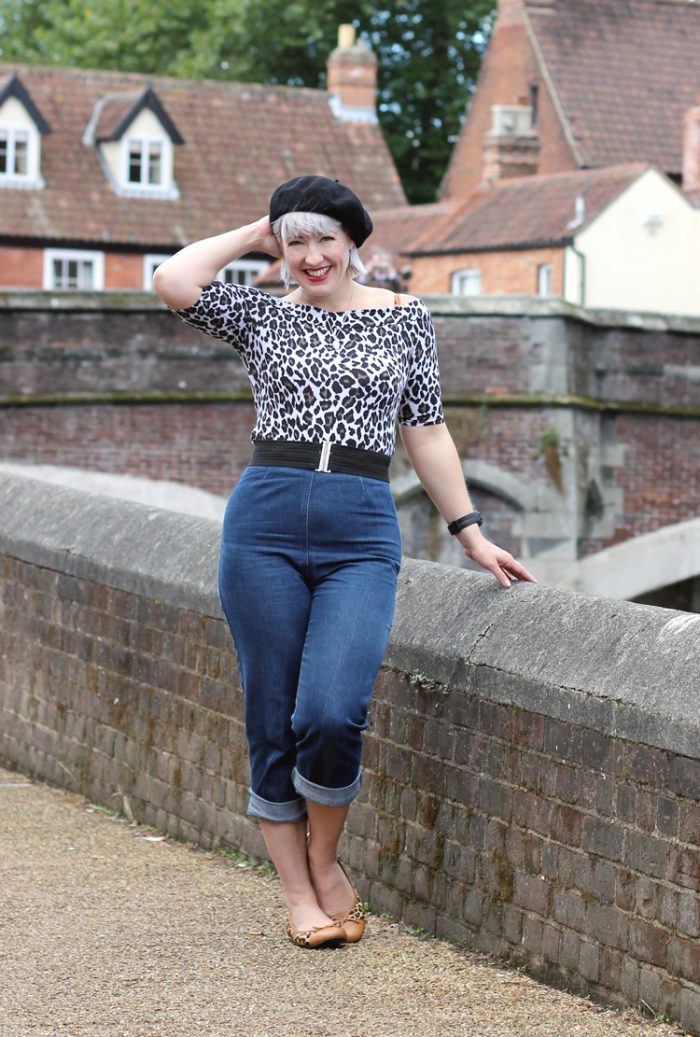 Brunch actually kind of turned out to be lunch. We were running a bit late, so it was gone 11am by the time we left the house. We ordered our food at about 11:40, but I guess they were pretty busy as it didn't actually arrive at the table till 12:05pm, meaning that Mr Chick enjoyed a traditional breakfast, and I enjoyed eggs benedict for what was technically lunch.
If you eat breakfast or brunch food at lunch time, and you intended it to be brunch, is it still brunch?
The names for various meals is a hot topic in our house. I am convinced that meal order goes: breakfast, brunch, lunch, afternoon tea, tea, dinner, supper.  Mr Chick thinks that what you are eating dictates the meal name and that a large meal eaten at 1pm could be dinner. As far as I'm concerned there is only 1 occasion when that is true, and that's Christmas Day.
So there.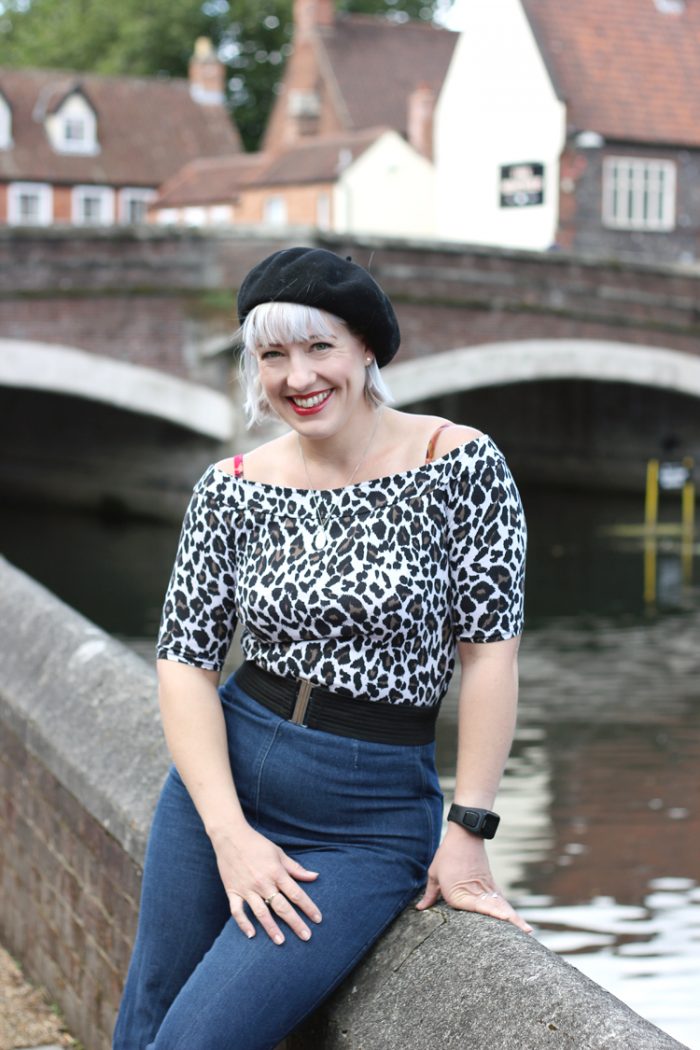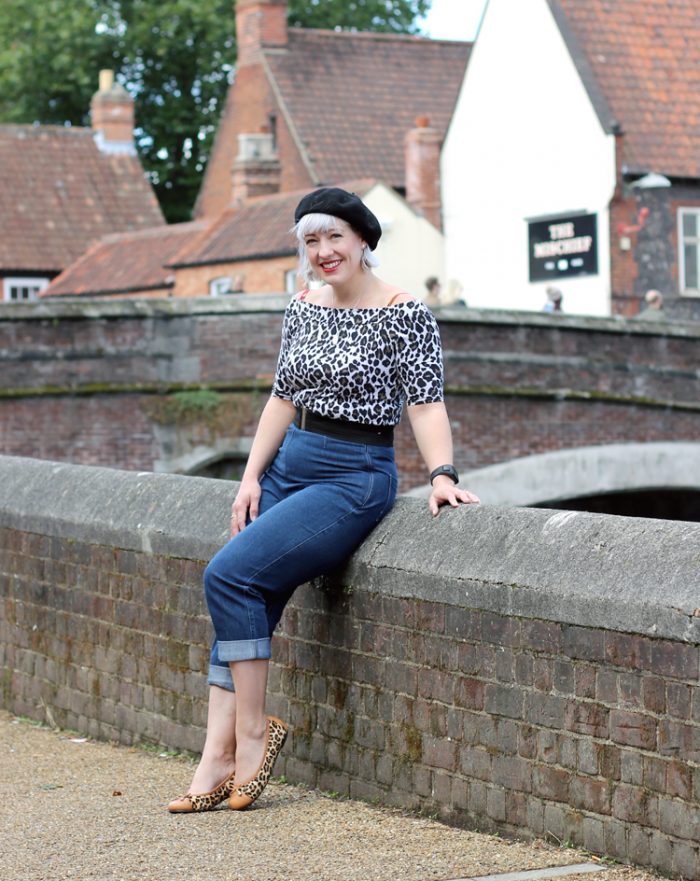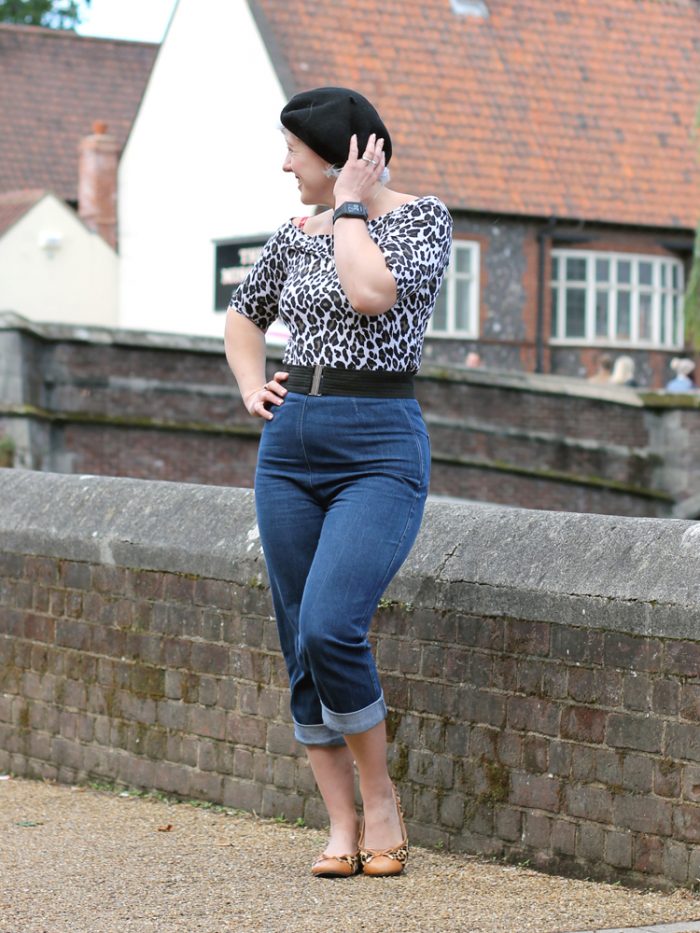 We took these photos post brunch/lunch. Because the best time to pose for photos you want to share publicly is immediately after you've just eaten a massive meal with lots of bread in it. Obviously.
This bridge is a lovely place to take photos, with the minor exception that even on a Sunday it is quite busy. Taking photos on it occasionally attracts polite onlookers who think that watching someone have their photo taken is an exciting Sunday afternoon diversion. It also occasionally attracts the kind of people who are buying cans of strong lager in the nearby corner shop on a Sunday lunch time and feel the urge to share their witty observations. Like "Oi Oi!".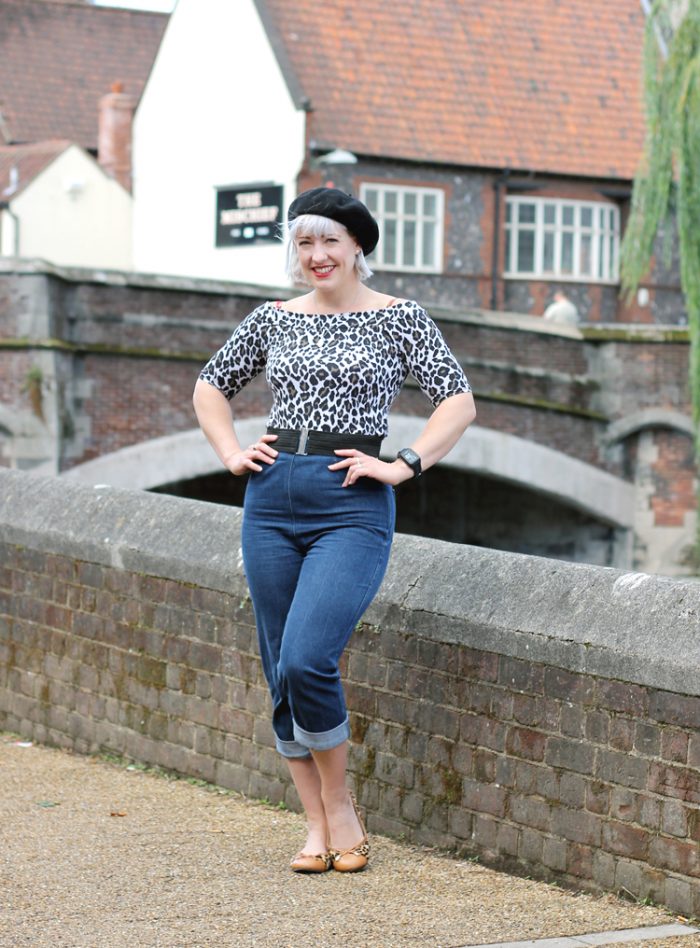 After our brief photo taking interlude we popped into the On Paper Festival in Anteros Arts to admire some art, some of which turned out to be of my Roller Derby team mates by an artist who spent some time at some of our practices earlier this year. Which was a pleasant surprise.
We then went home, where I spent the rest of the day binge watching Drag Race Season 7 after Saturdays nights disappointing discovery that Netflix was down and that the whole world was forced to go to bed early and read a book rather than binge watching Luke Cage and Drag Race like they (I) had planned.
How was your weekend?
♠ Beret – eBay ♠ Leopard Bardot Top – ASOS ♠ Denim Capris – Collectif* (similar)♠
♠ Leopard Shoes – Vionic* ♠