There has been a definite change in the weather over the last week.
Today there is rain predicted, but it is *warmer* rain, and on Monday it was positively balmy. The newspapers called it a heat wave, personally I wouldn't go that far. I would say it's not a heat wave unless I can go for a walk without a cardigan and my shoes are melting, but it was definitely spring like.
Generally all it takes is 2 days of a glimpse of a new season for me to suddenly start envisioning an entire new wardrobe for myself. Spring is on its way which means in my new wardrobe visions I am often wandering around markets holding baskets of flowers and bread, or walking along a spring riverbank while cherry blossoms fall around me. Neither of these are things that I do very often in real life, but personally I think it's an excellent basis to plan a spring wardrobe around. Especially as inevitably I will not acquire most of the things on my wish list and will instead keep buying novelty print skirts and impractical shoes that I cannot possibly walk in.
This spring the vision of myself buying flowers in a non-existent market is part Parisian Audrey Hepburn (I think it's the hair, it's giving me delusions) and part nautical chic.  Imagine most of the things in this list worn with a beret, a neck scarf and lots of red lipstick.
So, lets get on with my latest spring wish list.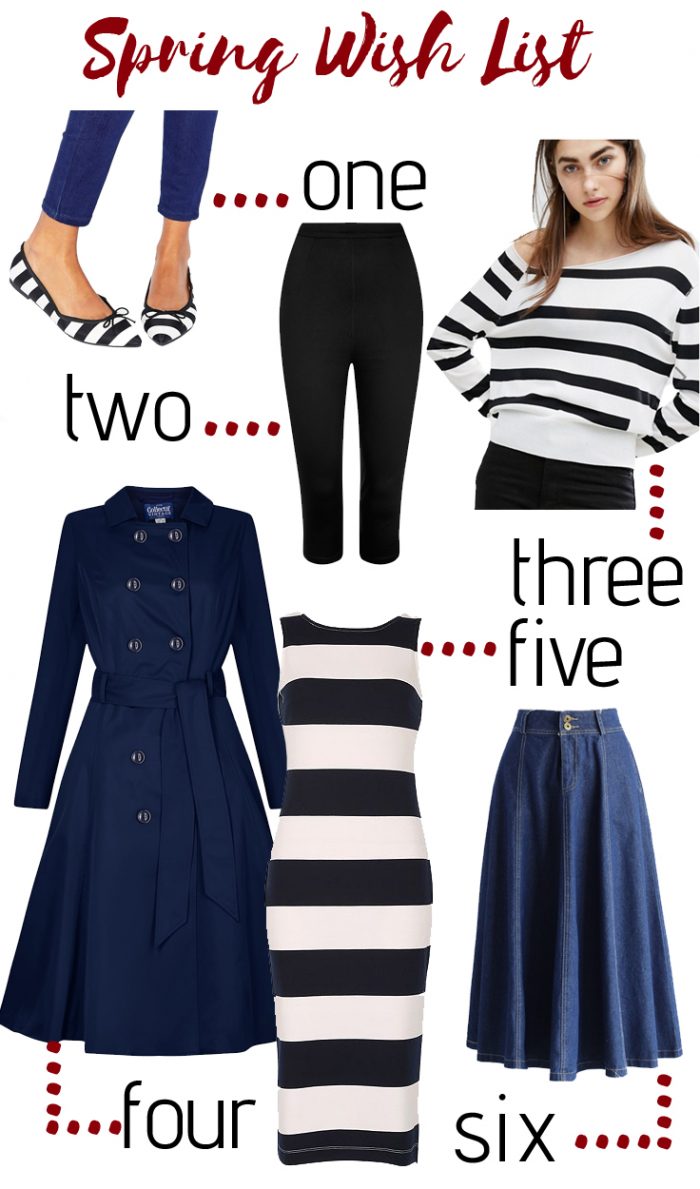 I like flats, though I hate looking at photos of myself in them because I think I look stumpy. These ones are stripy. What's not to like?
These are from Collectif and on paper they look amazing. High-waisted and a short leg, a side zip so no bulk at the front and a bit of stretch. I am imaging I would wear these with number 3 AND the stripe flats, because there is no such thing as too many stripes. I would also wear a lot of red lipstick and my winged eyeliner would always be perfect.
The brand is Cheap Monday, but it's not that cheap really, which is a shame because I really love this. I like the fitted on the waist but casually falling off one shoulder thing. I am convincing myself it wouldn't look like that on me anyway. Yuck, it would probably be awful. (I bet it would look amazing like it does in my head.)
I have 2 trench coats, a beige 60s vintage one, and a more fitted burgundy 70s one which is falling apart a little. Neither of them are navy though.
I want to wear this with a scarf at the neck, and maybe a beret.
Stripes and bodycon, 2 of my favourite things. I have several visions of myself in this one. The first is teamed with my leather jacket which comes out of hibernation every spring, a bit too rock n roll for cherry blossom river walks maybe? If I'm going for the cherry blossom river walks I think I would wear this with a bright red belt and ballet pumps and drape a cardigan over my shoulders.
I've actually been on the look out for a high-waisted denim a-line midi skirt since last Summer, and suddenly, here it is. I think this would be really versatile. In my slightly nautical Parisian chic dreams I am wearing it with a Breton striped bardot top and a neck scarf. I also love the 70s vibe and would wear it with a roll neck and knee-high boots on chillier days.
Are you dreaming of a spring wardrobe yet?