January has been a quiet month.
Mr Chick has been away a lot, and I have been in a little routine of work, exercise, eat, sleep, repeat that works for my Janathon posts, but doesn't provide much other interesting fodder for the blog that's about the more glamorous side of life. Though I have still been eating my dinner off the nice plates!
The one exciting thing I did have planned this month, the launch party for the fabulous In Retrospect Magazine, I have sadly had to cancel on like a flake.
Don't worry, todays post isn't just about me whinging about how boring January has been. To be honest I kind of like it, it's nice not to be full on all the time, and the next couple of months are super busy.
Todays post is about something that I HAVE done in January, and that is bought the perfect black skirt.
I've wanted a good, versatile black skirt for a while. Whilst I love full gathered skirts I look ridiculous in them as I am what is politely termed "hippy", so I need something that skims my hips and flares out for a bit of fullness at the hem. It also needs to be midi length on a 5'5″ lady, and, most importantly, I don't want to have to iron the blooming thing all the time. I have a lovely Laura Ashley black skirt, but as it is cotton I hardly ever wear it because the ironing is too much effort.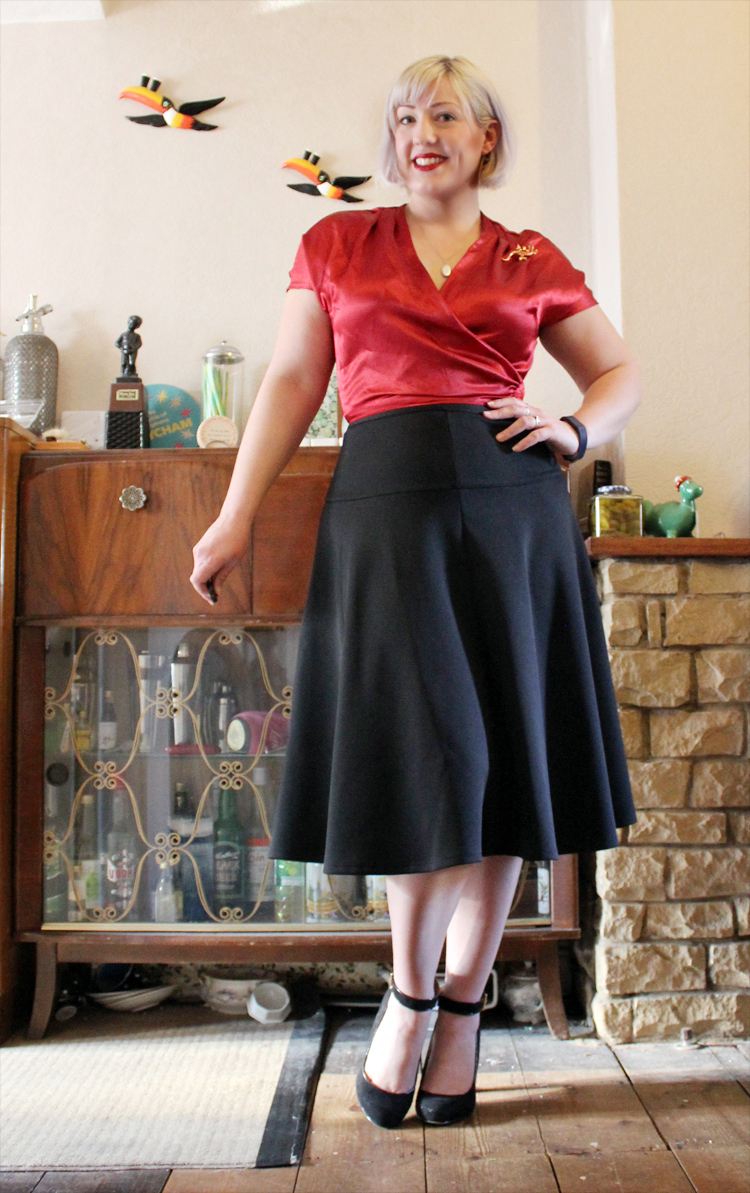 ♥ Blouse – Heyday! ♥ Skirt – ASOS ♥ Shoes – Stylist Pick* ♥ Brooch – Vintage ♥
Then whilst browsing the ASOS sale, I found it. This one is called a "longline skirt with peplum hem" apparently. All I know is it does everything I want it to do, and it's made of that scuba fabric that is slightly stretchy, thick enough to hold all your wobbly bits in place and DOESN'T NEED IRONING.
JACKPOT!
I'm wearing it here with a Heyday! wrap blouse in ruby satin. This is my third wrap blouse now, and I really love them. This one came to as a second by virtue of the fact it has a tiny mark on the front, but I can't even see it, so I'm happy!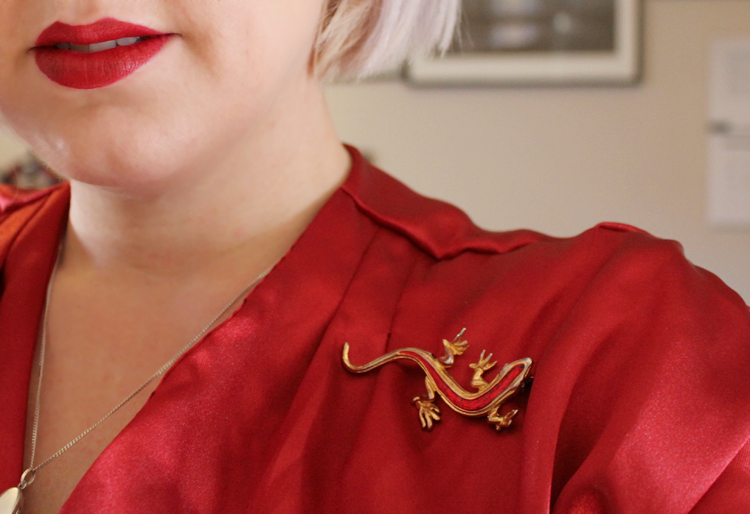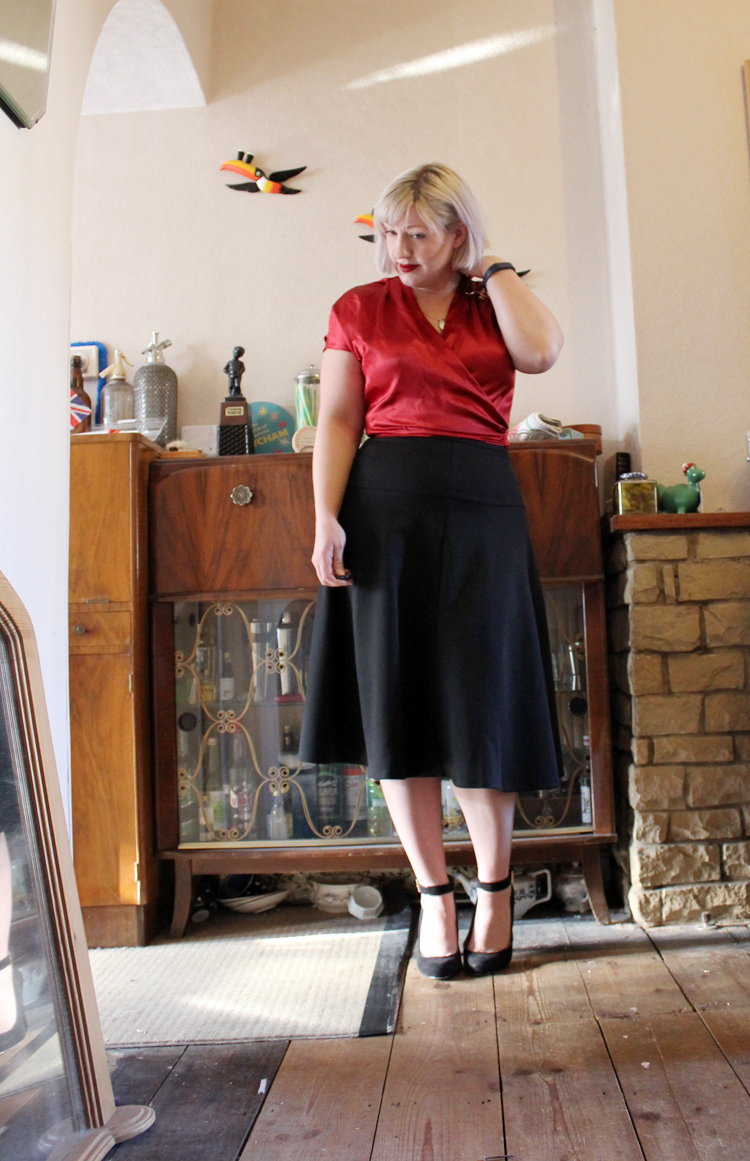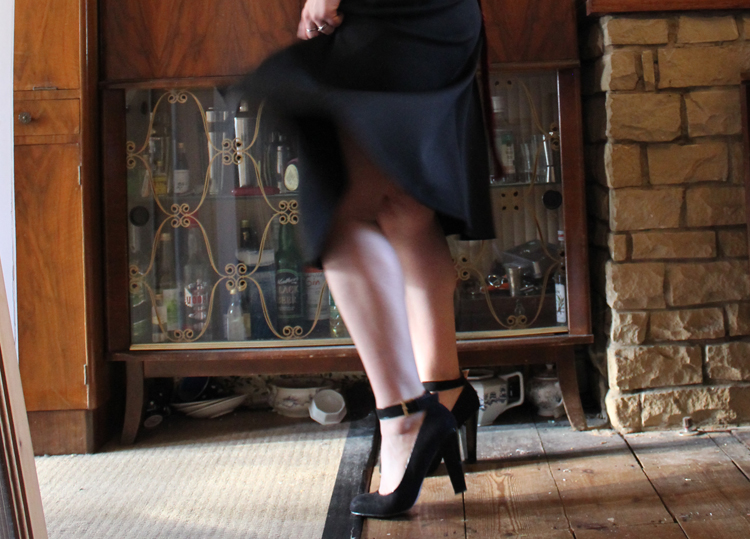 I very nearly went outside to take pictures, but when I did there was NO WAY I was taking my jacket off as it's freezing, so instead I attempted to find somewhere else in my house to take photos other than in front of my fireplace. That means todays shots are in my Dining Room, in front of my cocktail cabinet. We haven't got around to doing the floors in the Dining Room yet, but that's no excuse for the fact I haven't hoovered, for that you will just have to accept that I am very lazy.
I also look like I have Guinness Pelicans flying out of my head and the light coming from the living room makes me look like I have no chin, so more experimentation needed!
The other thing I bought in the ASOS sale, was a supremely sensible pair of flat black suede effect shoes with pointed toes. I had a similar pair that were ballet pumps instead of lace ups, but I wore them to death and had to throw them away in the middle of last year when they started annoying passers by on the street by squeaking. These are a worthy replacement for days when I am in need of smart, flat shoes.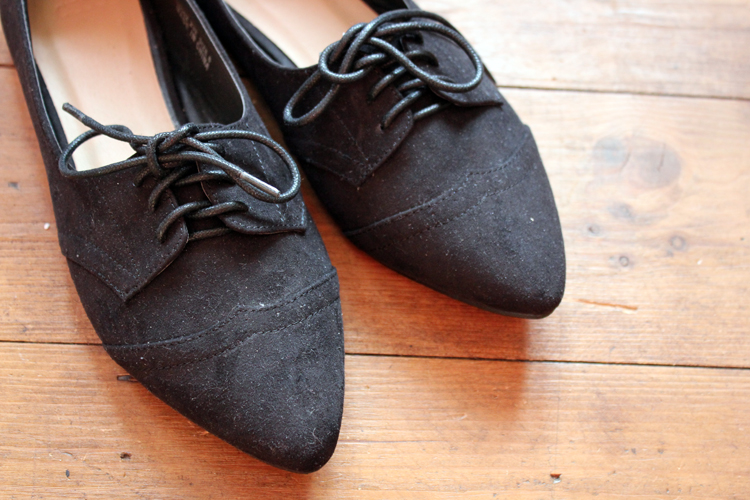 So I bought the sensible things in the ASOS sale like a well behaved grown up. But secretly I'm hoping my bank balance is up to another purchase before they sell out, because I still have these ridiculously beautiful pointy high heeled shoes and floaty red dress stashed on my wish list.